4 High Rise Condos With Amazing Views of the Bellevue Skyline
Posted by Adriano Tori on Thursday, October 20, 2022 at 12:18:14 PM
By Adriano Tori / October 20, 2022
Comment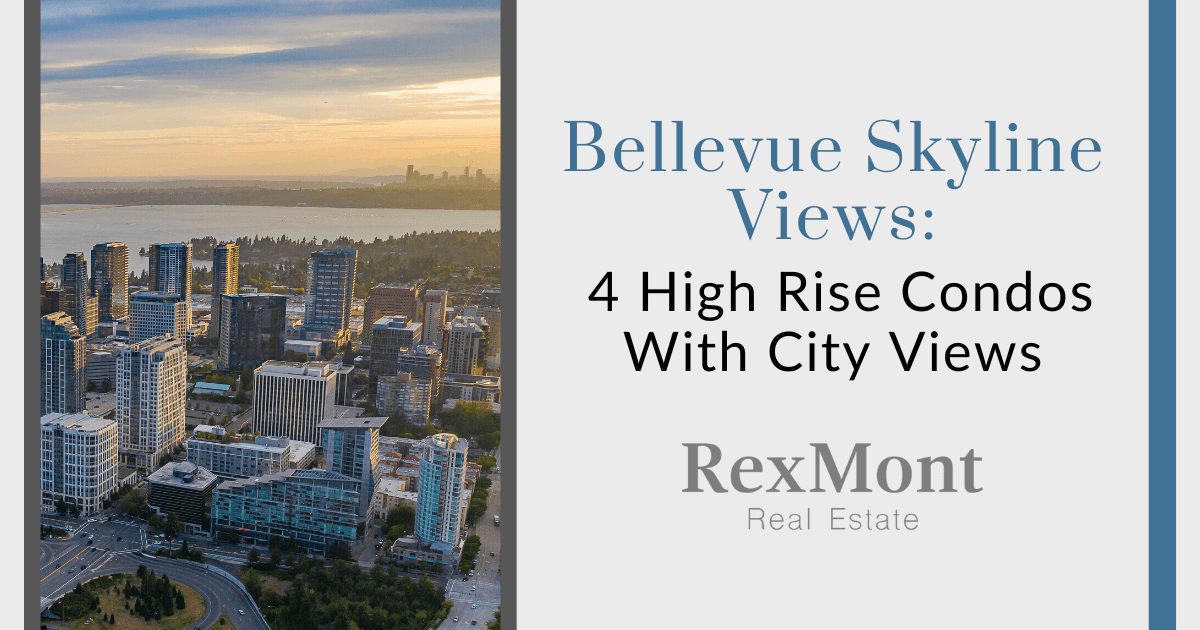 There simply isn't a bad view in any direction from high-rise condos in Bellevue. West-facing units look out over Meydenbauer Bay and Lake Washington waters, with the city of Mercer Island and downtown Seattle in the distance. East-facing units have views of beautiful Lake Sammamish and greenery within and beyond the city. Even the frequent stormy weather creates a picturesque view as clouds roll into the area—rainbows are a regular sight when living high above Bellevue! Here are some high-rise condos offering residents unbelievable skyline views.
Avenue Bellevue
The views from the twin towers of Avenue Bellevue are nothing short of jaw-dropping. The sculpted luxury towers, South Tower Estate Homes and West Tower Residence Homes, rise above street level. Private balconies in the units allow residents to sit outdoors and marvel at the Seattle skyline in the distance.
Avenue Bellevue has 223 luxury condo units and 104 "ultra-luxury" estate units. The towers are also home to 250 luxury hotel rooms and over 75,000 square feet of five-star retail space. A pedestrian walkway connects the buildings to all retail space near ground level.
Aside from the luxury condos and spectacular views, Avenue Bellevue is a great place to live because of its location in the heart of downtown. Condo owners are within walking distance of companies like Microsoft, Salesforce, and Facebook. There's also easy access to Bellevue's public transportation, fine dining, and a fantastic array of nightlife. At the end of the day, residents can come home and enjoy the nighttime skyline views.
Two Lincoln Tower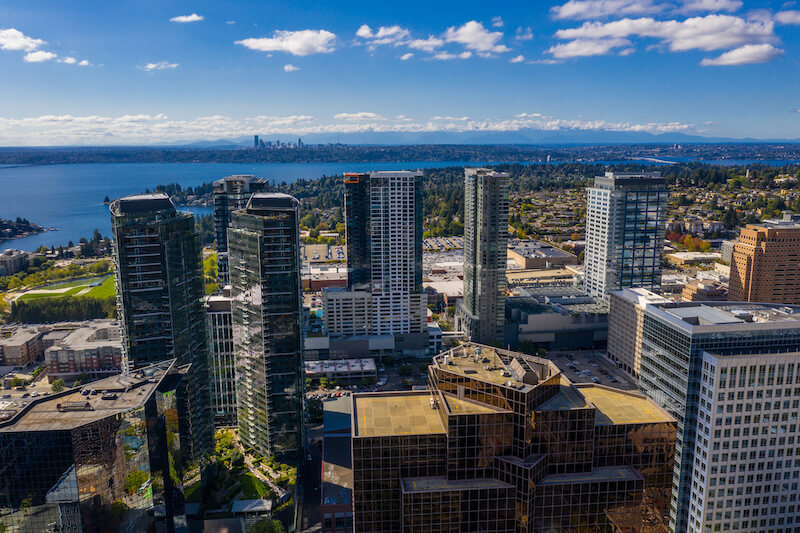 Two Lincoln Tower is another luxury high-rise centered in the heart of downtown Bellevue. Featuring luxury condos and spacious two-story penthouses, this high-rise features stunning views of Mt. Rainier and a good view of downtown Seattle from many units. Floor plans include smaller one-bedroom condos, around 900 square feet, and penthouses, offering a little over 3,000 square feet.
One thing that stands out about Two Lincoln Tower is its large service staff. There are 24/7 door attendants, and concierge and porter services are always available for residents.
Amenities at Two Lincoln Tower include a private Sky Terrace on the 41st floor with 360-degree views of the surrounding area. There are residents-only outdoor BBQs, kitchen areas, and fireside seating available. A patio on the 14th floor provides an indoor/outdoor gathering space that is genuinely innovative in its design. Condo owners also have access to two state-of-the-art gyms, a dining room, a game room with billiards and shuffleboard, and a climate-controlled wine storage room. There's even a covered outdoor area with a grooming station for pets.
Bellevue Towers
Bellevue Towers is situated farther from Lake Washington than Avenue Bellevue or Two Lincoln Tower, but it's even taller than those nearby buildings. These 43-story twin towers offer unobstructed views of the water and downtown Seattle from their rooftop terraces. Bellevue Towers are also situated directly in a beautiful, one-half-acre outdoor park and green space.
Bellevue Towers condos have private terraces for enjoying fresh air and dazzling views. With some restrictions, dogs and cats are allowed, and there is an outdoor pet park and dog run where owners can take their furry friends for some exercise.
Ranging from 1,000 to nearly 2,000 square feet, these LEED-certified condos contain luxurious interior designs and appliances from Wolf, Viking, and SubZero and feature wood flooring and wool carpeting. The floor-to-ceiling glass windows ensure plenty of natural light and unobstructed views of the surrounding city.
Residents can also access the following community amenities that make Bellevue Towers one of the best luxury condos in Bellevue:
Private game room
Fitness center
Movie theater
24/7 concierge service
Private lounge
Reservable dining room
Spa/hot tub and sauna
Catering kitchen
Washington Square Towers
Washington Square Towers are further north in downtown Bellevue on Northeast 9th Place. These views are even more unobstructed than some of the other sites listed here. The two towers offer 1,000- to 2,000-square-foot luxury condos, each with a private balcony and in-unit laundry. Tower 1 (West Tower) is a 24-story building, and Tower 2 (East Tower) is 25 stories tall.
Washington Square Towers is one of the few Bellevue condo communities with a private indoor pool and spa. Residents also share a large loft with a pool table, ample seating, and a full-service chef's kitchen. Other amenities include garage parking, gated entry, a 24/7 concierge, and gas fireplaces in every unit. Pets are allowed but limited to dogs and cats with some size restrictions.
The towers are just a short walk away from the Bellevue Library and the Bellevue Downtown Park. Just a short distance is the Overlake Golf and Country Club and the I-405 freeway, which runs north to south and offers easy access to other suburbs east of Lake Washington, downtown Seattle, and the University of Washington.
Live Luxuriously in a Bellevue Condo
The luxury condo lifestyle in Bellevue is second-to-none. The stunning views of the Cascade Mountains, the beautiful lakes, and downtown Seattle make this city a great place to live, work, and play. Investing in condos high above Bellevue's hustle and bustle makes owning one even more remarkable.