7 Best Beaches in Bellevue WA: Where to Live Near Bellevue's Beaches
Posted by Adriano Tori on Wednesday, October 26, 2022 at 11:29:16 AM
By Adriano Tori / October 26, 2022
Comment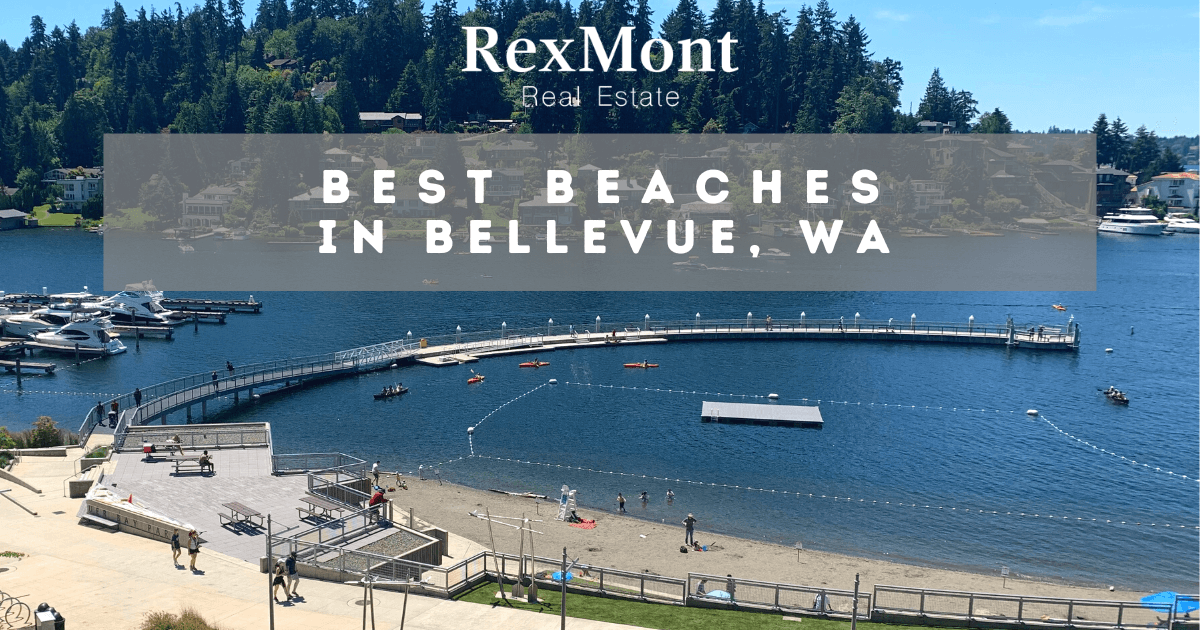 Alongside Bellevue's technology and innovation hub and sparkling downtown skyline, this Washington city also has several beaches and beach parks. Visitors can decompress in a beautiful setting, take summer dips, stroll the shoreline, or enjoy leisurely paddles. Better yet, many of the homes in Bellevue aren't far from the water. This well-balanced combination of urban amenities and beaches near Bellevue is one of the most appealing things about the city's lifestyle.
Chesterfield Beach Park
Located on the northern tip of the residential Beaux Arts Village, Chesterfield Beach Park offers direct access to Lake Washington. This small beach park has a community feel with grassy lawns ideal for picnics and games of catch or Frisbee during summer. Plus, there's a roped-off swimming area, a dock, and a seasonal lifeguard.
Beaux Arts Village is a fascinating community in its own right, founded as an artists' colony in 1908. Rather than a suburb of Bellevue, it's an official municipality — and with a population of around 300 and an area of just 0.1 square miles, it's the county's smallest. Homes are an eclectic combination of new construction and vintage styles, perfectly aligning with the village's artistic ideology.
Despite being in Beaux Arts Village, Chesterfield Beach Park is open to the public, as it's an official City of Bellevue park. However, it's one of the most private-feeling beaches near Bellevue, thanks to its intimate size and picturesque residential setting. Resident volunteers proudly refer to themselves as villagers and maintain the town's entire shoreline, ensuring it stays pristine.
Clyde Beach Park & Meydenbauer Bay Park
Just a half-mile from one another and connected directly by Lake Washington Boulevard NE for a leisurely walk, Clyde Beach Park and Meydenbauer Bay Park are two popular beaches in Bellevue.
Spanning 18 acres, Clyde Beach Park is a sandy beach with a designated swimming zone and unobstructed views of the city of Seattle just across the lake. Its position makes it ideal for watching sunsets over the city skyline.
A 10- to 12-minute walk or five-minute drive from Clyde Beach Park is Meydenbauer Bay Park, a small beach park widely considered one of the best parks in Bellevue. In downtown Bellevue, it's accessed via a wooded walking path from the parking lot, adding to the feeling that this beach is "hidden."
Both beaches have a fishing dock, playground, and ample parking. Meydenbauer Bay has a lifeguard on duty during summer, and at Clyde Beach, paddlers can launch kayaks or canoes outside of the swimming season.
Convenient to Clyde Beach Park and Meydenbauer Bay Park is the Clyde Hill neighborhood. This area is ideal for those who want to be close to downtown but appreciate having direct access to outdoor recreation.
Enatai Beach Park
Enatai Beach Park sits just south of Beaux Arts Village and north of Newport Shores, near the I-90 floating bridge. While relatively small at three acres, Enatai packs a big punch, well-known as one of the best local watersports destinations with fantastic views.
Open seasonally, the REI-managed Enatai Beach Park Boathouse rents canoes, kayaks, and stand-up paddleboards, plus offers lessons and guided tours. The water trails around the Mercer Slough and Newport Shores are ideal for exploring while paddling, with unique terrain and wildlife. Beach park visitors are also welcome to launch their own non-motorized watercraft in specified areas year-round.
In addition to the amenities catering to paddlers, the beach park has a playground, picnic areas, and a fishing pier. There's also a lifeguard stationed at the beach in the summer months.
Enatai Beach Park is a beautiful local recreation spot for residents of Beaux Arts Village and downtown, as well as for those living on Mercer Island, conveniently between Bellevue and Seattle.
Newcastle Beach Park
Newcastle Beach Park is the largest of its kind in Bellevue at 29 acres and is located just south of Enatai Beach in the Newport Shores community. The grounds consist of wide-open spaces, a sandy beach, a 300-foot-long floating dock, a colorful children's playground, and a nature trail.
Also at the beach park, the Newport Yacht Club is a members-only facility with a private marina; tennis, volleyball, and basketball courts; a playground; a seasonal heated outdoor pool; and a clubhouse that hosts social events throughout the year. All homeowners in Newport Shores, a community comprised primarily of luxury waterfront homes, are given Resident Member status at the yacht club.
In addition to Newcastle itself, Newcastle Beach Park is convenient for residents of other southern Bellevue areas, such as the Factoria community and the Hazelwood neighborhood.
Newport Shores residents have several convenient options beyond the beach park at their doorstep for outdoor recreation. The Coal Creek Natural Area, popular hiking trails at Cougar Mountain and Squak Mountain State Park, and the Lake Washington bike trail, with state-of-the-art biking and rollerblading opportunities, are within easy access.
Chism Beach Park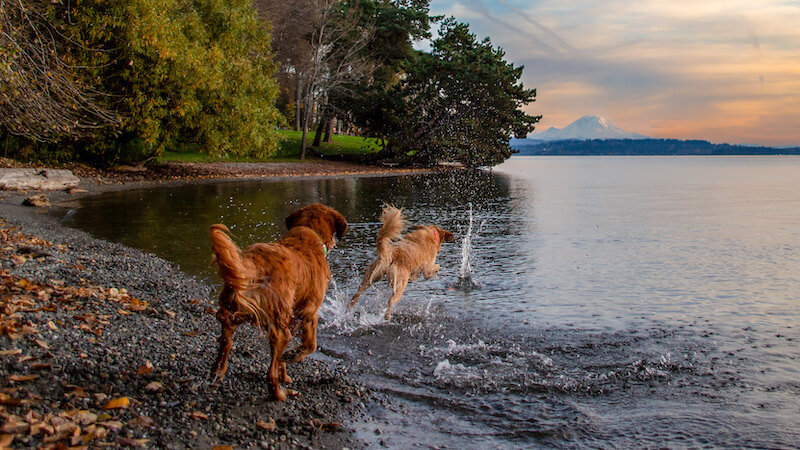 Chism Beach Park is south of Whalers Cove in Meydenbauer Bay and features panoramic views of the Seattle skyline. The waterfront park is tucked deep into a residential neighborhood with little signage outside the immediate area, helping it remain a rarely busy locals' secret.
Downtown is just two miles away, and the beach park has a sprawling green lawn for picnicking, a children's play area right near the water, a dock, restrooms, and several walking trails. Visitors are also welcome to launch non-motorized watercraft, such as kayaks, during the non-swimming season.
On the upper lawn at Chism Beach Park, Burrows Cabin is the oldest surviving structure in Bellevue. The pioneer cabin was built in 1883 in its current location but has been moved around the city a few times. It arrived "home" at its original building site in 2016, where park visitors can now see this important piece of local history up close.
The park is near the West Bellevue neighborhood, known for its older established homes and new construction among tree-lined streets in a wooded setting. It's convenient for those who work downtown or commute to Seattle or the city of Mercer Island.
Dogs are allowed at Chism Beach Park between September 16 and May 31 each year.
Sammamish Beach Club
Unlike many other Bellevue area beaches, the Sammamish Beach Club sits on Lake Sammamish on the city's east side rather than Lake Washington to the west. Similar to Newport Shores, this club is a private homeowners' association.
Amenities at the Sammamish Beach Club include a private beach with a defined swimming zone, basketball and tennis courts, picnic tables, and community BBQ areas. Members also have access to paddle boats, while a sledding hill is available in winter. The community also hosts several annual holiday gatherings, including popular events on the Fourth of July, Easter, and winter holidays.
Around 100 immaculate homes make up this luxurious neighborhood. Many of these state-of-the-art properties come with fire pits overlooking the lake – perfect for entertaining or an impromptu evening of s'mores.
In addition to the beach club, nearby Lake Sammamish State Park is open to both residents and visitors. The 512-acre natural space is at the southern end of the lake and consists of hiking trails and beaches, along with a playground, cafe, and restrooms.
The Best Beaches Near Bellevue Could Be Your Backyard
Choosing a home with convenient access to one of the best beaches near Bellevue can go a long way in enhancing the local lifestyle for those who enjoy spending time outdoors. With so many unique beaches and nearby Bellevue neighborhoods, the city has something to suit every lifestyle.