4 Most Luxurious Condo Communities in Bellevue: Stunning Units, Amazing Amenities
Posted by Adriano Tori on Wednesday, September 7, 2022 at 1:19 PM
By Adriano Tori / September 7, 2022
Comment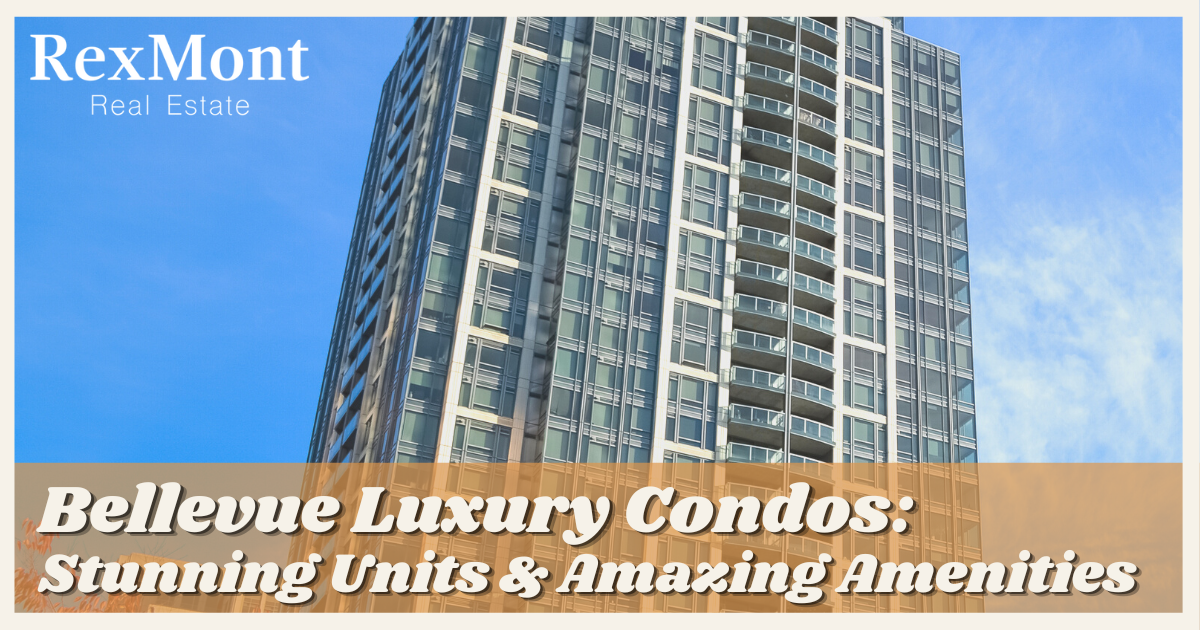 Living in the city of Bellevue has many perks, including easy access to restaurants, museums, parks, and the Seattle metropolitan area. But living in a luxury Bellevue condo can make life even better. Located in the heart of downtown Bellevue, these luxury condos feature some of the most desirable amenities in the Pacific Northwest, like state-of-the-art exercise facilities, lush outdoor spaces, and relaxing pools and lounges.
Bellevue Towers
At Bellevue Towers, sustainable design meets luxury living in the largest LEED Gold-certified residential development in the Pacific Northwest. Bellevue Towers has gorgeous rooftop gardens, an energy-efficient design, and multiple lavish spaces for lounging, exercising, and dining.
Stretching a city block, the gardens at Bellevue Towers offer great opportunities for experiencing the outdoors at home. Take a leisurely walk along the lawns and promenades, relax with a tasty meal in front of the terrace fireplace, or enjoy the view of downtown Bellevue and Seattle. The Towers even have a pet relief area for furry friends.
Bellevue Towers was one of the first developments of its kind to receive the LEED Gold certification. Energy-saving glass, low-flow plumbing fixtures, and other sustainable residential design features help promote environmental health.
Each condo has state-of-the-art appliances, including a Sub-Zero refrigerator and a Viking or Wolf range. Stone slab counters, custom cabinets, and sleek wooden floors contribute to Bellevue Towers' luxurious feel.
Fine art from the Pacific Northwest's best galleries helps elevate Bellevue Towers' common spaces. Residents can experience local art while socializing in the two-story great room, eating in the resident dining room, or catching a movie in the media screening room. The fitness center provides cardio and weight training opportunities, while the Towers' indulgent spa, sauna, and steam room offer excellent places to relax. Need some support with daily activities? Bellevue Towers offers concierge services too.
Bellevue Pacific Tower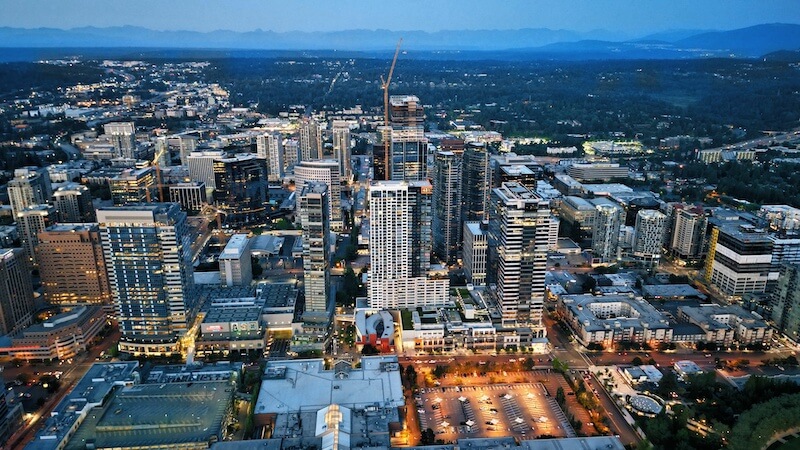 Bellevue's first high-rise condo, Bellevue Pacific Tower, has 171 units spanning 24 floors. This luxury condo features balconies for every home, beautiful rooftop gardens, and excellent facilities for fitness and leisure.
Homes in Bellevue Pacific Tower range from studios to three bedrooms and bathrooms. Each condo in Bellevue Pacific Tower offers expansive windows and roomy balconies overlooking downtown Bellevue. Outfitted with modern appliances and elegant fixtures, the condos in Bellevue Pacific Tower provide an upscale living experience in the heart of Bellevue.
The Tower's 11th floor hosts a rooftop garden terrace and a pet area. Get some fresh air, relax among the garden's lush plants, and enjoy stunning views of the Olympic Mountains, Lake Washington, and downtown Seattle and Bellevue.
Exercise and leisure are at the forefront of Bellevue Pacific Tower's amenities. The health club spans over 6,000 square feet and includes exercise equipment like treadmills, weights, and mats. A sauna and Jacuzzi hot tub offer relaxing warmth, while a heated indoor pool allows for swimming in comfort year-round. Additionally, the club room provides a convenient space to host parties and other events. For help with organizing events or other tasks, Pacific Bellevue Tower has a 24-hour concierge service available to residents.
One88
The iconic One88 features a distinctive contemporary style and unique amenities, including a playroom, golf simulator, yoga studio, indoor pool, and cozy lounges.
Built in 2017, One88 is one of the most stylish towers in Bellevue's skyline. It has a distinguished angular shape accommodating secluded balconies for every suite. Floor-to-ceiling windows give each home spectacular panoramic views of Bellevue. Each studio, one-, two-, or three-bedroom condo comes equipped with modern appliances, granite countertops, USB ports, and capabilities for future automation of lighting, sound, and motorized window shades.
One88 has numerous attractive amenities to ensure residents can always find something to do. Meanwhile, the playroom offers a chalkboard, activity centers, and an HD TV. Golf enthusiasts can practice their swings at the golf simulator studio, while the fitness center provides even more options for exercise. It comes fully equipped with cardio equipment, free weights, multi-gym systems, and even a yoga studio. Take a dip in One88's saline heated indoor pool or relax in the spa, sauna, or steam room.
The lobby lounge, outdoor terraces, and grassy lawn provide plenty of space for gatherings at One88. Residents can enjoy coffee in the lobby on weekends or grill outside on the third- and fifth-floor terraces. These outdoor spaces include relaxing fireplaces, artistic and sculptural seating areas, and plenty of grass for games and other activities.
Washington Square Towers
Washington Square Towers presents a unique space to call home, comprising 353 condos, 26 townhomes, and ground-level retail spread across two high-rise towers. It offers spacious luxury condos complemented by upscale amenities and great on-site businesses like restaurants and nail salons.
The condos at Washington Square Towers are roomy and fitted with high-end finishes and appliances. Ceilings range from 8'10" to 9'10" and feature floor-to-ceiling windows providing spectacular views of downtown Bellevue. Each condo comes with ample balcony space for enjoying the view. Meanwhile, gas fireplaces make the condos' living rooms cozy and inviting.
Residents of Washington Square Towers can enjoy numerous amenities. Take a relaxing stroll through the landscaped courtyards, dine in the owner's lounge equipped with a full chef's kitchen, or play a round of billiards in the club room. Washington Square Towers also offers a large gym with cardio and weightlifting equipment to encourage exercise. Residents can relax at the spa, which features a sauna, hot tub, steam room, and cold plunge pool. Additionally, the 24-hour concierge and town car service at Washington Square Towers can aid in daily tasks and getting around Bellevue.
At Washington Square Towers, residents don't need to go far to enjoy Bellevue's great businesses. The ground floor features Top Pot Doughnuts, Musashi Sushi, and BE Chic Nails.
Live in a Bellevue Luxury Condo
Luxury condos have numerous benefits, but amenities are one of the most attractive aspects of condo life. Living in Bellevue's luxury condos provides access to exercise facilities, relaxing gardens, and lounges—and these are just the start of what future condo buyers can experience in these communities.