8 Best Bellevue Condo Communities: Where to Buy a Condo in Bellevue
Posted by Adriano Tori on Monday, November 14, 2022 at 9:31 AM
By Adriano Tori / November 14, 2022
Comment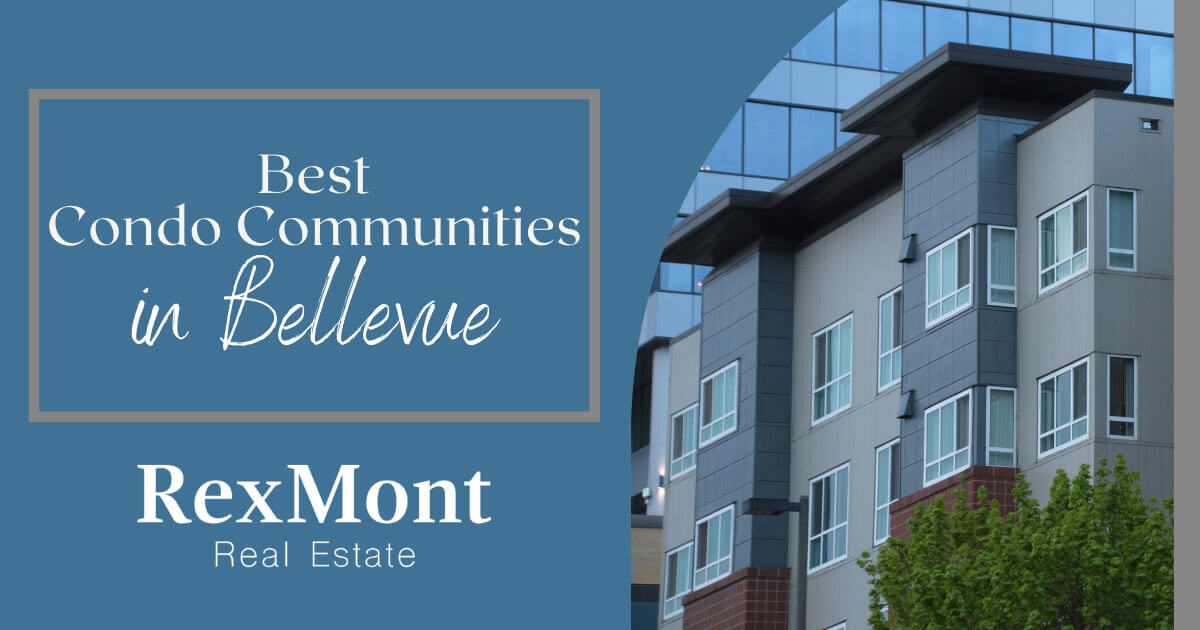 For an increasing number of people considering where to live in the Pacific Northwest, the charms of Bellevue are too much to pass up. More and more residents are moving to Bellevue, and its condo communities are a major reason why. From luxurious high-rises to contemporary loft-style homes, there are many excellent options to choose from. Familiarity with some of the area's great buildings and their amenities will help you make the best decision when searching Bellevue condos for sale.
Bellevue Pacific Tower
With over 171 units on 24 floors, Bellevue Pacific Tower is considered one of the area's premier condominium communities. Constructed in 1995, Bellevue Pacific Tower was one of Bellevue's first high-rise condominium communities, and it continues to set the standard for luxury living today.
Starting with its location, Bellevue Pacific Tower is ideally situated in Bellevue's bustling downtown and is just two blocks away from the beautiful Downtown Park. Along with beautiful green spaces, Bellevue Pacific Tower is within walking distance of some of the city's best restaurants, including sushi, taverns, cafes, dumplings, and more.
Units in the Bellevue Pacific Tower range from one to three bedrooms and feature up to 3,000 square feet of living space. Each unit has luxurious features, with spectacular city views overlooking the downtown area. Bellevue Pacific Tower's amenities align with those of the most luxurious communities, including a health club with fabulous features such as pools, saunas, and a fitness center. Bellevue Pacific Tower is fantastic for those who love to stay active and want to be at the center of the action.
Bellevue Pacific Tower Amenities
6,000-square-foot health club
Sauna
Hot tub
Heated indoor pool
24-hour concierge service
Rooftop garden terrace
Club room
Washington Square Towers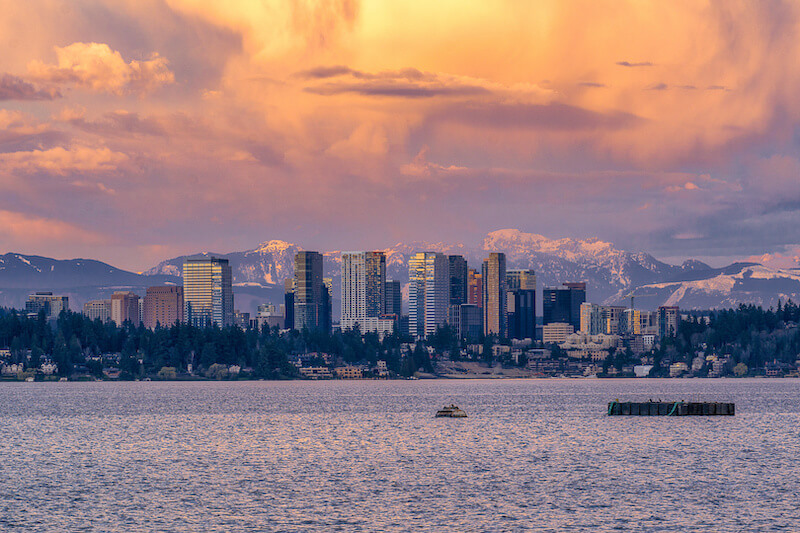 Located in the heart of downtown Bellevue is Washington Square Towers, two high-rise buildings exemplifying the epitome of contemporary luxury. Between the two towers is a gorgeous, tree-lined street that leads to an array of local amenities, such as cafes, spas, and restaurants—all within walking distance. Each tower has a beautifully appointed lobby, with concierge service and on-site security for residents. Every square inch of Washington Square Towers features a striking blend of sleek finishes and ornate craftsmanship throughout.
Beyond Washington Square Towers' luxurious community spaces, each unit is thoughtfully equipped with modern finishes. Each tower has a blend of different unit types, from garden suites to penthouse suites and everything in between. Properties range from one to three bedrooms.
In Tower One (West Tower), the split-level penthouse suites are on the 23rd and 24th floors; in Tower Two (East Tower), the penthouse suites are located on the 24th and 25th floors. For those who prefer luxury closer to the ground, Washington Square Towers also has spacious townhouses on the first few levels.
Washington Square Towers Amenities
Fitness center
Loft & party room
Private parking garage
Electric vehicle charging stations
Within walking distance of shops, dining, and entertainment options
Palazzo Condominiums
The Palazzo—also known as the Palazzo Condominiums—is a luxury high-rise complex set in Downtown Bellevue and completed in 2000. With a blend of sleek, contemporary design and classic finishes, The Palazzo pays homage to European design while maintaining a pleasing, modern aesthetic. With large windows and natural sunlight, each unit is equipped with gas fireplaces and private balconies, adding a touch of luxury that sets Bellevue's most highly sought-after condominium communities apart. There is a stylish courtyard on the ground level, where residents can invite their guests to congregate.
Most units in The Palazzo are one or two-bedroom units, with sizes ranging from 720 to over 1,800 square feet. As the floor number increases, residents are greeted with some of the city's most impressive views overlooking much of Bellevue's dynamic downtown area. Some of the amenities in the building include a concierge service, a catering kitchen, and a fitness center. The Palazzo is also within walking distance of some of the city's best restaurants and cafes.
Palazzo Condominiums Amenities
Concierge service
Conference room
Business center
Catering kitchen
Parking garage
Fitness center
Club room
Guest suites
Abella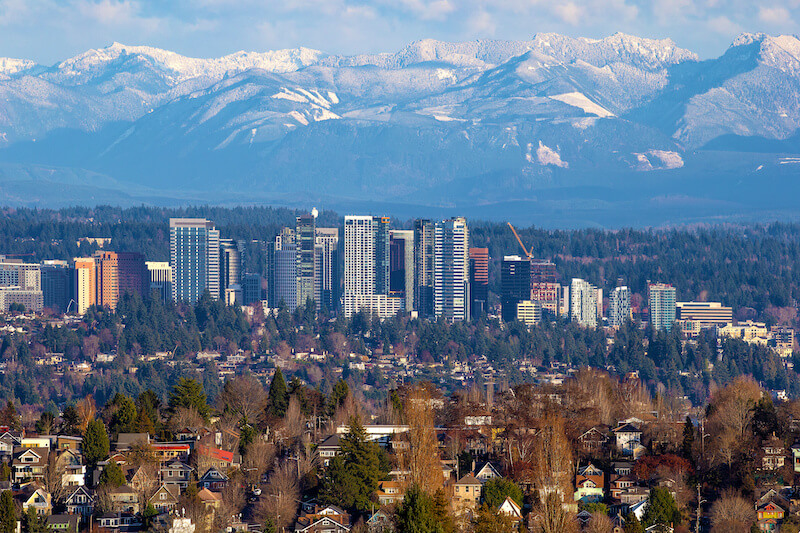 Located in Downtown Bellevue, Abella is a six-story condominium building with more than 80 units. Abella was constructed in 2001 and has remained one of the area's most recognizable condominium complexes, with shops and restaurants located on the main level of the building. While Abella is one of the smaller condominium complexes on this list, it's every bit as luxurious as some of the area's most prestigious ones.
At the base of the main level, there are numerous restaurants and shops in one of the city's busiest neighborhoods. Other nearby amenities of this community include public transportation options and walkability to some of Bellevue's best things to do.
Unit sizes range from one to two bedrooms, and each unit has air conditioning, modern kitchens, and updated bathrooms. For a two-bedroom unit, the average size is around 1,200 square feet of living space.
Abella Amenities
Elevator
Updated kitchen appliances
Five-minute walk from Main Street shops
Easy walk to Downtown Park
Astoria at Meydenbauer
Located on Main Street and 100th Avenue in the Meydenbauer neighborhood (also known as "Old Main"), the Astoria at Meydenbauer is often considered one of the most magnificent condominium high-rises in the state of Washington. Constructed in 2000, Astoria at Meydenbauer features stunning views of Downtown Bellevue and Meydenbauer Bay, giving residents an unparalleled, luxurious experience. With its ideal location, residents have the option to take in the water views from their private balconies.
The Astoria at Meydenbauer is within walking distance of some of the area's best restaurants, cafes, and shops, all right in one of Bellevue's best neighborhoods. The building has many desirable amenities, including a secured lobby entrance, concierge service, and a stunning courtyard with a fountain as its main focal point. There are various floor plans for residents to choose from, including one- and two-bedroom units overlooking the downtown area or the bay.
Astoria at Meydenbauer Amenities
Sun Terrace
Concierge Service
Ground Floor Retail
Secured Parking Garage
Storage Units
The Lofts at 15th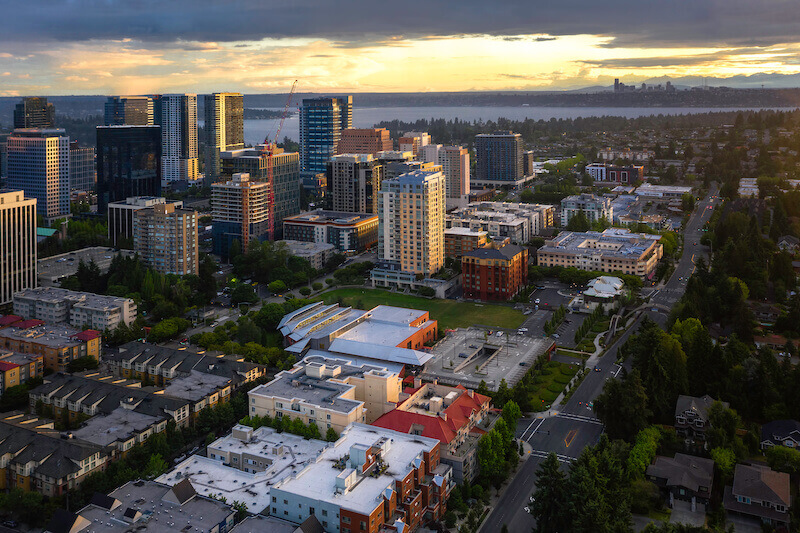 Finished in 2022, The Lofts at 15th is one of Bellevue's newest condominium communities. The Lofts at 15th is a one-of-a-kind community that redefines modern magnificence with the option of condos, townhouses, or single-family homes. This top-tier, contemporary community has just over 22 units, making it one of the smaller condominium communities on this list. The Lofts at 15th's architecture is a modern interpretation of the classic northwestern design aesthetic, incorporating sleek, contemporary finishes.
Each unit has three or four bedrooms, a private two-car garage, and stair or elevator access to each home, depending on the unit's floor. Sizes start at over 1,500 square feet per unit.
Along with its exquisite design, this condominium community is built with recreation in mind. Unlike many condominium communities, The Lofts at 15th is located 10 minutes east of Downtown Bellevue, providing residents with a more tranquil experience. Many walking and bike trails are nearby, with plenty of trees and green spaces. Residents are just a short distance from Phantom Lake Park and Lake Sammamish State Park.
The Lofts at 15th Amenities
Contemporary Architecture
Elevator Access
Private 2-Car Garage
Short Distance to Phantom Lake Park, Marymoor Park, and Lake Sammamish State Park
One Lincoln Tower
Are you searching for a condominium community reminiscent of a five-star hotel? Then One Lincoln Tower is the ideal place to be. Constructed in 2005, One Lincoln Tower has 148 condos spread over 41 floors. This contemporary community was built above the luxurious 303-room Westin Hotel in Downtown Bellevue, with some of the city's best local amenities within walking distance. Living in One Lincoln Tower has the best of both worlds, with the understated splendor of living in a luxury hotel and the convenience of living in a condominium community.
Community features of One Lincoln Tower include 24-hour concierge service, a screening and entertainment room, an indoor swimming pool, a fitness center, and all of the hotel services provided to Westin Hotel guests, such as room service, housekeeping, and laundry services. Lincoln Square, which is adjacent to One Lincoln Tower, has many fabulous amenities including restaurants, a world-class cinema, a bowling alley, nearby department stores, furniture boutiques, and a 65,000-square-foot health club—all set in the heart of Downtown Bellevue.
One Lincoln Tower Amenities
Homeowners' lounge
Spa
Concierge service
Conference room
Fitness center
Secured garage parking
Within walking distance of Downtown Park
Mira Flats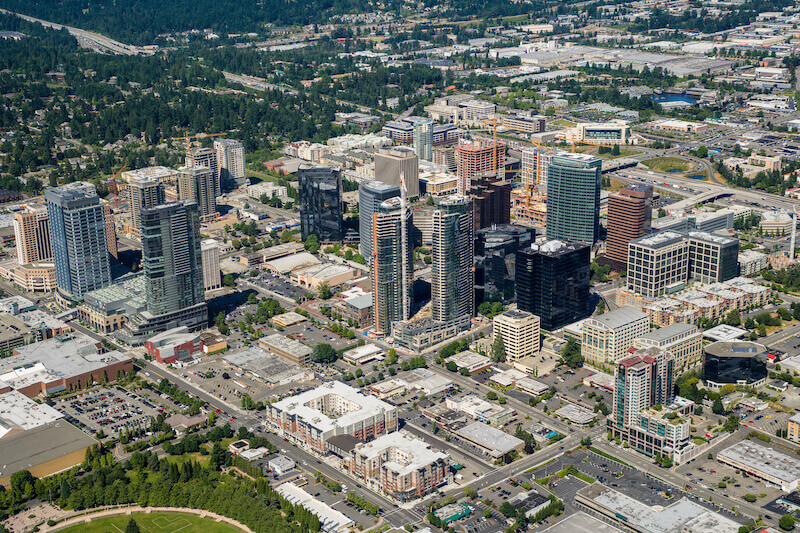 From sweeping skyline views to a spectacular rooftop deck, Mira Flats has everything people love about living in a chic, urban condominium community. Owned by Create World Real Estate, Mira Flats is the first phase of a two-phase project called Mira. The project is dedicated to creating inspirational, high-quality spaces for Bellevue residents. Set in the heart of Downtown Bellevue, Mira Flats is near the Bellevue Art Museum and Bellevue Square, as well as numerous restaurants, shops, and boutiques.
Within Mira Flats, residents can enjoy panoramic city views from the rooftop deck, featuring barbecues, a wet bar, plenty of lounge seating, and a dog run. Residents can rent or purchase a studio, one-bedroom, two-bedroom, or three-bedroom unit within this magnificent condominium community.
Mira Flats Amenities
Rooftop deck
Barbeques
Wet bar
Dog run
24-hour security at the main entrance
Conference room
Resident courtyard
Club Lounge
Condo Living in Bellevue
Located just 15 minutes from the city of Seattle, Bellevue is one of Washington's fastest-growing cities and is home to some of the best condo communities in the Pacific Northwest. Check out Bellevue and its condos for an alternative to Seattle's luxury real estate market. With a magnificent downtown area, striking nature views, and numerous luxury amenities, Bellevue may be the area for you.