4 Ways to Increase the Resale Value Of Your Luxury Waterfront Property
Posted by Adriano Tori on Wednesday, April 27, 2022 at 5:05 AM
By Adriano Tori / April 27, 2022
Comment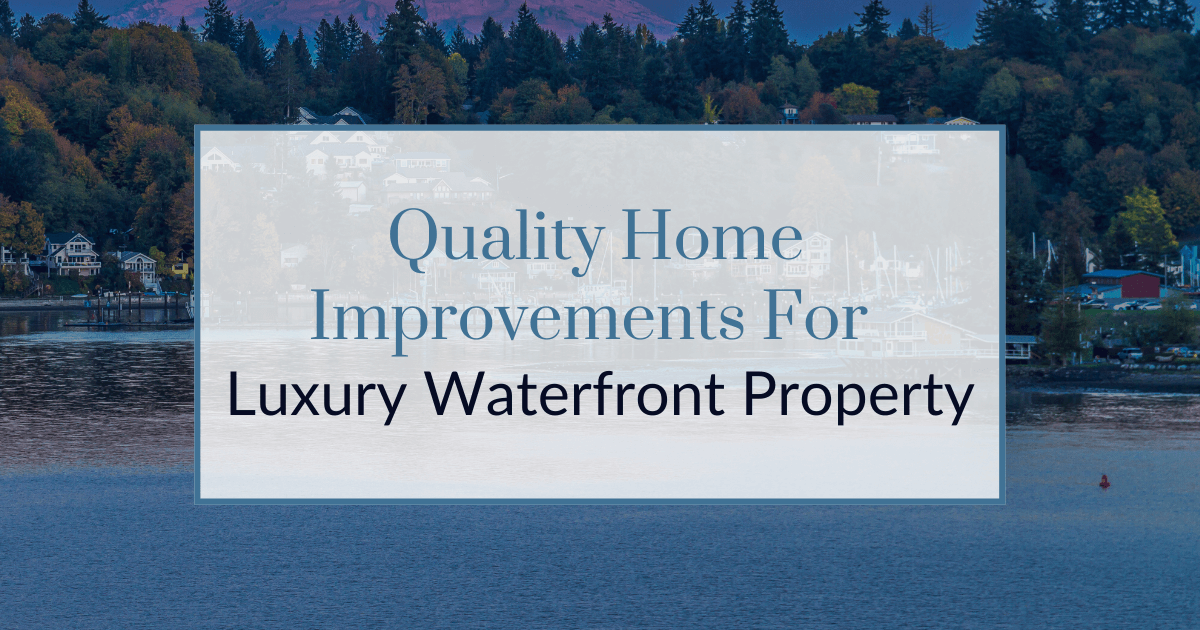 Waterfront homes have a reputation for luxury due to their relaxing setting, breathtaking views, and quick access to the water for outdoor activities like boating, fishing, and swimming. It's no secret that living in luxury waterfront homes comes with upscale perks, like lounging on the shore to enjoying the water itself. Waterfront homes can be a fantastic investment because of their inherently limited inventory, perennial appeal, and high chances of maintaining or increasing property value. If you're looking to get the maximum return on investment, keep reading to learn about four ways to get the most out of your luxury waterfront home.
Take Advantage of the View: Build an Outdoor Living Space
One of the strongest draws of living in a waterfront home is being able to experience incredible views of the water as part of daily life. Trimming back excessive plant growth, drawing curtains back, and keeping windows clean can help ensure water views are unobstructed. There's no better way to enjoy the view than from the great outdoors, though. Adding an outdoor living space overlooking the water can make it easy to spend lots of time in the places where the waterfront views are the best. Furthermore, outdoor living spaces increase property values in many instances.
All sorts of outdoor amenities can improve a waterfront home's backyard and resale value. If outdoor cooking and entertaining are priorities, consider investing in an outdoor kitchen. There is nothing quite like a lively beachfront barbecue or a relaxing glass of wine on the riverfront. A cozy fire pit makes for another charming addition to an outdoor space, serving as a focal point for gatherings and providing a source of warmth during the colder winter months.
Gazebos and gardens can also provide tranquil settings to enjoy the view, but these features require careful placement to ensure they don't block the view from the home itself. Sizable properties can also benefit from playgrounds and sports facilities. Finally, a sculpted pathway or footbridge leading to the water can make it easy to enjoy the view right up to the water's edge. Typically, the highest ROI home improvements will improve your day-to-day life, so don't forget to consider your own needs as well as the bottom line.
Add Value & Enjoyment With a Private Dock
Many consider having a private dock essential to waterfront living due to the immense value it can provide, whether the goal is to have a safe place to store a boat, a secluded spot for fishing, or a unique space to entertain guests. Adding a dock can increase home value by $14,000 to $20,000 on average, but selecting the right dock for the property is crucial.
Permanent stationary docks are most appropriate in areas where the water level changes very little. These docks can be great spaces for entertaining guests because they don't shake or sway with the water and can accommodate deck chairs, umbrellas, and other fixtures.
Pipe docks and lift docks also work well in places where the water level remains relatively constant. Unlike permanent piers, they are removable for storage during the winter or rough weather.
Floating docks work better in places where the water level varies more significantly because they rise and sink with the water. They're also easier to modify than other docks and removable during inclement weather. However, not everyone enjoys the swaying associated with a floating dock.
Docks add plenty of value as is, but a boat lift can improve their value even more. These structures can help keep the boat safe and provide an easy way to get the boat in and out of the water.
Buy Into a Community with Added Amenities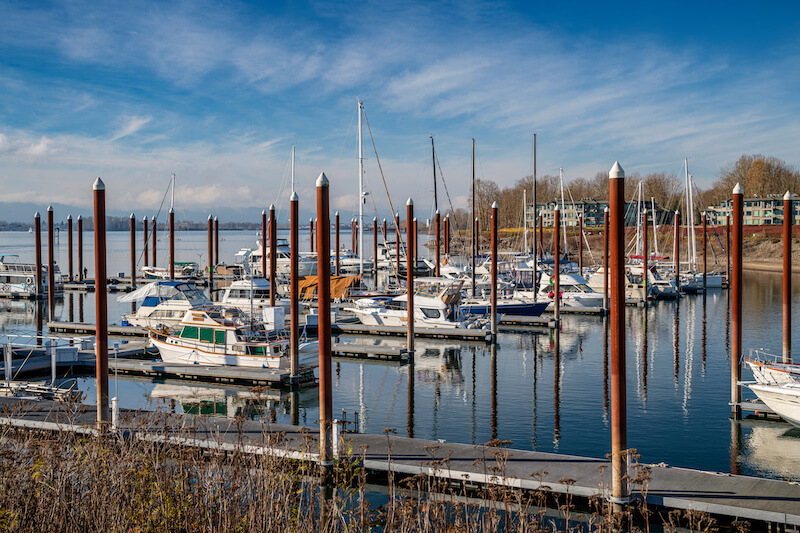 The benefits of owning a waterfront home are not always directly on the property. Planned communities can be great investments because they boast exclusive amenities that make waterfront living even more enjoyable, such as marinas, clubhouses, and sports facilities.
The possibilities for community amenities are near-endless, with each waterfront community offering a unique mix of benefits. Community-only marinas, piers, boat ramps, and boat storage facilities can enhance the experience of living on the waterfront. Meanwhile, exclusive restaurants, sometimes located directly on the water, provide excellent opportunities for dining without ever needing to leave the neighborhood.
Many waterfront communities boast extensive facilities for outdoor recreation and exercise. Golf courses, tennis and pickleball courts, swimming pools, and fitness centers are commonplace in many upscale communities. Parks, trails, and playgrounds provide even more opportunities to exercise and enjoy nature. Furthermore, clubhouses and pavilions can offer spaces for large gatherings outside the home.
Some waterfront communities also offer shops to purchase bait, tackle, and other fishing supplies or items related to the community's other amenities. These community shops may also provide kayak, canoe, and paddleboat rentals for enjoying the waterfront.
Find a Property with Protected Beach/Water Access Rights
It may come as a surprise, but not all waterfront properties come with the right to access the water. Researching the differences between types of waterfront properties can ensure an optimal return on investment. Furthermore, inquiring about water access rights is one of the most important questions to ask when buying a waterfront home.
Some waterfront properties confer riparian rights, but these can vary significantly by state and depend on what kind of water body adjoins the property. While riparian rights offer many benefits, they are not necessary for water access.
The property's deed should include any easements on the property or other properties the owner can access. Easements allow others to access part of the property to reach the water. An easement can lower a property's value because of the added traffic and limits on fencing, but having deeded access to an easement on another property can raise the property's value. It's worth noting that deeded access does not always guarantee any facilities on the easement are available. Popular resorts may have fewer boat slips than homes, leaving new homeowners on a waiting list.
Invest In the Luxury Waterfront Lifestyle
Living in a waterfront home promotes a luxurious, active lifestyle featuring impressive views, coastal entertainment, and all sorts of water recreation. Waterfront homes become even more valuable when they have a cozy outdoor living space, a permitted private dock, extra community amenities, and protected access rights to the beach and water. Use the tips provided in this article to maximize your chances of getting a top-dollar return on investment.