8 Best Neighborhoods in Bothell, WA: Best Places to Live in Bothell
Posted by Adriano Tori on Monday, June 19, 2023 at 11:16:42 AM
By Adriano Tori / June 19, 2023
Comment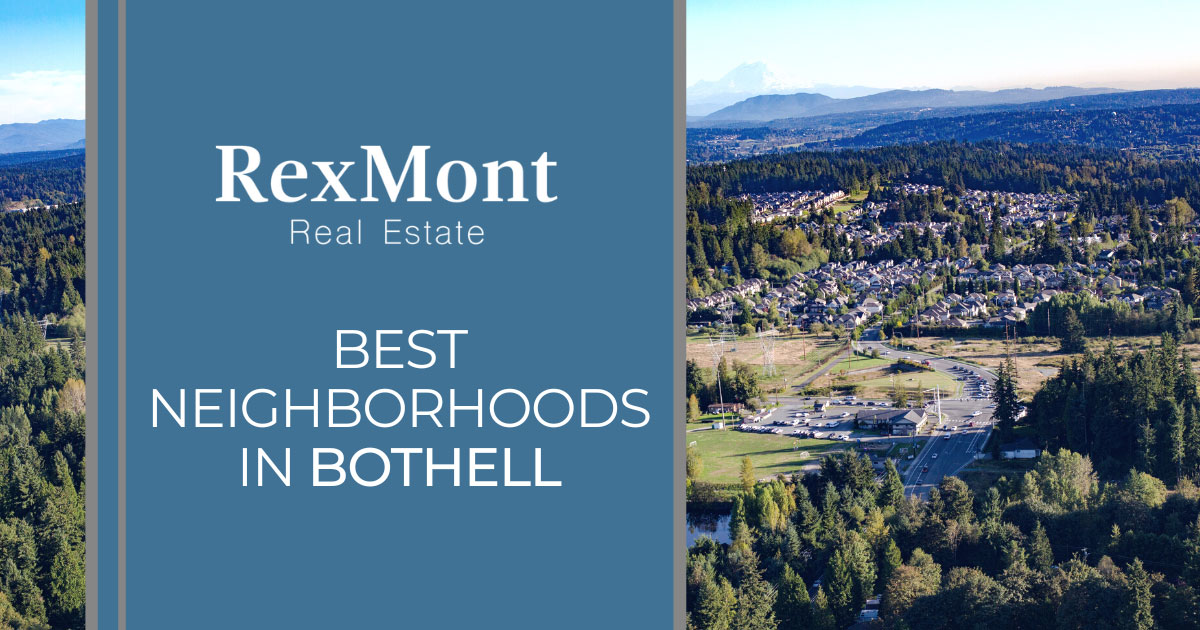 The vibrant city of Bothell is nestled in the heart of the Pacific Northwest and combines tranquility, convenience, and a rich community spirit. This suburban haven, just a stone's throw away from the city of Seattle, offers desirable communities, whether you're moving to Bothell soon or just want to explore the area. From downtown to Westhill, here's what Bothell's best neighborhoods can offer potential homebuyers.
Downtown/Riverfront
Downtown/Riverfront is situated on either side of the Sammamish River near Bothell Landing Park. The north side is home to a thriving hub of restaurants, bars, shops, and entertainment. The south side is quieter, with the scenic Sammamish River Trail winding through. It's ideal for those who want to be within walking distance of urban amenities while enjoying a peaceful, natural setting. Additionally, the area's proximity to I-405 and Woodinville Drive attracts commuters looking for easy access to Seattle and points east.
North of the river, Main Street's pedestrian-friendly strip is bustling with sidewalk cafes, boutiques, and services. Notable places and events include Alexa's Cafe, featuring live jazz, and the Bothell Art Walk during the spring, summer, and fall. Hillcrest Bakery is another neighborhood hotspot, serving European sweets since 1965, while Zulu's Board Game Cafe is well-known for its game-themed decor.
Downtown/Riverfront is also home to 10 parks, plus McMenamins Anderson School. The former junior high school was constructed in 1931 in the art deco style and now serves as an entertainment venue, with live music, theatre performances, and special events.
Real estate in Downtown/Riverfront consists of single-family detached bungalows, ranchers, contemporary builds, and a few condo and townhome communities. Prices generally range from the $200s for a small condo to $2 million for a large new construction home.
Downtown/Riverfront Amenities
The Park at Bothell Landing
Social Grounds Coffee
Graham's RoyalTea
Hop and Hound Craft Beer
Poquitos Mexican
Bothell High School
Canyon Park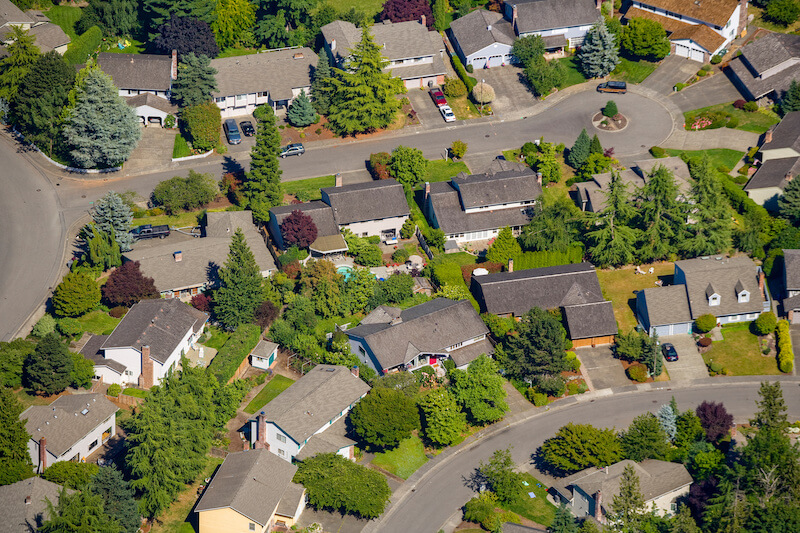 Located around the I-405 and SR-527 interchange, Canyon Park is Bothell's largest shopping district and home to the city's largest office park. Known as the Canyon Park Business Center, the area's commercial hub spans 300 acres and houses Bothell's top employers, including AGS Biologics, Seagen, and FUJIFILM Sonosite. The community surrounding the office park has a suburban vibe, with many modern homes backing onto wooded areas.
Canyon Park Place is the neighborhood's main retail center, with dozens of stores, restaurants, and services. PCC Community Markets, Chaat House Indian Cuisine, and Crystal Creek Cafe are favorites here. Other nearby amenities include Indigo Urgent Care, StretchLab Fitness & Physical Therapy, and Innovation Lab High School, part of the Northshore School District.
Canyon Park has several banks, grocery stores, and services along SR-527 (Bothell Everett Highway). Residents can access Cedar Grove Park south of the 405 for outdoor recreation. Another option is the North Creek Regional Trail, offering miles of paved pathways for walking, jogging, and biking.
Homes in Canyon Park are diverse, ranging from mid-century ranchers and split-level homes to Craftsman-style bungalows and new construction properties. Prices start in the $400s for a detached starter home and go up to $2.2 million for a large luxury property.
Canyon Park Amenities
Quality Food Centers (QFC)
Viva Jalisco Mexican
Grazie Ristorante
MOD Pizza
Orangetheory Fitness
Hilton Garden Inn
Kid's Country Learning Center
Queensgate
Queensgate is a residential neighborhood in the southeast corner of Bothell near the city of Woodinville. Known for its many cul-de-sacs, winding tree-lined streets, and green spaces, Queensgate is just a few minutes from I-405 and SR-522, making it an ideal spot for commuters. College students are also within easy reach of the University of Washington Bothell and Cascadia College.
As one of the best Bothell neighborhoods for indoor and outdoor recreation, Queensgate is home to Sno-King Ice Arena, South Norway Hill Park, and Kingsgate Park. Additional green spaces include Brickyard Road Park, where residents can access playgrounds, pickleball, and basketball courts, and the nearby Wilmot Gateway Park. Kingsgate Library, Woodmor Elementary School, and Northshore Middle School are all within the community, while the Willows Run Golf Complex is less than 10 minutes away by car.
Queensgate real estate consists of single-family detached properties and a few condo communities. Most homes showcase traditional Craftsman-style architecture, with a few new construction properties mixed in. Homes for sale in Queensgate range in price from the $400s for a two-bedroom condo to $2 million for a luxury custom build.
Queensgate Amenities
Martedi Winery
Twisted Cuban Cafe
La Princesa Market
Cookhouse Restaurant & Bar
Seattle Barbell Club
Bothel KinderCare
Evergreen Academy Preschool
Maywood Hills
Maywood Hills is in the heart of Bothell, just north of the downtown area and south of Canyon Park. As one of the more established neighborhoods in the city, it's home to several Bothell schools, including Maywood Hills Elementary and Canyon Park Middle School. Although some of Bothell's oldest homes can be found in Maywood Hills, with many dating back to the early 1900s, most were built during the 1950s and '60s and have been well-maintained.
Maywood Hills' eastern border runs north to south along I-405, perfect for commuters. Its largest green space, North Creek Forest, is also nestled west of the freeway. Spanning 64 acres, the park features wetlands, meadows, and forests home to various plant and animal species. Other neighborhood amenities include Stipek Park, Beardslee Public House Brewery, Heritage Christian Academy, and St. Brendan Parish School.
Most homes in Maywood Hills are single-family detached, though some townhome and duplex developments exist. Prices typically range from the $400s for a two-bedroom condo to $2 million for a luxury property on a large lot. However, most detached homes will fall in the $1 million to $1.4 million range.
Maywood Hills Amenities
Royal Oaks Park
Pasion Tequila
Ivar's Seafood Bar
Woods Coffee
Safeway Supermarket
Pop Keeney Stadium
Cut + Flow Studio
Norway Hill
Norway Hill is on Bothell's southern edge, just west of I-405. This neighborhood has rolling hills and wooded areas that give it a rural feel, though shopping and dining options are nearby. The Tolt Pipeline Trail bisects the community, offering 12 miles of paved walking, running, and biking pathways. Heading east, it connects to the Sammamish River Trail in Woodinville, offering nature lovers access to even more recreational amenities.
Although there are no public schools in Norway Hill, residents are within a six-minute drive of Woodmoor Elementary and Northshore Middle School on the other side of the freeway. The only school in the neighborhood is the private Cedar Park Christian School, enrolling students from preschool to grade 12. Locals are also near Blyth Park, a 40-acre green space offering disc golf, playgrounds, and a kayak launch on the Sammamish River.
Homes in Norway Hill range from free-standing, mid-century ranchers to Craftsman-style bungalows and newer builds. Several condo communities are also in the area, some of which are gated. Home prices generally fall between the mid-$200s and the mid-$800s in the condo market, while detached homes start in the $700s and can reach $2 million.
Norway Hill Amenities
Brackett's Landing Park
Cedar Park Sports Field
Burke Gilman Trail
Aryana Hair Salon
Sunshine Academy Daycare
Keener's Christmas Lights
Safeway Supermarket
Pioneer Hills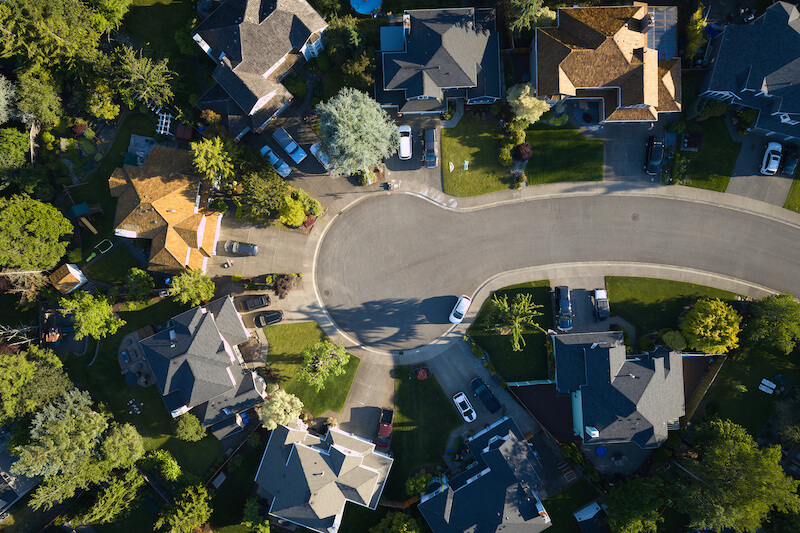 Pioneer Hills is a residential neighborhood west of SR-522 and east of 120th Avenue near the Woodinville border. The area features large hillside homes set amid tall pines and winding roads, perfect for those who love being outdoors. Most homes are within walking distance of Wellington Elementary and Woodinville High School. Proximity to shopping, dining, and entertainment makes Pioneer Hills one of the best Bothell neighborhoods.
Pioneer Hills is home to Bloomberg Hill Park, featuring a basketball court, playground, and lawn. Rotary Community Park is another green space in the area, with a climbing boulder, a graffiti wall, and picnic tables. For everyday needs, locals are minutes away from a Costco Wholesale, plus several eateries and services at North Creek Plaza. These include Jet City Pizza Co., Taco del Mar, 9 Round Fitness, and Starbucks. A popular hot dog shack, Dandy Dogs, is near the plaza.
Homes in Pioneer Hills range from traditional ramblers to stately modern builds, many of which back onto greenbelts or densely wooded areas. Home prices generally range from the $800s to $1.8 million.
Pioneer Hills Amenities
Triplehorn Brewery
Teriyaki etc.!
522 Taproom
24 Hour Fitness
Northshore YMCA
Anny's Daycare
British Swim School
US Foods Chef'Store
Shelton View
Shelton View is nestled in the city's west end, south of 228th Street and west of Meridian Avenue. Known for its contemporary, character-filled homes, manicured lawns, and mature trees, this neighborhood is home to Shelton View Elementary, part of the Northshore School District.
Shelton View's largest green space, Shelton View Forest, is at the heart of the community. Spanning roughly 60 acres, the park features walking trails, forested ravines, and a trio of rusted cars that have become local landmarks. West of the forest, residents can access Forsgren Park, an open green space with sports fields, walking paths, and a playground. On 228th Street to the north side, a strip mall is home to several local businesses, including Gourmet Latte Coffee Shop. Heading east on 228th Street, locals can find more eateries, shops, and services at Canyon Park Place.
Real estate in Shelton View consists mainly of single-family detached homes, most of which were built in the 1980s. Prices usually range from the $700s for three bedrooms and 1,800 square feet to upwards of $2 million for a five-bedroom residence measuring 4,000 square feet.
Shelton View Amenities
Kid's Country Learning Center
Shelton View Meridian Trailhead
Wallace Swamp Creek Park
Safeway Supermarket
Stone Korean Restaurant
Mercurys Coffee
Teriyaki & Pho
Westhill
Westhill is a quiet suburban neighborhood within walking distance of Bothell's vibrant downtown. Locals have easy access to the Sammamish River Trail and the Burke-Gilman Trail, a 20-mile pathway covering King County from Bothell to Seattle. The trail is especially popular with bikers, skaters, and runners and links to the county's Regional Trails System, offering more than 300 miles of scenic paths, trails, and waterways.
Bothell Public Library, Westhill Elementary, and Bothell High School are all in Westhill, with many students walking or biking to school. Green spaces include Conifer View Park and Tall Tree Park, offering a basketball court, playgrounds, and picnic areas. Local amenities on the neighborhood's south side along Bothell Way include Yakima Fruit Market & Nursery, Afghan Choopan Restaurant, and Beehive Espresso. Other notable places nearby include Kenmore Lanes, Grocery Outlet, and Primrose Daycare.
Real estate in Westhill ranges from multi-level townhomes to Craftsman-style bungalows and contemporary builds with luxury features. Prices in the detached market typically range from the $900s to $3 million.
Westhill Amenities
Doug Allen Sportsfields
Red Brick Road Park
Former Wayne Golf Course Park
Ripple Montessori School
Kataliya Thai House
Kenmore Fitness
Find Your New Home in One of Bothell's Best Neighborhoods
Bothell is an ever-evolving real estate gem, rich in history, community spirit, and various lifestyle opportunities. These neighborhoods offer unique characteristics, from excellent amenities to tranquil suburban atmospheres. Bothell's top neighborhoods provide a distinctive blend of charm, convenience, and community engagement, making the city an exceptional choice for your next home.