5 Best Bellevue Parks: Neighborhood Playgrounds & Athletic Fields in Bellevue
Posted by Adriano Tori on Tuesday, November 29, 2022 at 11:09 AM
By Adriano Tori / November 29, 2022
Comment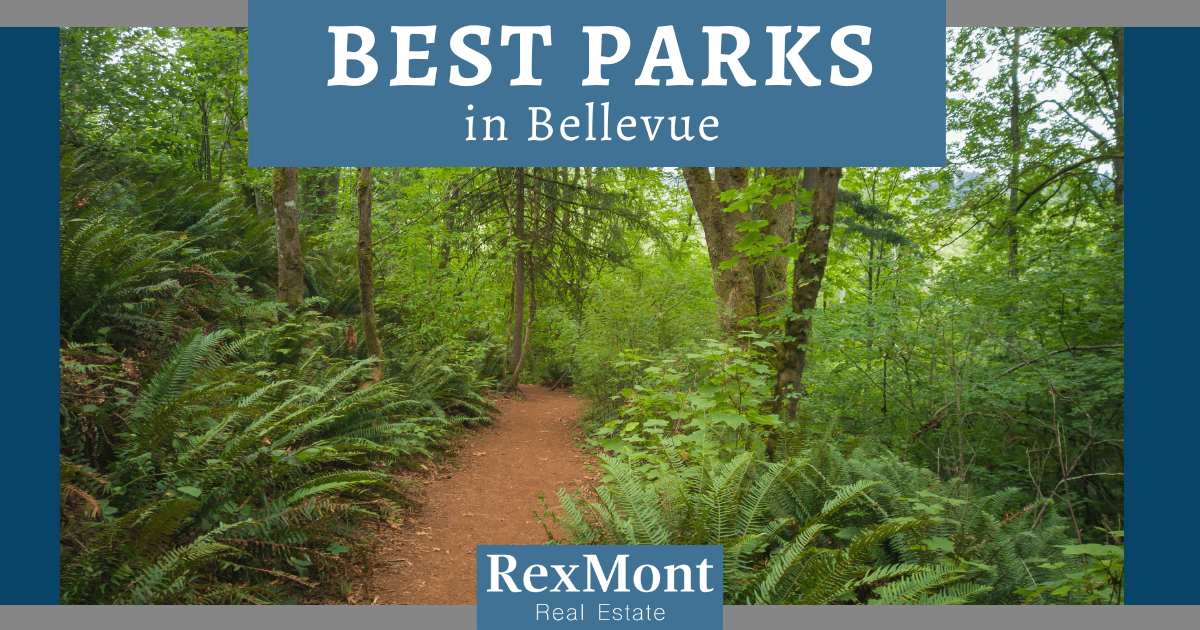 Bellevue encompasses a large section of the Eastside King County area and is both a technology and retail center. Downtown gleams with high-rises and is alive with action. However, despite first appearances, Bellevue homes are never far from lush parks and gardens.
Several beautiful green spaces and parks are hidden off the beaten path throughout the city. If you're looking for things to do in Bellevue, whether you're looking for a place to have a picnic, take a walk, or play some sports, these great Bellevue parks are a must-see.
Enjoy the Expanse of Wilburton Hill Park
At 105.49 acres, Wilburton Hill Park is the largest upland park in Bellevue, offering many activities for anyone who wants to get outdoors and enjoy nature.
The park has soccer and baseball fields, as well as several picnic areas near a playground with a thrilling kid-friendly zip line. Additionally, several pieces of exercise equipment for adults are positioned next to the playground, making it easy to get in a workout while keeping an eye on any kids.
However, this park is best known for being a natural respite in the city with an expansive trail system. It serves as a major link to the Greenway System and the Lake-to-Lake Trail. The eastern portion of Wilburton Hill Park has several trails and loops through a second-growth forest and passes through the Bellevue Botanical Garden.
Once in the gardens, visitors can choose from several longer forest trails. One trail heads to the Rock Garden and the Waterwise Garden, which features exhibitions of plants. The other leads to the Short House, which the Short Family owned in the 1950s. Another stop on this pathway is a grassy area known as Lost Meadow.
Each trail has a treat for hikers, including a high cable bridge that crosses a deep ravine. A large bronze frog named "Goldiwarts" located near the Visitor Center accepts optional donations.
Wilburton Hill Park is near the Woodridge and Wilburton neighborhoods, so if you're in the area, be sure to stop by!
Wilburton Hill Park Additional Information
Address: 12400 Main St, Bellevue, WA 98005
Hours: Dawn to 8:30 p.m.
Phone: (425) 452-6914
Splash in the Water and Enjoy Amenities at Meydenbauer Beach Park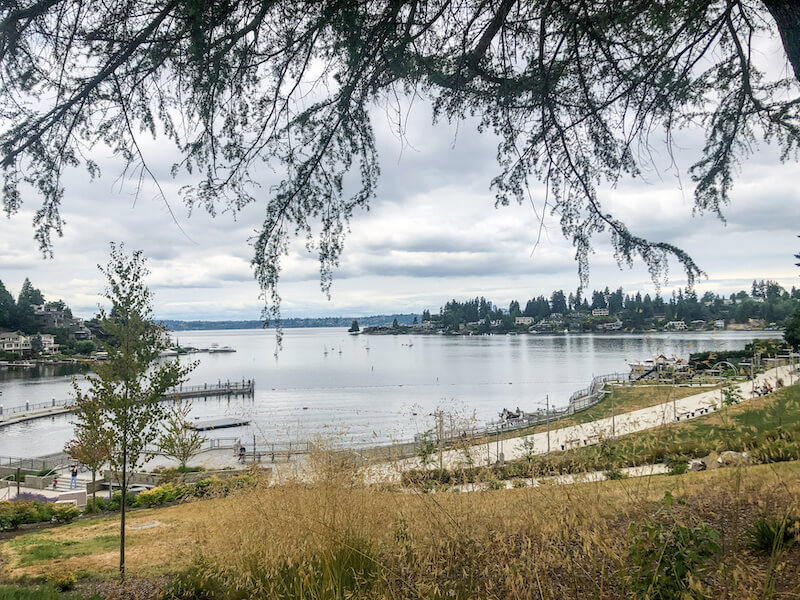 Meydenbauer Park in the downtown Bellevue neighborhood has been expanded and renovated to appeal to parkgoers and draw in new crowds. It serves as a beachfront park where visitors can splash in the waves and enjoy the spacious viewing terrace with ocean views. The park also has a beach house with restrooms and showers, and a pedestrian pier near the channel and ravine.
Non-motorized watercraft are permitted and can be launched from the pedestrian pier. REI offers Canoe and kayak rentals, and there are also trained lifeguards on duty.
Other highlights include walking paths and trails to the hillside woodland. In the open green spaces, visitors can enjoy picnic areas, a play area, and an outdoor classroom.
Meydenbauer Beach Park Additional Information
Location: 9899 Lake Washington Blvd NE, Bellevue, WA 98004
Hours: Daily 6 a.m. to 11 p.m.
Contact: (425) 452-6885
Check Out the Fun at Crossroads Park
Crossroads Park is located near the communities of Northeast Bellevue, Highlands, and Crossroads and is the home of the Bellevue Youth Theatre. This 34+ acre local park features quite a few amenities that many others do not, in addition to typical park installations. A few of them include:
Horseshoe Pits
Tennis Courts
Basketball Courts
Picnic Shelters
Play Areas
Jogging Paths
A Robust Community Center
The park boasts a skate bowl used by rollerbladers and boarders alike, with several ramps, jumps, and transition points within the bowl. The site also has a par-3 golf course where both traditional golf and foot golf can be played.
A highlight is the Crossroads Water Spray Playground, where children can hop onto water-spouting acrylic sea creatures. The spray park has play features including squirting clams, spouting orcas, spitting frogs, and rain-simulating palm trees. There is no standing water, and while the park is open year-round, it serves as a dry playground off-season.
Crossroads Park Additional Information
Address: 16140 NE 8th St, Bellevue, WA 98008
Hours: Open 24 hours
Water Features: Open 10 a.m. to 8 p.m. through Labor Day
Phone: (425) 452-6914
Green Spaces & Mountain Views at Bellevue Downtown Park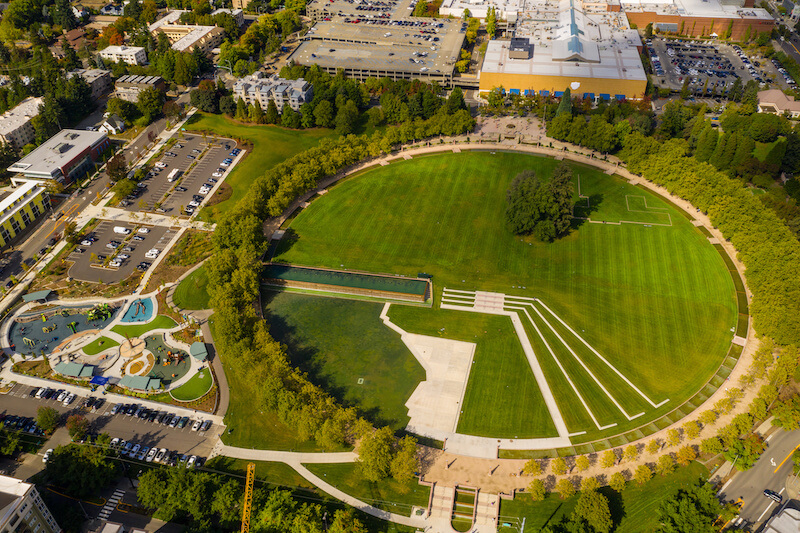 Another place popular with locals residing in neighborhoods near downtown Bellevue is the Bellevue Downtown Park. This is an oasis of green that encompasses 21 acres in the heart of Bellevue. While far from the largest park in the community, there are plenty of things to enjoy here.
Visitors can relax in the shade along the half-mile promenade that leads to a stepped canal. At the canal, guests will find an impressive 240-foot-wide waterfall cascading down into a beautiful reflecting pond.
Another installation at Bellevue Downtown Park is the Inspiration Playground, where "living" pieces of art and other interactive features reside. Children of all ages can play with abandon as they wander through the various stations.
A 10-acre open lawn area invites those looking to have a picnic to enjoy views of the park's formal gardens. In the background are great views of Bellevue's skyline and Mount Rainier.
Bellevue Downtown Park Additional Information
Address: 10201 NE 4th Street, Bellevue, WA 98004
Hours: Dawn to 11 p.m.
Contact: (425) 452-6885
Robinswood Community Park is a Recreational Paradise
With 10 acres of wooded space with two miles of groomed dog-friendly hiking trails, Robinswood Community Park is favored by those in the Robinswood neighborhood and the Lake Hills community. This green space is highly acclaimed for having an abundance of recreational opportunities.
Two dog park corrals offer off-leash play zones for pets, and one has a small shelter. The rest of the park features amenities that include a small pond, spacious grassy fields, restrooms, and picnic areas.
Visitors can also access multiple sports fields, including lighted soccer, lacrosse, and softball areas. The fields are open to the public but can be rented for private games.
The park is also the location of Robinswood House, which is accessible via the trails. This gorgeous home is unique in style and offers a special atmosphere that serves as a space for groups of up to 60 people indoors but can accommodate up to 200 with the outdoor area included. Robinswood House is often used for social events, corporate meetings, and intimate weddings.
About 900 feet into the trail's main entrance is the starting point where trail markers begin. These pathways are wide and only have a slight slope, making it an easy trail for hikers. Prepare to see a good deal of northwest wildlife and migratory birds amid the mature Douglas firs lining the trail.
Robinswood Community Park Additional Information
Address: 2432 148th Ave SE, Bellevue, WA 98007
Hours: 6 a.m. to 9 p.m.
Phone: (425) 452-6914
Relax in one of Bellevue's Best Public Parks
If you're looking for a place to relax and enjoy the outdoors, Bellevue has some great parks to offer. From expansive city parks with stunning views of the cityscape and mountains to beaches where visitors can soak up the sun, there's something for everyone in Bellevue's park system. If you live in one of the many great Bellevue neighborhoods with access to one of these city parks, what are you waiting for? Get out and explore them today!