5 Best Parks in Kirkland: Explore Parks & Playgrounds in Kirkland
Posted by Adriano Tori on Wednesday, January 11, 2023 at 1:28:43 PM
By Adriano Tori / January 11, 2023
Comment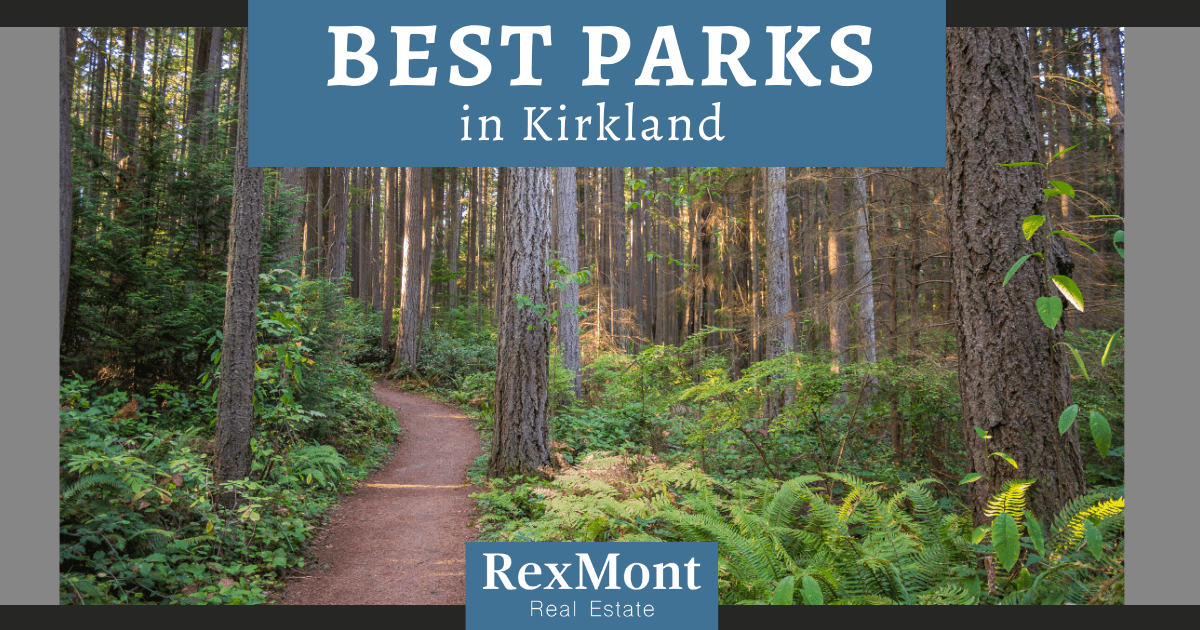 Some of the public parks in the city of Kirkland, WA—one of Seattle's best suburbs—serve as wonderful community gathering spaces. They're nice spots for a picnic, a little exercise, boating, or fishing. Stepping into other parks feels like an almost primordial experience. The temperate rainforest climate of the area allows amazing forests, filled with ferns and greenery and thousands of species of trees, to flourish. These fantastic nature getaways are what make living in the Seattle Metro area and Kirkland's best neighborhoods so unique.
Saint Edward State Park
St. Edward State Park is on the northern boundary of Kirkland, right on the shores of beautiful Lake Washington. This is the Inglewood neighborhood, and the shoreline of Lake Washington features incredible waterfront homes, many with private boat docks and stunning views. There are about 3,000 feet of shoreline available in this 316-acre day-use park. The park is named for the St. Edward Seminary, which was founded here back in 1930.
It's not uncommon to view wildlife like bald eagles and otters in St. Edward State Park, which falls within the borders of the neighboring city of Kenmore. Passes are required to enter the park, which can be purchased at a kiosk near the NE 145th Street entrance. A children's playground is centrally located in the park, and there are picnic areas with tables to the north and south of the playground. Numerous hiking trails lead through wooded areas or down to the shoreline along the lake. There's a public boat launch on the park's north boundary if anyone wants to launch a personal watercraft.
Bridle Trails State Park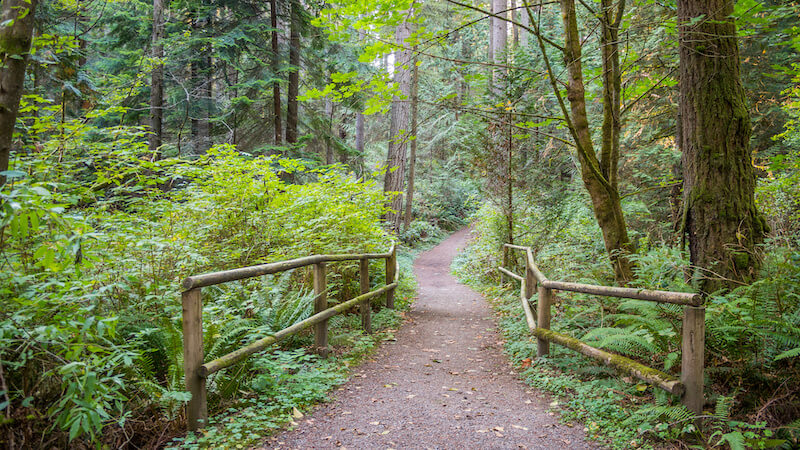 The Bridle Trails State Park and Natural Area is a vast, wooded green space just south of Kirkland. The park encompasses 489 acres and is open to the public during daylight hours. Bridle Trails is considered one of the top equestrian parks in the entire western half of the United States, thanks to more than 28 miles of wooded trails where people are welcome to go horseback riding. 132nd Avenue East makes up the park's eastern boundary, and it has many golf course homes and gated community homes across the street that have ready access to the park. The main parking lot is on the park's west side, off 116th Avenue NE.
Hikers and other visitors are also welcome to use the park's numerous trails. Leashed dogs are welcome in the state park, but remember that dogs and horses don't always go well together. Dogs should be under control, well-behaved, and on a leash no longer than five feet. When passing someone on horseback, step off the trail and have the dog sit until the horse has gone past. Horses always have the right-of-way on trails to prevent any accidents.
Bicycles and motorized vehicles are forbidden in Bridle Trails State Park, but once there, visitors are as close to Bellevue's best parks as one can get in Kirkland.
Watershed Park
Watershed Park is on the southern boundary of Kirkland, about two blocks west of Bridle Trails State Park. This is a 73-acre park that feels largely untouched, other than the well-maintained walking trails that run through it. It is open to the public from sunrise until 11:00 p.m. daily. There are three small parking areas where people can access Watershed Park:
South end of 114th Avenue NE
South end of 112th Avenue NE
Intersection of 110th Avenue NE & NE 45th Street
This park looks extremely undeveloped and natural, although some of Kirkland's luxury homes can be viewed peeking out from between the trees. The Cochran Springs Creek Trail is a short, flat hike rated "Easy" and an excellent adventure to tackle. A few benches are scattered along the main trail; otherwise, this is a fairly wild park. There are many species of trees in Watershed Park, and it is stunning in the fall when the leaves begin to change color. A scenic overlook in the park provides a nice spot to sit and enjoy the natural views and peace and quiet.
Juanita Bay Park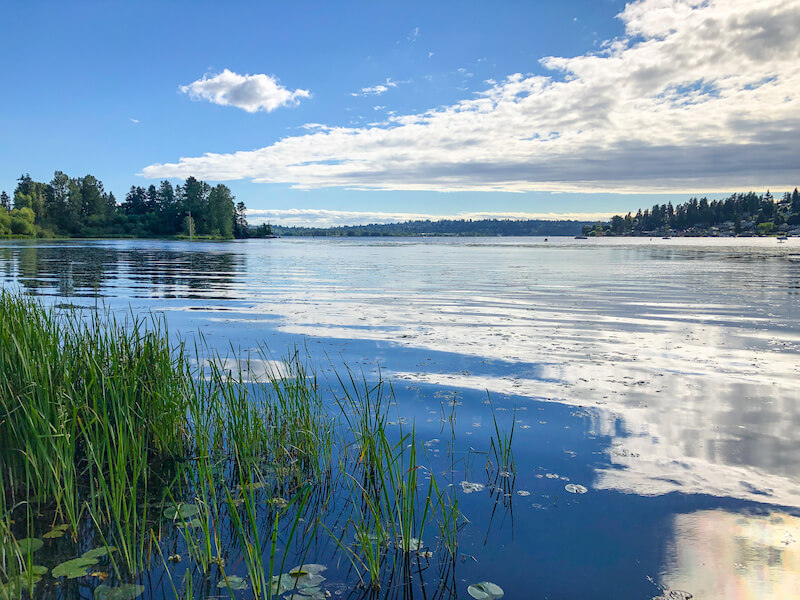 Residents of homes in Totem Lake are close to shopping and a number of condos in Kirkland. Just west of that neighborhood is South Juanita, the location of Juanita Bay Park. Juanita Bay is a beautiful body of water that extends northeast from Lake Washington. The park is along the western edge of Kirkland, right next to the water, and the main parking lot is off 98th Avenue NE at the park's southern end.
Juanita Bay Park is about 110 acres in size and features wetlands, marshes, meadows, and the open water of the bay. Wildlife includes many different species of waterfowl and turtles. The Old Market Street Trail begins at the parking lot and branches to the left and right. The left branch leads across a boardwalk to Nelson Point, which provides a tremendous viewing area for the bay, and the right extension of the trail follows a boardwalk along the bay's eastern edge.
There are picnic tables and public restrooms available here. It's a day-use park, open from dawn until dusk every day.
Peter Kirk Park
Peter Kirk Park is a great city park for anyone who wants a little less nature and a little more development in a park outing. The park's northern boundary is along Central Way, and the southern border is Kirkland Avenue and homes in the Moss Bay neighborhood. 3rd Street is the western boundary, and on the east, the park blends into a commercial district with multiple restaurants and coffee shops. Homes in Moss Bay—the neighborhood that begins just south of Peter Kirk Park—rarely list for sale due to the area's popularity.
The Peter Kirk Pool is an outdoor, heated pool open to the public during summer. The park is about 12 acres in size and is open from sunrise until 11 p.m. daily. There are outdoor tennis courts and basketball courts that are free to use, and a baseball/softball field is available to rent. This urban park has free Wi-Fi, and be sure to enjoy several public art bronze statues.
Multiple parking lots are on the south side of Peter Kirk Park, off Kirkland Avenue. One parking lot is next to the library, and the other two are to the east and west of the Kirkland Performance Center.
Enjoy Fabulous Parks in Kirkland, WA
Whether a person wants to enjoy an undeveloped forest, an immaculate urban park, or a horseback ride, Kirkland's state and local parks offer a little something for everyone. The parks provide great opportunities to enjoy fresh air and nature in this suburb of Seattle. The large amounts of greenery and trees always impress newcomers moving to Kirkland, and the parks here are never disappointing.