6 Best Nature Trails in Bellevue: Walking, Jogging & Hiking Near Bellevue
Posted by Adriano Tori on Wednesday, November 16, 2022 at 8:15:44 AM
By Adriano Tori / November 16, 2022
Comment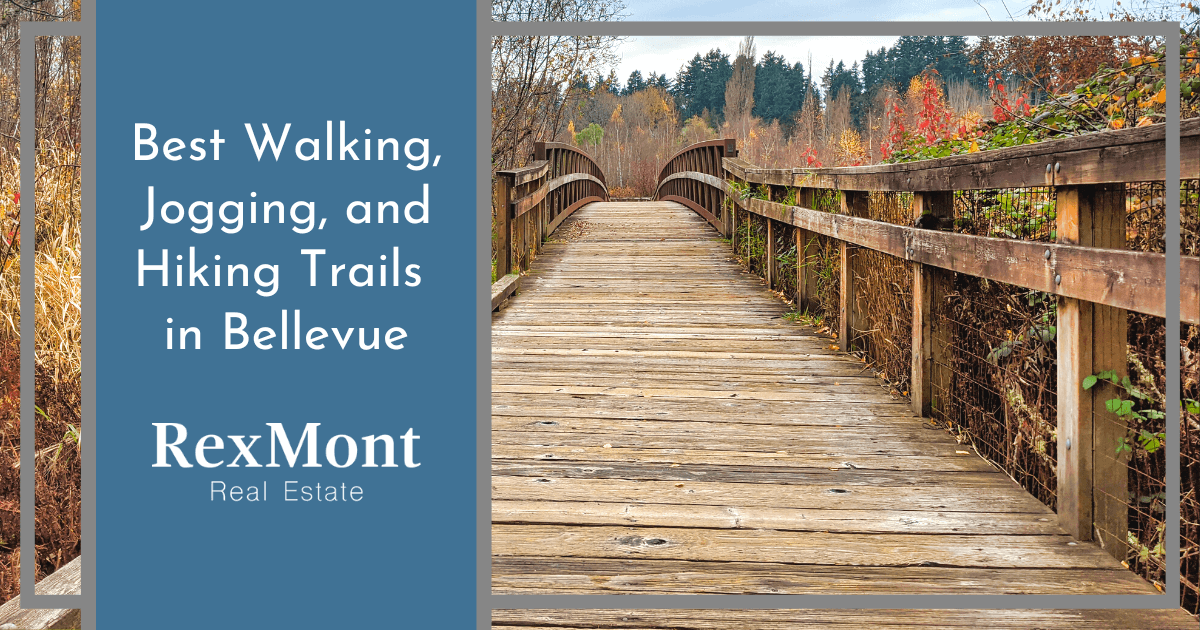 The city of Bellevue, WA, has many great neighborhood trails for locals to enjoy. All residents have to do is step out of their waterfront homes along Lake Sammamish or Lake Washington, and they're just a few minutes away from some great natural areas and wildland parks. Visitors and those moving to Bellevue should never forget to check the forecast before setting out on an adventure, as Bellevue gets about 32 inches of rainfall every year. Here's a guide to some of the best neighborhood trails in Bellevue.
Coal Creek Natural Area
The Coal Creek Natural Area is an ample green space stretching from southern Bellevue into Newcastle. The northern stretch of Coal Creek is sandwiched between homes for sale in Newport Hills and the Somerset neighborhood. Accessing the trails can sometimes be challenging because parking is limited to several small parking lots. One is on SE 60th Street in Newport Hills. Several other small parking lots are available along the Coal Creek Parkway, which runs through the natural area.
Hikers who journey out here can access a lovely 5.3-mile out-and-back trail through a second-growth forest. The trail is relatively flat and kid-friendly. Dogs are welcome, and they can even be off-leash in some parts—just look for the signs. Most of the trail is packed dirt, so it can get slippery after rain. Various artifacts from its days as a coal mining area are visible along the way, and visitor's kiosks provide more information for visitors.
Mercer Slough Nature Park
Mercer Slough is the largest remaining Lake Washington wetland. The Mercer Slough Nature Park is located between the Woodridge neighborhood and West Bellevue. The 320-acre site feels like another world, despite being near the 405 Freeway to the east. The best place to park to access Mercer Slough Nature Park's trails is in the parking lot on 118th Street. There's an easy-rated 2.5-mile loop trail that runs through the wetlands.
The trail is suitable for hiking and jogging. The surface is primarily a mix of asphalt and dirt, with some interconnected boardwalks. It's relatively flat the whole way, so it's also kid-friendly. Leashed dogs are welcome. Mercer Slough has many bugs, especially during hot and humid summer days. Locals are welcome to bring a basket and go blueberry picking at the Blueberry Farm during the fall.
Lake to Lake Trail and Greenway
Residents can leave their Bellevue waterfront homes on Lake Sammamish and hike 10 miles across town to Lake Washington using the Lake to Lake Trail and Greenway. This unique trail system meanders through more than 800 acres of parkland. Located near the Robinswood and Phantom Lake neighborhoods, the trail is rated "Easy" and is kid-friendly, wheelchair-friendly, and dog-friendly, so long as the dog is on a leash.
In some sections between parks, the trail is split by sidewalks. The route is marked by blue City of Bellevue signs, so it's easy to follow. The trail wanders through wetlands, forests, and historic farms. It's possible to view great blue herons along the way and salmon in Kelsey Creek. Sometimes trekkers can see deer in Weowna Park. From east to west (or vice versa), the Lake to Lake Trail and Greenway connects nine different parks across the city of Bellevue. This makes these trails great for accessing all the best things to do in Bellevue.
Weowna Park Loop Trail
Weowna Park is at the eastern end of the Lake to Lake Trail, near West Lake Sammamish and the Lake Hills neighborhood. The loop trail that runs through the park features 3.4 miles of peace and quiet. The trail crosses Phantom Creek, which runs from Phantom Lake into Lake Sammamish, creating several small waterfalls along the way. The trail is rated "Moderate" and features a 660-foot elevation change, although it is considered kid-friendly.
Most of the trail is paved with asphalt, and leashed dogs are welcome to accompany their owners. Most of the trailhead entrances to Weowna Park have minimal street parking, but the trails run through some of Bellevue's best neighborhoods. March through October are the best months to visit here, especially during the wildflower season. Bird watchers will find this trail delightful during the summer as well. While hiking through this old-growth forest, visitors can catch views of the lake to the east and the Cascade Mountains in the distance.
Cougar Mountain Regional Wildland Park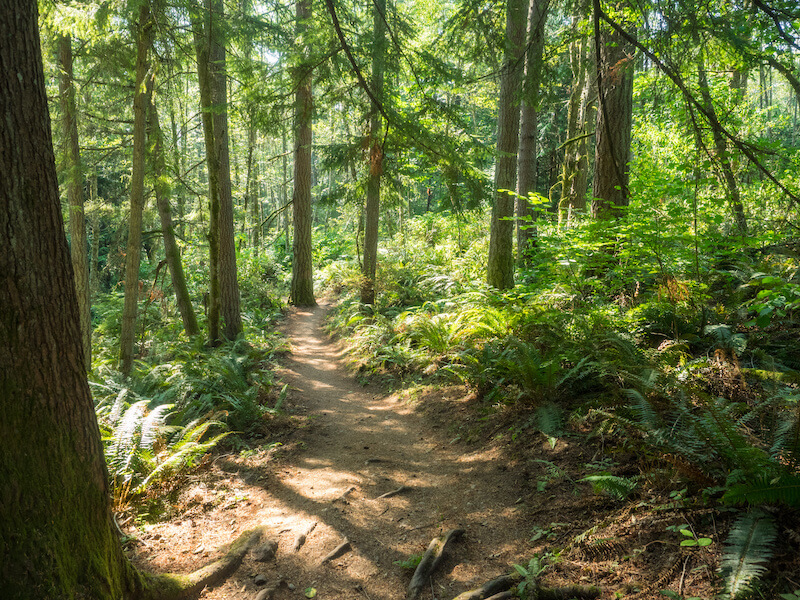 Cougar Mountain Regional Wildland Park is a paradise for serious hikers and trail runners adjacent to homes for sale in Cougar Mountain. Be advised, though: this trail is rated "Hard." It's not kid-friendly, and it features a 1,600-foot elevation gain. Visitors should also be comfortable in the great outdoors before tackling some of the 50 trails in this 3,000-acre sanctuary. The trails cover about 35 miles in total. For the most adventurous, there's also a 23.1-mile loop trail to attempt. Dogs are welcome, but they must remain on a leash.
Most of Cougar Mountain Regional Wildland Park is heavily forested. The park is close to the Phantom Lake neighborhood. There are four main trailheads where Cougar Mountain can be accessed, with the northwestern Red Town Trailhead being the most popular. Several shorter one- to two-mile trails take off from there as well. Just be advised that some of these are steep and challenging. Despite the elevation change along this trail route, most of the views involve trees and more trees.
Wilburton Hill Park Trail
The Wilburton Hill Park Trail is situated near the Wilburton neighborhood and Woodridge. Wilburton used to be a timber town, and there's plenty of forested land in this 120-acre park. It also borders the Bellevue Botanical Park. 3.5 miles of soft trails run through the park, including a 1.9-mile loop trail that runs through the Botanical Garden. The loop portion is wheelchair-friendly. It's an "Easy" rated trail and kid-friendly. However, dogs are prohibited in Wilburton Hill Park or the Botanical Garden.
The Lake to Lake Trail mentioned earlier traverses through Wilburton Hill Park, one of Bellevue's best parks. In addition to hiking, a portion of this park has baseball and soccer fields, basketball and tennis courts, and some playground equipment for kids. Wildflower season, from late spring through the end of summer, is the best time of year to visit Wilburton Hill Park. However, it's beautiful year-round and open even in the colder months. The trail also features a suspension bridge that crosses a ravine at one point.
Enjoy the Amazing Neighborhood Trails in Bellevue, WA
Some of the trails in Bellevue are in such large natural areas that hikers will forget they're less than 10 miles from the condos for sale in Seattle! Just remember that it can be easy for hikers to lose their sense of direction on cloudy or overcast days. It's a good idea to stay on the trails in these larger parks until you become familiar with the area. It's much more difficult to get lost because hikers will eventually encounter pavement no matter what direction they travel. However, knowing your way around ensures that their hike won't turn into a much longer experience than anticipated.