6 Best Kirkland Trails: Walking, Jogging & Hiking Trails Near Kirkland
Posted by Adriano Tori on Wednesday, January 18, 2023 at 8:38:50 AM
By Adriano Tori / January 18, 2023
Comment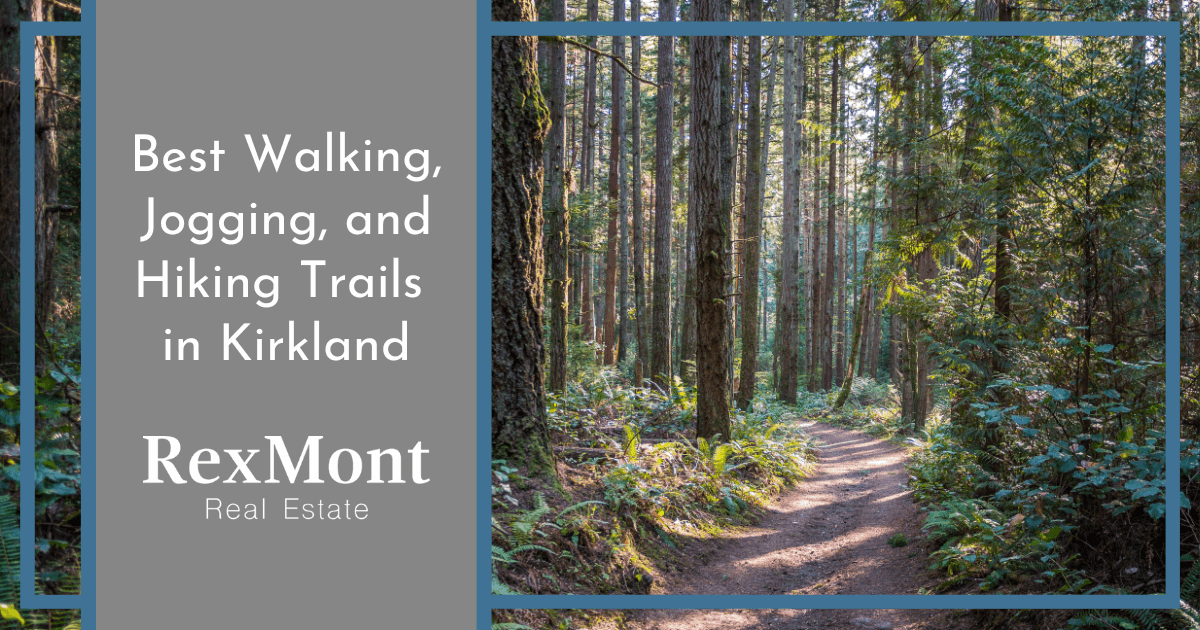 The economy in the "Eastside" of the Seattle Metro area is blazing, and many locals work very hard in the tech sector before resting their heads in the beautiful homes in Kirkland. That makes it all the more important for residents to "unplug" from work and reconnect with nature. Fortunately, those moving to Kirkland have many great urban parks and green spaces to visit for a hike, jog, bike ride, or horseback ride. Many miles of wooded trails in Kirkland allow locals to enjoy some peace, quiet, and tranquility.
Watershed Park Trail
Watershed Park is an undeveloped 73-acre green space in Kirkland that features a dirt loop trail dotted with benches. It's 1.6 miles in length and is rated "Easy," with a minimal challenge in terms of elevation changes. People hiking or jogging through the park are welcome to bring their dogs along, but they must be leashed at all times. Remember that Kirkland has wildlife within the city limits, including the occasional cougar or bear.
Bridle Trails State Park Trails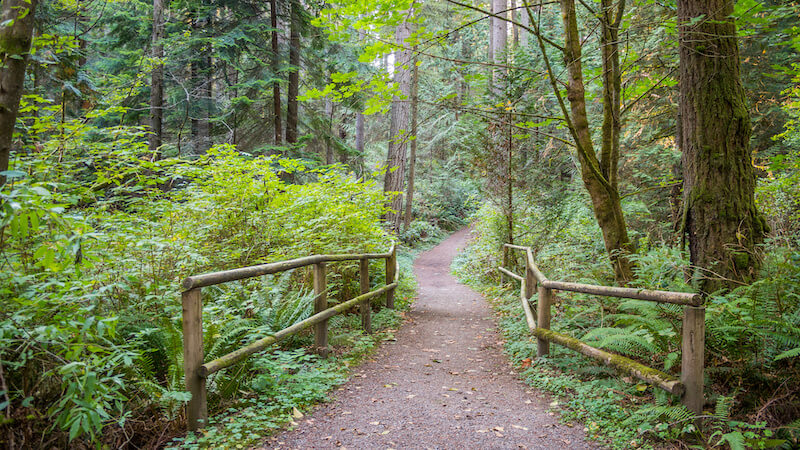 Located in the Bridle Trails neighborhood, Bridle Trails State Park has three great loop trails running through it:
Trillium Trail
Coyote Loop Trail
Raven and Coyote Trail Loop
All three are rated as "Easy" hikes and are relatively flat. Bridle Trails State Park is open to hikers, joggers, leashed dogs, and people on horseback. Mountain biking is prohibited. All three trails take off from the main parking lot, just off 116th Avenue NE, and marked signs throughout the park indicate how to follow the dirt trails.
The Trillium Trail is a 1.8-mile loop that takes about 40 minutes to walk, while the Coyote Loop Trail is 3.6 miles long and takes around 75 minutes to complete. The Raven and Coyote Loop Trail combines two trails in the park for those who want more of a challenge. This combined loop is about 5.5 miles and takes about 1 hour and 45 minutes to complete.
Tolt Pipeline Trail
The Tolt Pipeline transports water from the Tolt Reservoir in the Cascade Mountains to the Lake Forest Park Reservoir in the Seattle area. The pipeline runs between the city of Bothell and the Duvall community, mainly among the homes in Woodinville. City leaders decided years ago that it would be a great idea to turn the pipeline's right-of-way into an urban trail, and they were right.
The Tolt Pipeline Trail is about six miles long and runs in a straight line most of the way. It's impossible to get lost along this trail: just follow the pipeline! The trail is enjoyed by joggers, hikers, mountain bikers, and equestrians. It has an "Easy" rating, although it does have about a 1,200-foot elevation change. It's a family-friendly hike, and people are welcome to bring their leashed dogs with them as they hike along this fascinating piece of Seattle infrastructure.
Old Market Street Trail
The Old Market Street Trail runs through Juanita Bay Park on the west side of Kirkland in the Juanita neighborhood. This is an easy and handicapped-accessible paved trail, suitable for walking, jogging, pushing a stroller, or viewing from a wheelchair. The trail is nearly 20 feet wide, so it's easy for pedestrians or bicyclists to avoid bumping into each other. Numerous benches line the boardwalk for anyone who wants to sit down and watch the waterfowl on the bay. It's not uncommon to see bald eagles diving for fish, in addition to cranes, ducks, geese, and other water birds.
The town around the trail is beautiful, too, as it's located in one of Kirkland's best neighborhoods. Parking for the Old Market Street Trail is available in a small lot at the south end of Juanita Bay Park (right at the north end of Market Street). The boardwalk from the parking lot also branches to the left (west), where visitors will find a viewing area that looks out over the water. Leashed dogs are welcome here.
Denny Creek Trailhead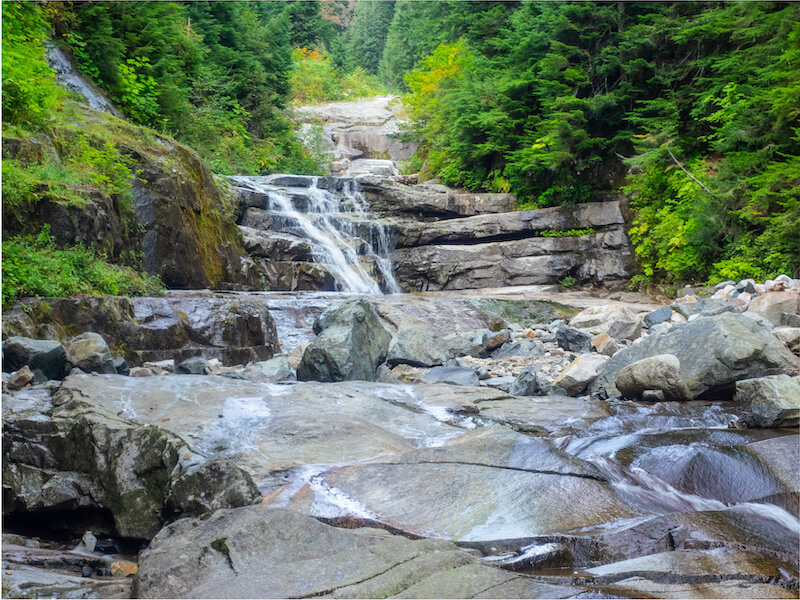 The Denny Creek Trailhead is in the Finn Hill neighborhood. There's not much signage to indicate that this hidden gem of a trail exists, but the trailhead is near a small parking lot across Holmes Point Drive NE from O.O. Denny Park. The trail follows Denny Creek up the hillside and past a salmon ladder as it winds through one of the few remaining old-growth forests in the Seattle area.
This dirt trail can become muddy and quite slick after rain. It's about two miles in length from start to finish. While the trail is technically rated "Easy," it does feature a few short but very steep spots; it has a total elevation gain of about 250 feet. The towering Douglas fir and Western red cedar are fantastic to hike through. A plaque along the way marks the site of one of the oldest Douglas fir trees in the Pacific Northwest, an estimated 600 years old.
Cross Kirkland Corridor
The Cross Kirkland Corridor is a major trail running through Seattle's Eastside. It begins in the north in the Totem Lake community and terminates about six miles south of Kirkland, where hikers can access Bellevue's best parks. The trail surface is crushed gravel, but the city has plans to pave it. This mostly flat, "Easy" trail is 5.75 miles from end to end and is suitable for running, walking, and biking; leashed dogs are welcome.
Trail etiquette requires anyone walking their dog to stay on the right side of the path. Bicyclists are limited to a maximum speed of 15 miles per hour for safety and are required to yield to pedestrians. This trail is open daily from 5 a.m. until 11 p.m.
Fresh Air in Kirkland's Great Outdoors
Kirkland is fortunate to have hundreds of acres of parks and green spaces for preservation. The trails that run through these parks are relaxing and inspiring simultaneously, and since driving in Kirkland is typically a breeze, they're easy to access. These are some of the best trails in Kirkland, but they're not the only ones. People moving to this area will keep finding hidden hikes and adventures if they keep looking!