4 Design Plans For Luxury Waterfront Homes: Get The Best Lake Washington Views
Posted by Adriano Tori on Friday, April 29, 2022 at 9:23 AM
By Adriano Tori / April 29, 2022
Comment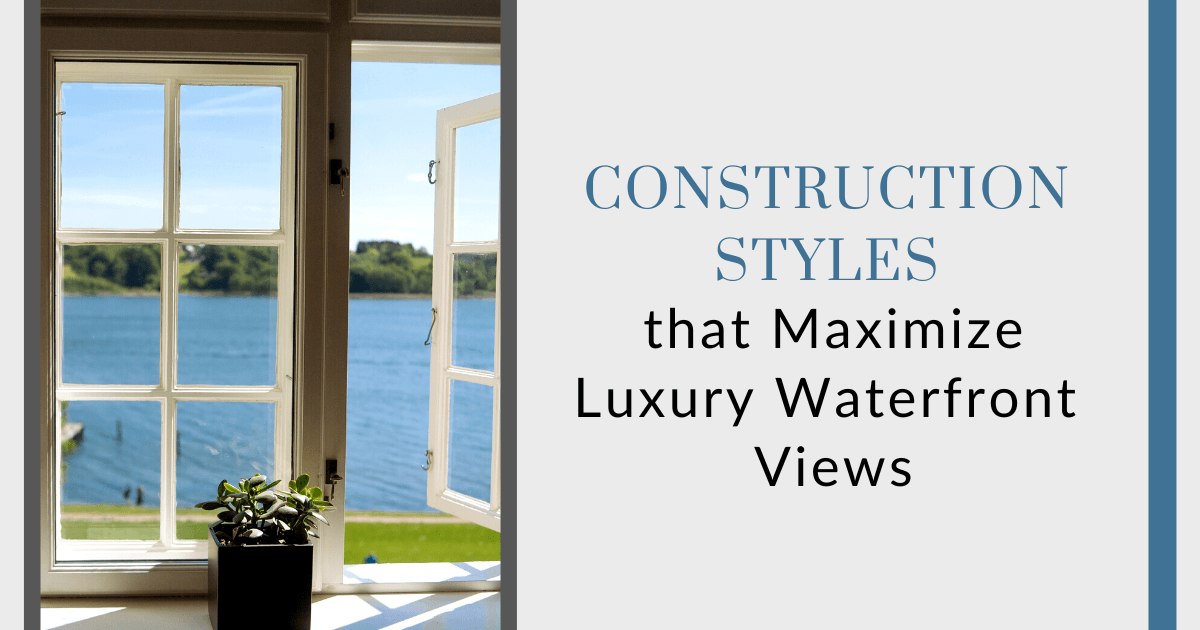 When an adventurous homebuyer decides to invest in a property with stunning waterfront views, they should maximize those vistas from dawn to dusk all year long. However, approaching a design oriented toward the water requires specific considerations during the architectural phases.
A main component of determining which views to maximize depends not only on the surroundings but whether the home fronts a river, lake, seawater, or rolling creek. When designing and decorating a new waterfront home or planning renovations, keep these four home construction tips to make the most of waterfront views in mind.
Where Will Owners Spend the Most Time?
Depending on the lifestyle habits of the occupants, more of their time might be spent in kitchen and dining areas, living rooms, a home office, or on verandas or patios. Consider which of these is most applicable, placing them according to the estimated time of day they are utilized most and how many days per week they are an essential 'hang out' zone.
During the design or remodeling phases, ensure that the most used rooms face the waterfront or desirable views like sunsets and sunrises. In cases of pre-built homes, often windows can be installed to maximize views, or rooms can be redesigned for another purpose that gives one more reason for homeowners to occupy them more frequently.
The best architectural designers will first determine how the sun moves across the skies along the property and then situate the home with dominant windows facing the appropriate way to soak in unsurpassable views. This discernment allows designers to make the most of the heating and stunning natural light windows provide in the most utilized spaces.
Invest in Expansive Windows Facing the Water
Floor-to-ceiling windows facing the water make unimpeded views possible, and they allow rooms to meld the indoors with the outdoors. Custom-cut, panoramic, and bay windows are remarkable additions, so be sure the design plans include many of these windows facing the best views.
Another innovative option that adds a touch of modernity to a waterfront home is installing corner windows that provide a panoramic view. Installing these post-construction can be extremely costly and challenging, so definitely talk with the architect and builders about any desire to have corner windows.
Worried about an excess of natural lighting that could fade furnishing or awaken one early on a sleep-in day? There are many options to shield occupants from glares when desired. High-visibility screens don't impede views from the inside but effectively block the sun. These come in fixed-in-place models and options such as retracting roller shades.
Homeowners who like high-tech conveniences can invest in smart glass windows, which may increase the value of their waterfront property. Smart glass surfaces are wifi connected and feature environmental sensors that detect weather, sunlight, and even room occupancy. Their louvers automatically adjust the tint in the panes and block out excess heat to create an optimal interior environment.
Discuss an Open-Concept Floor Plan with Builders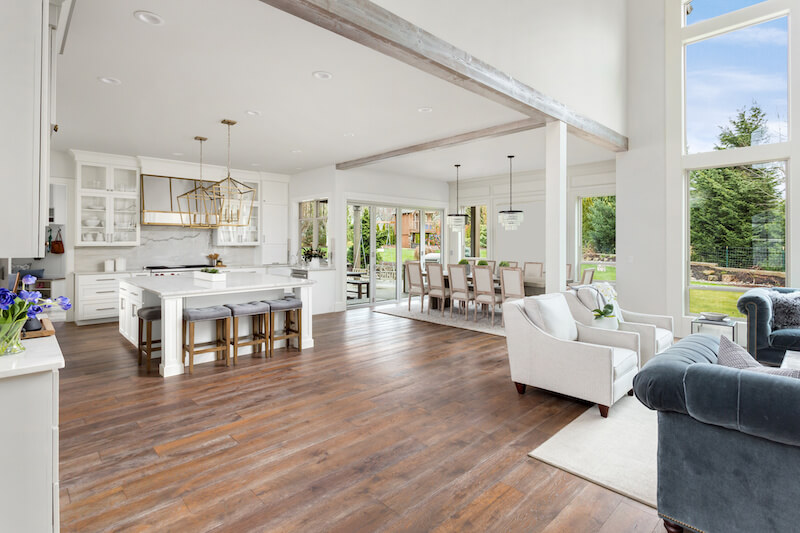 Open-concept is a floor plan in which walls and doors are removed or not in the original design scheme, opening up living spaces and merging them into one. This concept most often refers to walls between the kitchen, living, and dining rooms, but the bedrooms are exceptions.
Ultimately, an open floor plan aims to allow maximum views from primary rooms through windows facing the water and surrounding landscapes. The natural transition from room to room promotes a sense of togetherness and continuity that lets occupants stay connected in separate spaces.
Waterfront homes that don't presently boast an open concept floor plan can be remodeled to remove non-load-bearing walls to achieve this look. This type of work goes beyond a typical DIY project, so be sure to consult with a contractor before knocking down walls.
Create Comfortable Outdoor Living Spaces
Making outdoor living spaces inviting means guests and occupants are more likely to spend time communing with nature. Ideally, outdoor installations will be situated to provide the best vistas of the property's features, including the water, sunrises, sunsets, and lush landscaping.
Choosing the right outdoor installations is essential, depending on how owners plan to use outdoor areas. Is hosting parties or just relaxing a priority? Keep intended uses in mind when considering which are best for the property and where to put them.
Waterfront home outdoor design tips include adding:
Balconies
Multiple-level decks
Gazebos
Trellises
Pergolas
Waterside docks
Spruce up each outdoor living space with comfortable furniture for lounging, fire pits, a weather-proof kitchen, and a bar. Add beauty and privacy with clever foliage and shrubs near these areas. Owners may consider building a dock with a deck area and storage room for boating journeys, fishing, or swimming. Research any community restrictions concerning deck and boathouse additions before contracting with a local dock builder.
Make Your Waterfront Living Dreams Come True
A reputable new home builder or experienced home remodeler can make a buyer's vision a reality by showcasing those waterfront views. Work closely with these professionals during the drafting and concept phases and throughout the construction process to ensure the results are nothing short of your dream home.