Waterfront Home Ideas: 4 Purchases For Fun Days By the Water
Posted by Adriano Tori on Thursday, March 3, 2022 at 10:25 AM
By Adriano Tori / March 3, 2022
Comment
Waterfront property is generally associated with fun, serenity, and beautiful scenery. It's also often linked to a vacation lifestyle that can bring years of happy memories. Owning a waterfront home is the ultimate dream for many homebuyers. They envision waking up in the morning looking out over a serene lake or gazing as far as the eye will take them across the ocean's horizon.
While a waterfront location may be enough to fall in love with a property, read on to learn about the essential waterfront home purchases that improve a homeowner's already idyllic lifestyle.
Lounge Furniture For the Porch
Adding features to the home's porch makes it more inviting and provides ample opportunities to spend more time appreciating the views.
Hanging Beds
Hammocking is, for many, the ultimate way to relax while inhaling the scents and breezes that can only be found near water. Hanging beds and chairs are the perfect accessories because they're comfortable and carve out a little niche to nap, read, or simply relax and enjoy the views.
Folding Rocking Chairs
Conventional lawn chairs can be uncomfortable and unsightly, and many other types of outdoor chairs are bulky and hard to reposition. Investing in either foldable or traditional rocking chairs adds a touch of style and comfort.
Accent Pieces
In addition to seating, good additions include accent pieces that look nice and have a practical component. For instance, outdoor cushions and pillows can make a comfortable space even cozier while withstanding weather elements (many smaller pieces are machine washable). Other additions include side tables for drinks or a coffee table to create a small entertaining hub to serve hot and cold beverages and hors d'oeuvres if the space is available.
It's also important to consider is the environmental impact on any pieces purchased. For instance, salty air isn't something lakefront homeowners need to worry about, but owners should keep it in mind when buying furniture for oceanfront homes.
Inflatable Furniture to Float on the Water
Inflatable furniture to float on the water is another great investment to enhance the vacation feel of a waterfront home. Today's options go much further than ordinary rafts; there are a lot of creative floating furniture and other products to increase the fun factor.
The inflatable items purchased will vary, depending on whether the home is located on a lake or an ocean, but there are plenty of options either way. If the home is situated along an ocean beach, buy inflatables and accessories (e.g. anchors) that can withstand waves and prevent drifting. Lakefront home water accessories include floating hammocks, floating mats, interlocking floats, trampoline, waterslide, pong table, and motorized bumper boats, to name a few. Floating coolers can be a convenient accessory for either type of location.
Through inflatable furniture and play pieces, homeowners can create an amazing experience for themselves and their guests.
A Fire Pit
Individuals looking to add ambiance and upping the cozy factor should consider a fire pit. The beauty of fire pits is that they can be built-in, custom-made, or portable, offering a variety of styles at appealing price points. Imagine sitting outside on a breezy summer evening roasting marshmallows and sipping a cool beverage or bundling up and doing the same with hot chocolate. Fire pits are fun for kids of all ages – just remember to practice fire pit safety.
Outdoor Lighting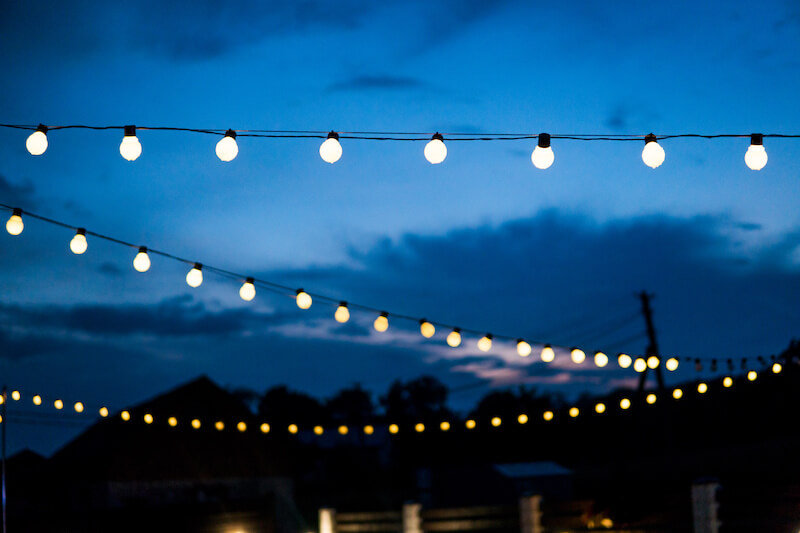 Adding outdoor lighting at a beach or lakefront home is a vital improvement. There are many options ranging from ambiance-driven twinkling lights to practical solar-powered sidewalk lights that turn on after the sun goes down. Sensor lights are energy-efficient yet provide the ability to keep everyone safe if walking up from the shoreline.
Lighting can also be used to enhance experiences. For instance, installing lighting that is night-sky friendly also makes it easier for owners and their guests to stargaze over the water and watch the moonlight dance on it without the distraction of bright lights.
Fishing Gear
Many homeowners plan their leisure time around fishing activities, so fishing gear will be an essential addition to any home. The type of fishing gear purchased should be determined by where the home is located since ocean fishing and freshwater fishing have a lot of differences, from equipment to the bait.
Both require rods, reels, hooks, bait, fishing line, and weights, though the specific type will vary. Other basic gear for freshwater fishing should include plastic or cork bobbers and other specific types of accessories. Saltwater fishers will need gaffs, nets, and other important tools.
Also, regardless of where the home is, check into fishing licenses and what's required to get one. Many states have strict rules about fishing.
Boat Accessories
One of the exciting options of living on a waterfront property is the ability to own a boat. Boating options will drastically differ depending upon the body of water near the home, so owners should carefully research a few things before investing in a boat. First, find out what types of boats are permitted and then look into those options, whether motorized or non-motorized watercraft (e.g. canoes and kayaks). Also, learn about any rules and regulations regarding where the boat can be stored, launched, or driven. Whatever watercraft is purchased, don't forget the essential boating accessories, such as the right clothing and a radio.
Beach Gear
Whether on the lake or the ocean, beach gear is a must if there's a sandy coastline. Great items to keep on hand for occupants and their guests include umbrellas, beach blankets, and beach chairs. Personal items include swimsuits, beach towels, floppy hats, sunglasses, and water footwear. Having beach toys, such as buckets, shovels, beach balls, and other accessories is a great way to maximize fun and time spent on the sand.
Ready to Explore Waterfront Living?
People who desire to live on the water have plenty of options between fresh and saltwater areas, and many communities have incredible waterfront views. Between the built-in views and the amenities a homeowner adds, waterfront homes can truly provide a fantastic lifestyle.