Is Bellevue Dog Friendly? Best Bellevue Dog Parks & Pet-Friendly Things to Do
Posted by Adriano Tori on Monday, November 14, 2022 at 9:25:36 AM
By Adriano Tori / November 14, 2022
Comment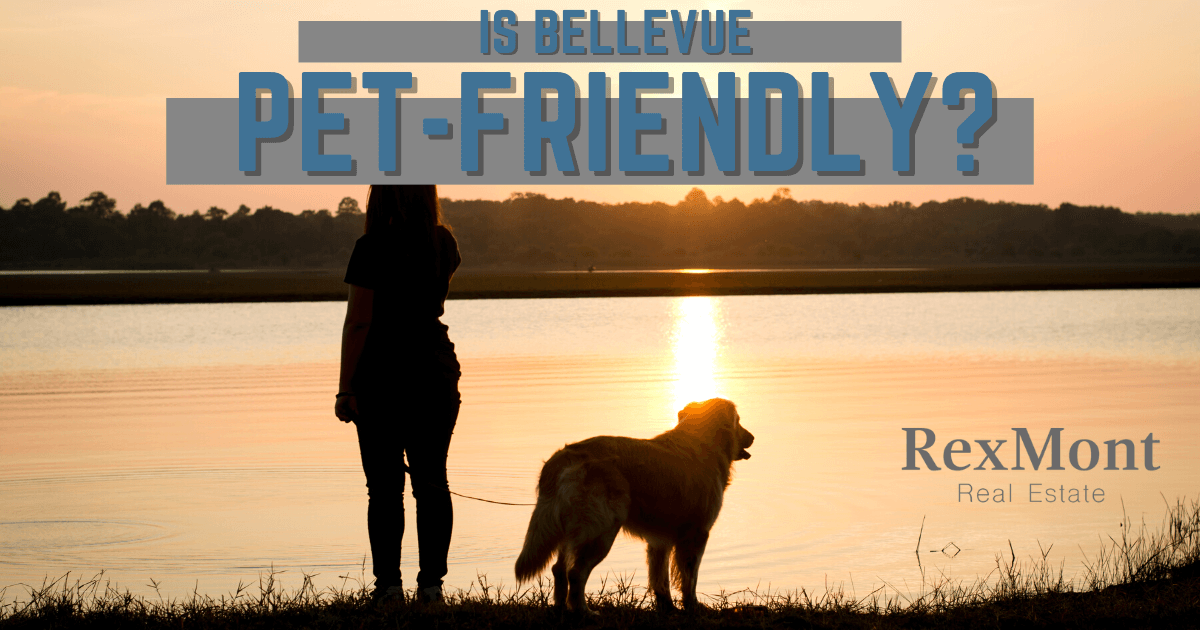 The city of Bellevue, Washington, is very friendly to pet owners. It contains 70 parks, and most dogs are allowed if they're on a leash, save places like the Bellevue Botanical Garden and the beach parks during swim season. Plenty of restaurants welcome leashed dogs, and there are other activities like shopping for dogs and their owners. For those taking a trip, there are plenty of pet-friendly hotels in the area. Here are some of the best dog parks and dog-friendly activities in Bellevue.
Best Neighborhood Dog Parks in Bellevue
Dog parks are designated areas, usually within larger parks, where owners can take their pet's leash off for some extended exercise and play. All dogs must be vaccinated and have a pet license to use the parks. Here are some of the best neighborhood dog parks around Bellevue.
Robinswood Off-Leash Area
Robinswood Park is a 10-acre wooded area open from sunrise to sunset in the Robinswood neighborhood. There are two main parking lots: one on SE 22nd Street on the north side of the park and another on 148th Avenue SE to the west, which is closer to the Robinswood Dog Corral.

The corral has separate fenced-in areas for large and small dogs, and the entrances are double-gated for safety. Dogs must remain on a leash until they are inside the corral.
The small dog area has a patchy grass surface, and the large dog area has small-grade gravel and a paved pathway that circles the play area. Seating and dog drinking fountains are available. There isn't much shade for owners during the summer months.
Newport Hills Woodlawn Park
Newport Hills Woodlawn Park is south of Bellevue. Like all Bellevue parks, it's free for the public to use and open from sunrise to sunset.
Leashed dogs are welcome in this park containing several acres of open lawn space and 11 acres of forested trails. Restrooms, some playground equipment, and adult exercise equipment are available. The dog park has a grass surface.
Marymoor Off-Leash Dog Park
Marymoor Off-Leash Dog Park is a 40-acre haven for dogs to run around and play. The park is near the Overlake community in the city of Redmond, just a few miles from the main Microsoft campus.
To get to the off-leash area, take NE Marymoor Way through the middle of the park, then turn south toward several marked parking lots away from the ball fields. The closest parking lot is Marymoor Park Lot D, which has a $1 parking fee.
With 40 acres of space, active dogs have a lot to do here. The park is on the banks of the Sammamish River and has many trails, forested areas, and grassy lawns. Note that Marymoor Off-Leash Dog Park is not fenced in.
Jasper's Dog Park
Jasper's Dog Park is north of Bellevue in the city of Kirkland, in the Totem Lake neighborhood. There are two fenced-in areas for dogs to run around and play here. One is for large dogs, and the other is for small dogs weighing less than 30 pounds.
Double-gated entrances and trails surround the dog park, which has a wood chip play surface and several obstacles for dogs to play on. There is also plenty of shade for dog owners, as the park is in a beautiful wooded area.
Westcrest Park
It takes a bit of a drive to the southwest from Bellevue to get to Westcrest Park. Offering incredible skyline views, the park has about 8.5 acres of fenced-in area for dogs to run around and play. The dog park is about 150 yards north of the main parking lot, and pets must remain on a leash until they are inside the fenced area, which has separate large and small dog areas.
The off-leash dog area in Westcrest Park has lots of open space and some trees, and the surface is primarily small gravel and wood chips. Owners can use the benches, chairs, and shaded areas, while a doggy drinking fountain is available to keep pets hydrated. There are also some picnic tables, public restrooms, and a children's playground outside the dog area.
Dog-Friendly Activities in Bellevue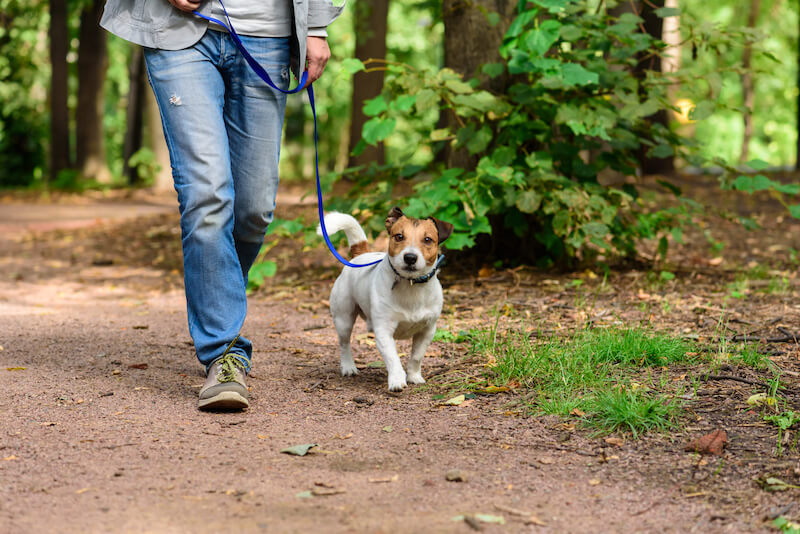 Many additional dog-friendly activities are available in the Bellevue area. The city has dozens of parks and green spaces with marked trails where owners can bring their leashed dogs for a hike or a trail run.
One great spot to check out is the Coal Creek Natural Area near the Somerset community, one of the best neighborhoods in Bellevue. This area has a beautiful waterfall and a log bridge to cross on a six-mile round-trip hike through a wooded area. Cougar Mountain Regional Wildland Park and the Mercer Slough Nature Park are other places to explore with a four-legged friend.
For a unique experience, check out the Seattle Water Tours Ice Cream Cruise. Leashed dogs are welcome to accompany their owners on a guided cruise around Lake Union in North Seattle, available on Saturdays during summer and Sundays year-round on a first-come, first-serve basis.
People can take their dog with them on a flightseeing tour of Seattle with Kenmore Air. These floatplane tours take off and land on Lake Union. Small dogs under 25 pounds can sit on their own lap for free, while dogs weighing between 26 and 50 pounds can take the flight for a $75 fee. Dogs weighing more than 50 pounds require the owner to purchase a seat.
Dog-Friendly Restaurants in Bellevue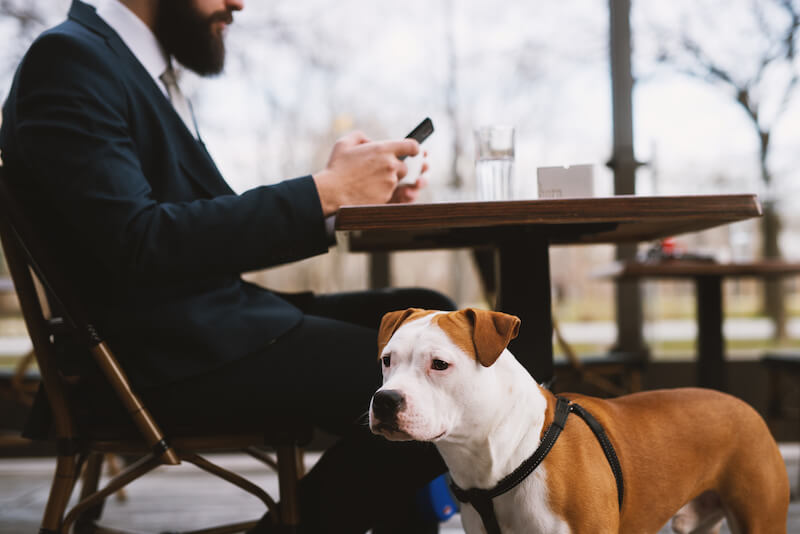 There are several dozen dog-friendly dining spots in Bellevue. These venues have an outdoor patio or seating area, usually covered, where owners are welcome to bring well-behaved and leashed dogs with them. Some even offer pet treats. The outdoor seating is seasonal and usually closes between October and April or May.
The 520 Bar and Grill has an outdoor seating area with heat lamps and blankets for pets. It serves nachos, burgers, steak, seafood, draft beers, and cocktails. If you're in the mood for a deli, Blazing Bagels in downtown Bellevue has five outdoor tables available on a first-come, first-serve basis. Dogs are welcome outdoors.
Resonate Brewery and Pizzeria has a large covered outdoor patio where dogs are allowed. This restaurant ferments its pizza dough for 72 hours, and guests can order directly from the menu or build a pizza with their choice of toppings. Craft brews, salads, lasagna, and desserts are also on the menu.
For something international, Firenze Ristorante Italiano serves up excellent Italian eats. They have three covered tables outside where leashed dogs are welcome, and the food is excellent! There's also Cielo Cocina Mexicana, which serves classic Mexican dishes and has an outdoor seating area with quite a few tables. Leashed dogs are welcome.
Dog-Friendly Shopping in Bellevue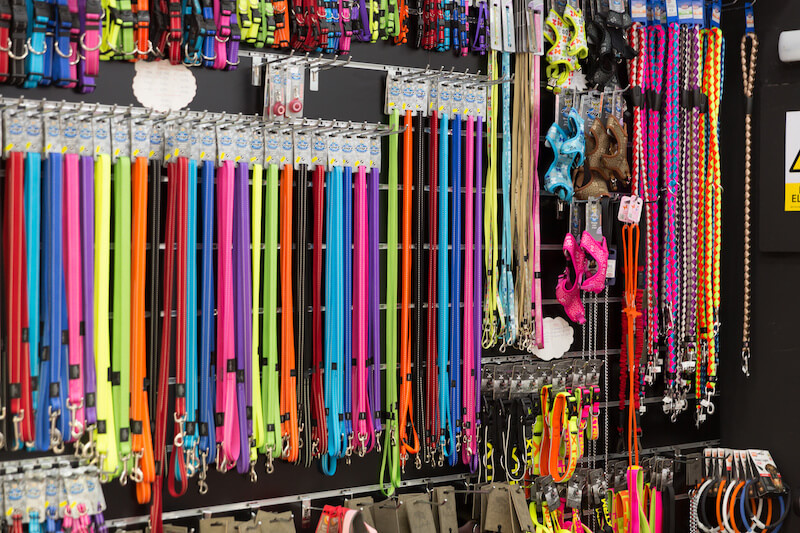 There are two shopping areas in Bellevue where you can bring leashed, well-behaved dogs. Here are a few options for anyone who wants to go shopping with a four-legged friend.
There are nine ski resorts and ski areas within a short drive of Bellevue, and skiers and snowboarders are very familiar with Sturtevant's Ski Shop. This store sells skis, snowboards, and outdoor winter apparel. Leashed dogs are welcome inside.
Crossroads Bellevue is a shopping mall in the Lake Hills neighborhood. The entire mall is dog-friendly. It has many national chain stores, vendors, and a live music stage with performances every Thursday, Friday, and Saturday night by local bands.
The Redmond Town Center is another mall close to Bellevue that is somewhat dog-friendly. Although leashed dogs are welcome in most of the mall's outdoor areas, most shops don't allow dogs inside. Another outdoor mall where leashed dogs are welcome is the Village at Totem Lake in Kirkland. Leashed dogs are welcome, and some of the shops even offer treats for them, including:
All the Best Pets
Barkery
LensCrafters
Amazon 4-Star
The Ballard Farmer's Market is a bit of a drive northwest of Bellevue. It's another shopping venue offering year-round produce, baked goods, and other wares. The entire market is outdoors, and leashed dogs are welcome to accompany their owners. The market is open every Sunday from 9 a.m. to 2 p.m.
Pet-Friendly Lodging in & Around Bellevue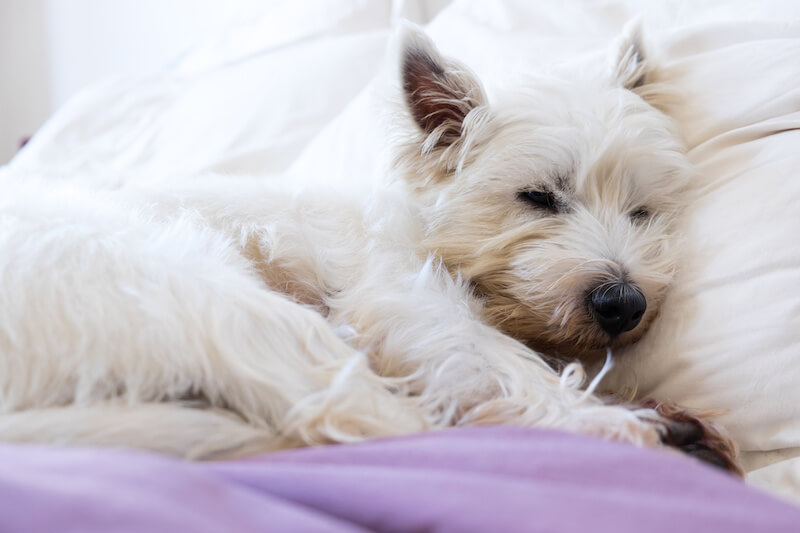 For anyone visiting the area or locals enjoying a staycation, there are numerous pet-friendly hotels to let dogs join in on the fun.
Extended Stay America in downtown Bellevue allows a maximum of two pets with their owners in the suites, with a 65-pound weight limit for dogs. There is a $25 per day fee for each pet.
The Hilton Bellevue is also downtown, just off the 405 freeway. This pet-friendly hotel allows dogs weighing up to 75 pounds to stay with their owners. There is a non-refundable pet fee of $75 per day and only one dog per room.
The Red Lion Hotel Bellevue is a budget-friendly option near downtown. Owners can bring one dog with them for a fee of $20. Dogs have no weight limit, and the $20 fee applies to the entire stay.
Residence Inn by Marriott - Bellevue-Seattle is a hotel right on the border between Bellevue and Redmond. They allow a maximum of two dogs per room, with a $50-per-day pet fee per animal. The maximum weight limit for dogs is 50 pounds.
W Bellevue is in the heart of downtown and allows owners to bring one dog under a weight limit of 25 pounds to their room. Instead of a pet fee, they charge a flat deep cleaning fee of $100.
Bellevue Is a Great City for Dog Owners
There are plenty of opportunities for Bellevue residents to get out into the community and bring their four-legged friends. From dog parks to outdoor dining to flightseeing tours, there's a little something for everyone. After moving to Bellevue and getting to know the area, you'll find even more venues and activities to do with your dog.