King County Real Estate Market Update — September 2022
Posted by Adriano Tori on Tuesday, September 6, 2022 at 8:50 AM
By Adriano Tori / September 6, 2022
Comment
If you're in the market to buy or sell a home in King County, it's important to stay up-to-date on the latest market trends. RexMont Real Estate is here to help you understand the current real estate market and how the economy, interest rates, and home inventory will affect your ability to buy or sell your King County home.
September 2022 King County Real Estate Market Update
Today, we'll be going over the King County real estate market this September, including average sale prices and inventory. So, whether you're just starting to considering buying or selling a home, or are already in the process, be sure to read on for insights that will help you make informed decisions.
King County Homes Listed Monthly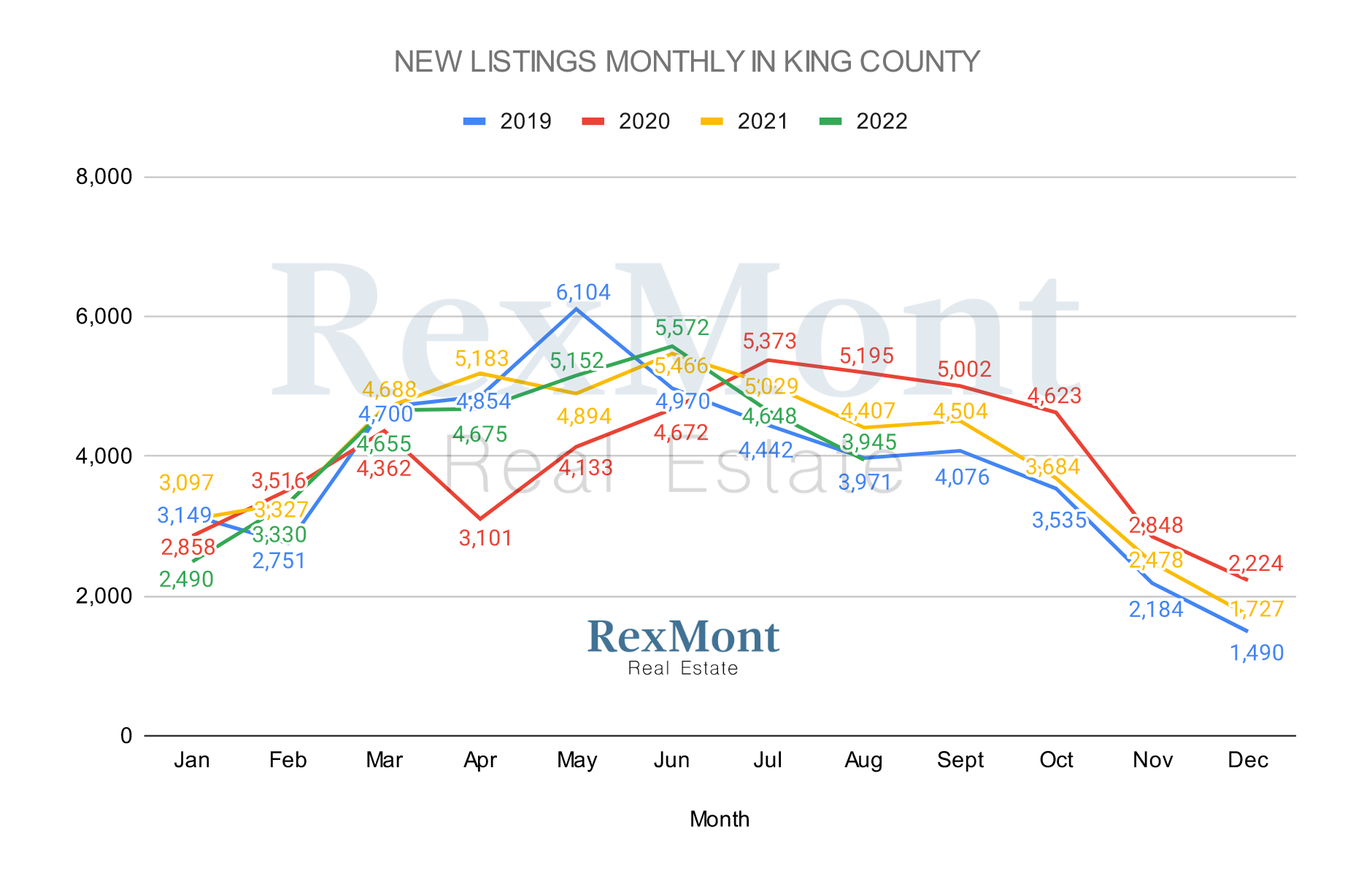 As illustrated, the number of homes listed in King County this year began lower at January.
It reached its highest as of now on June, but we can see that it went down on July-August. Homes that do get listed haven't remained on the market for long with anxious buyers jumping on listings as soon as they hit the market. As buyer affordability is impacted by mortgage rates, we may see listings linger a little longer on the market as the year progresses.
King County Active Listings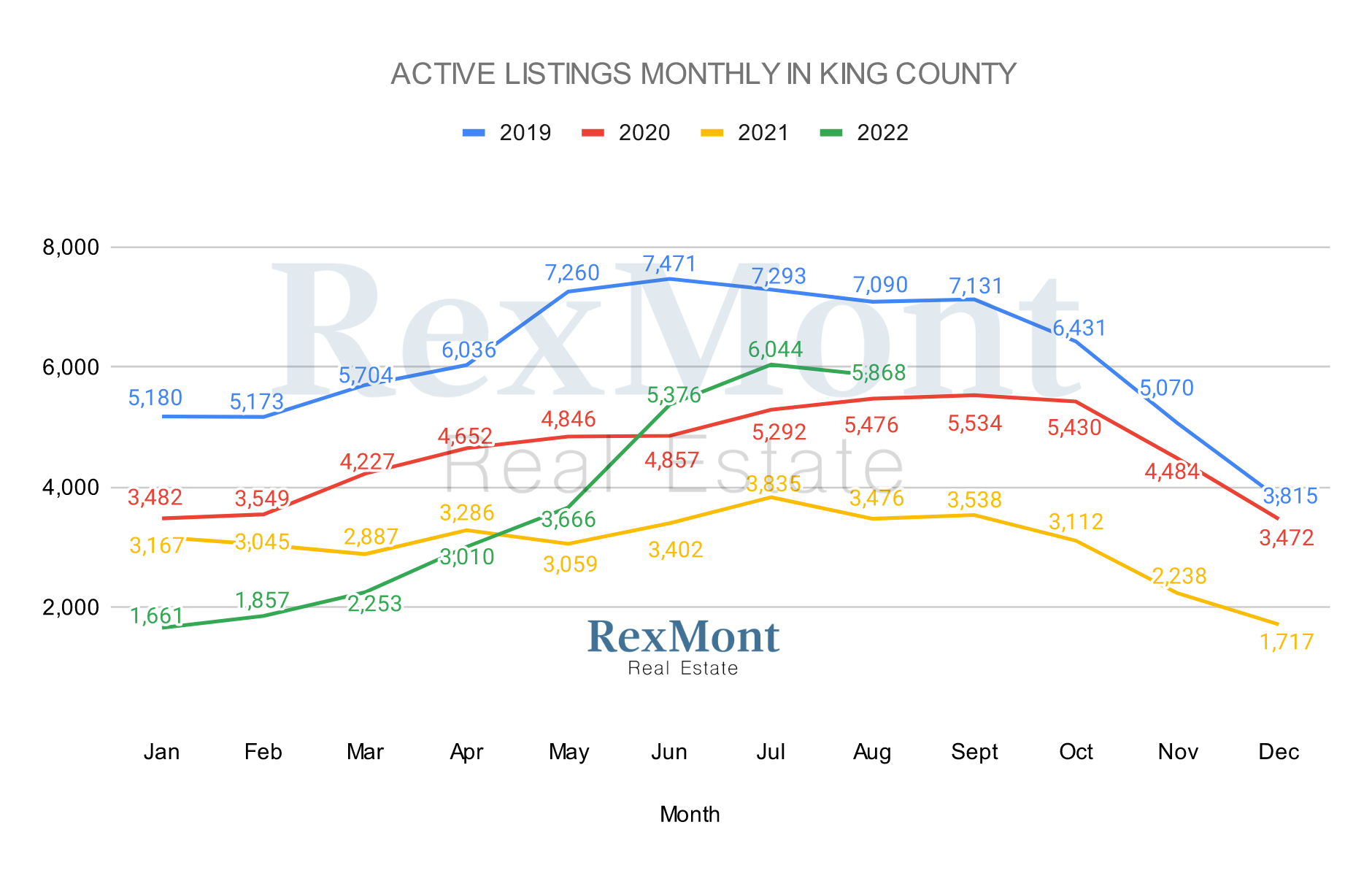 The graph illustrates monthly active inventory in 2022. It has shown historically low inventory but has started going up until July 2022 and is expected to continue in this direction as the year progresses. But it went down again this August.
King County Homes Pending Monthly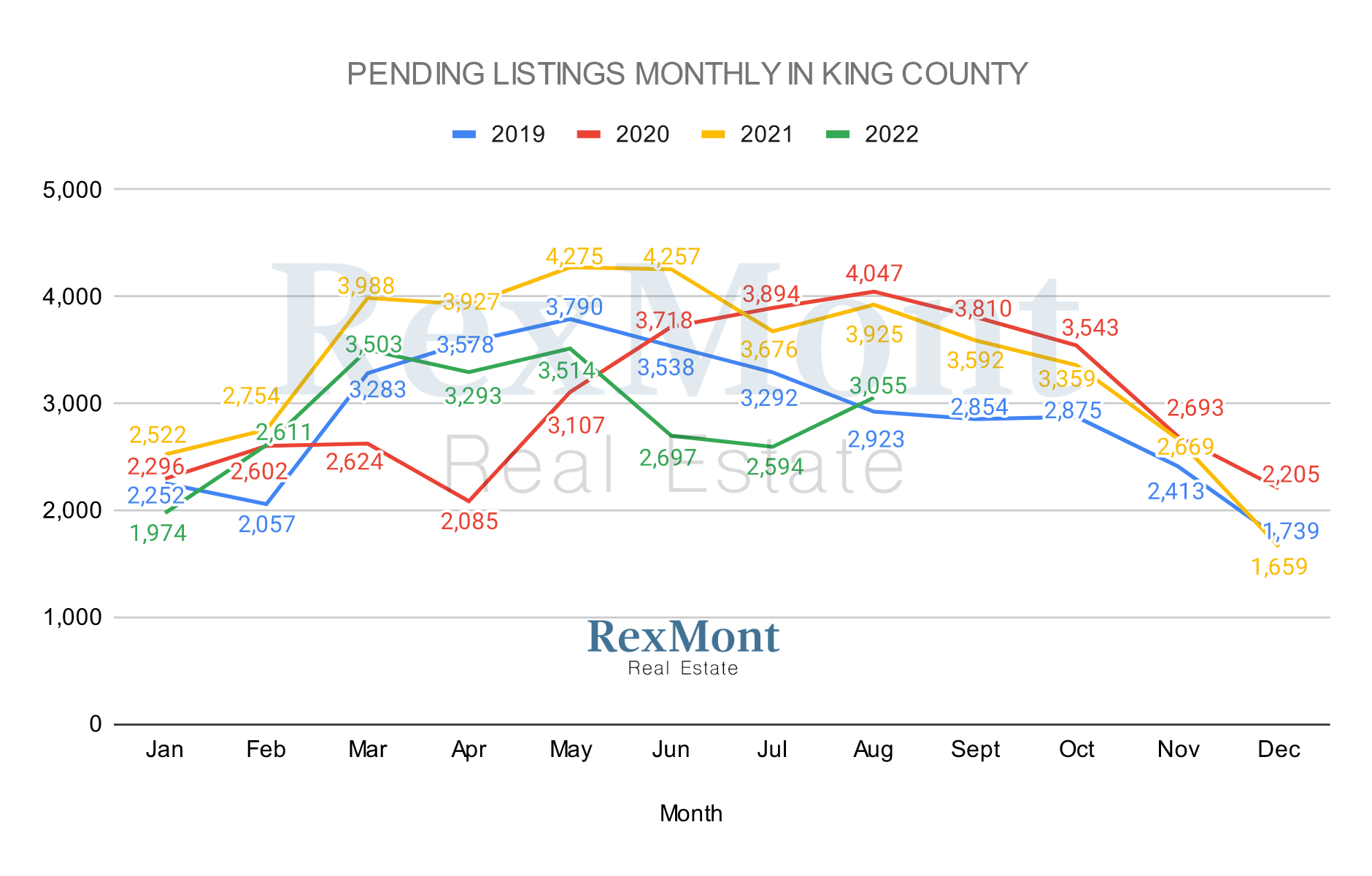 So far in 2022, we can see that there's a constant increase in homes in pending for the first three months. King County had significant decrease on June-July, but gradually increased this August.
King County Homes Sold Monthly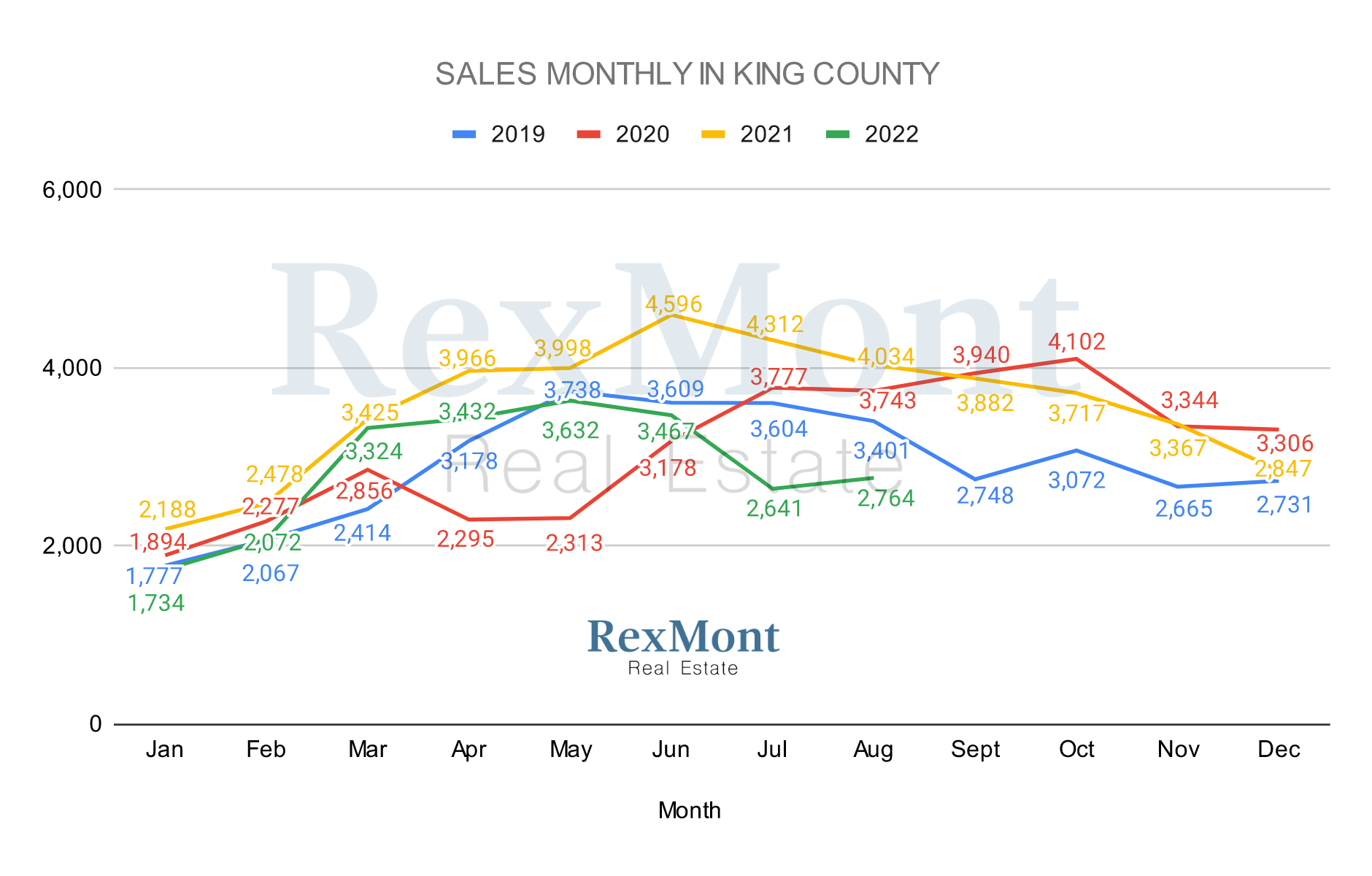 The graph illustrates the number of homes sold per month. At the beginning of the year, sales numbers in King County were trending similarly from January up to May. However, they have started to trend downwards on June and are expected to continue in that direction as increased mortgage rates will continue to impact buyer affordabilty. But it went up a hundred this August.
King County Average Selling Price Per Month - Single Family Home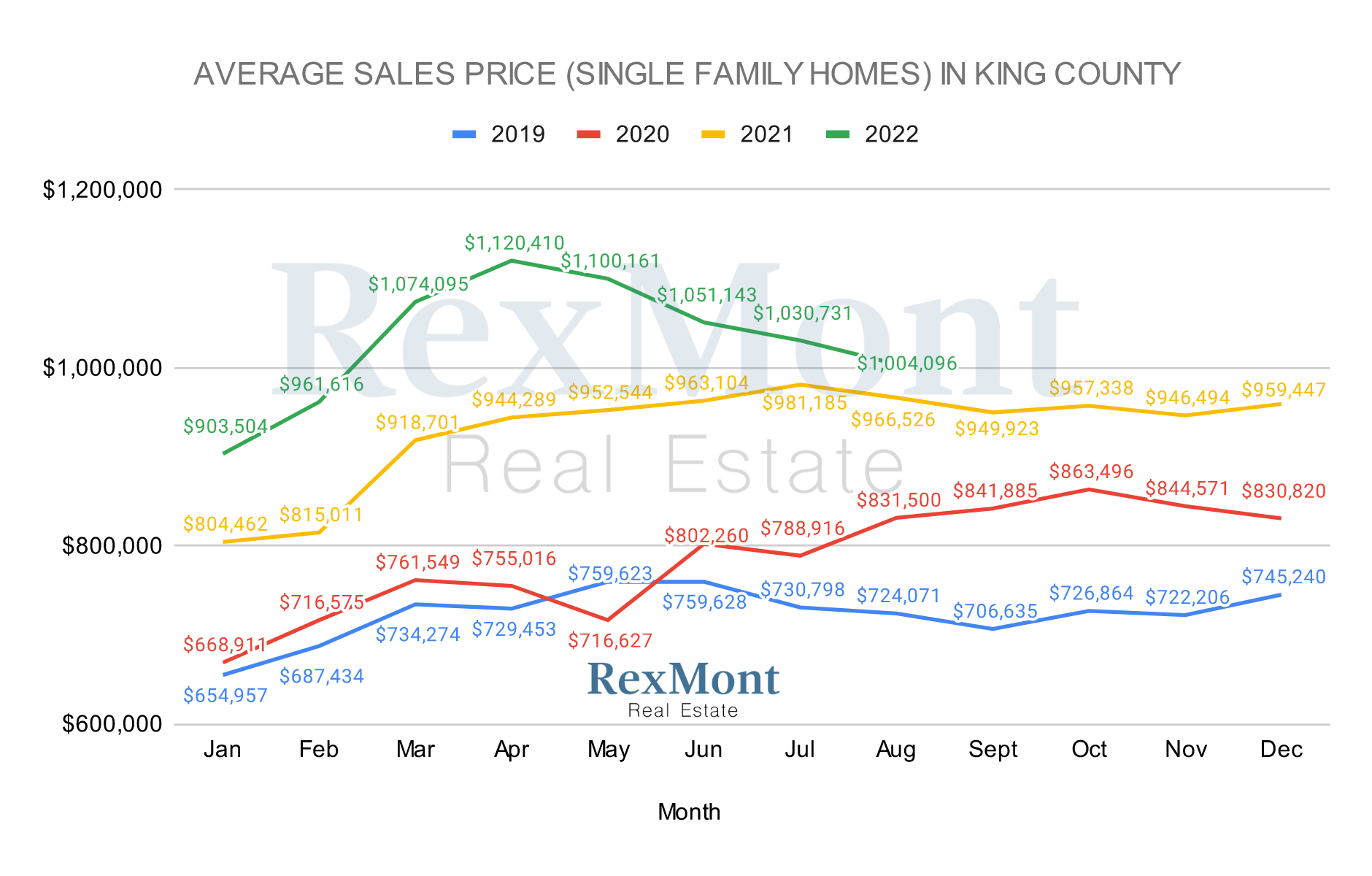 The graph shows that King County is trending upwards and reached the highest sales price on April 2022. However, sales price started going down on May until the recent month which is August.
This chart depicts prices from January 2022 to August 2022
King County Average Selling Price Per Month - Condos & Multi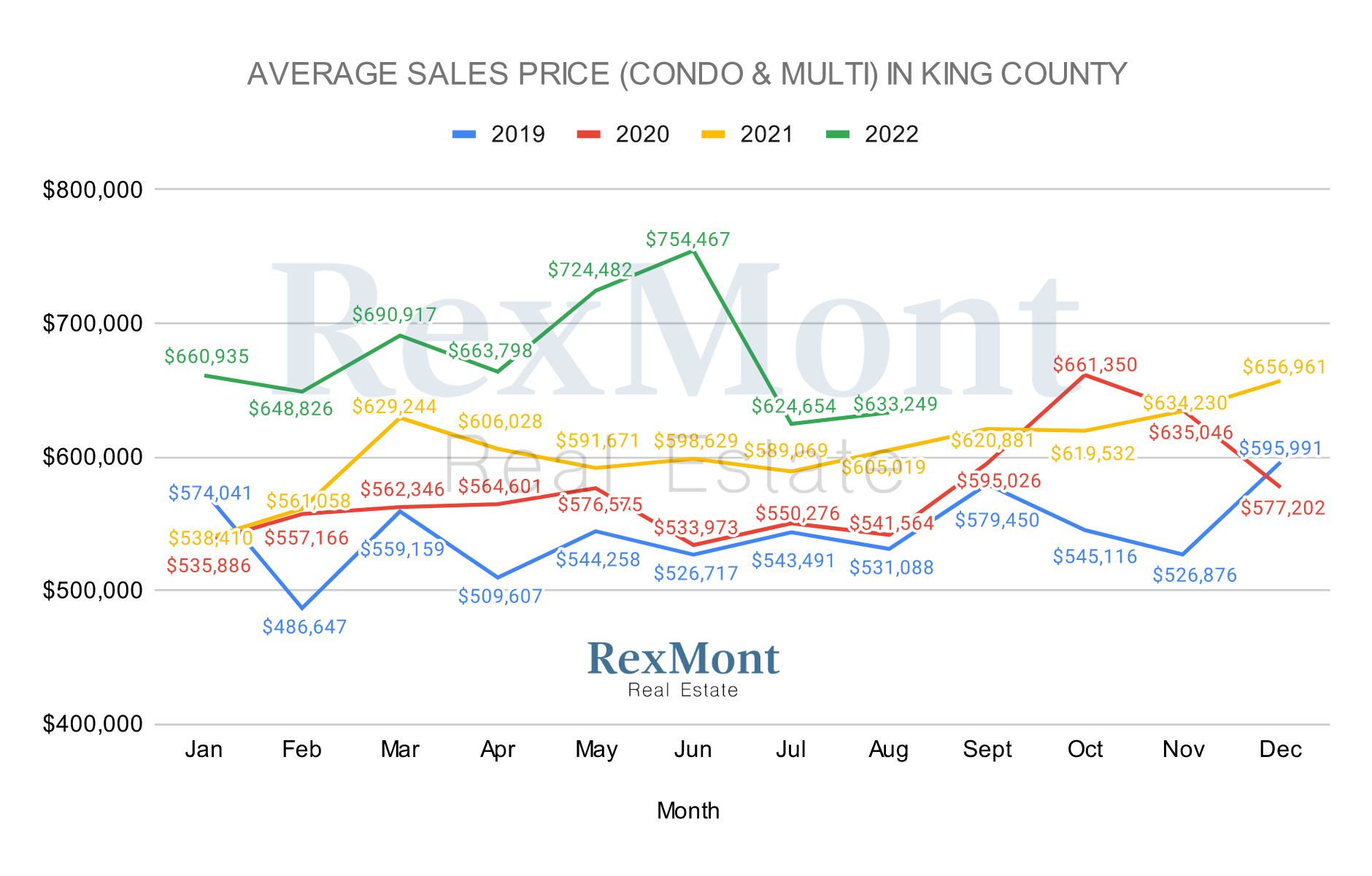 Looking at the graphs, we can see that King County started going down on the second month, but went up on March and down again on April. It constantly went up again on May until June. However, it started going down again on July, then went up again recently on August.
This chart depicts prices from January 2022 to August 2022
---
King County Mid-Year Market Update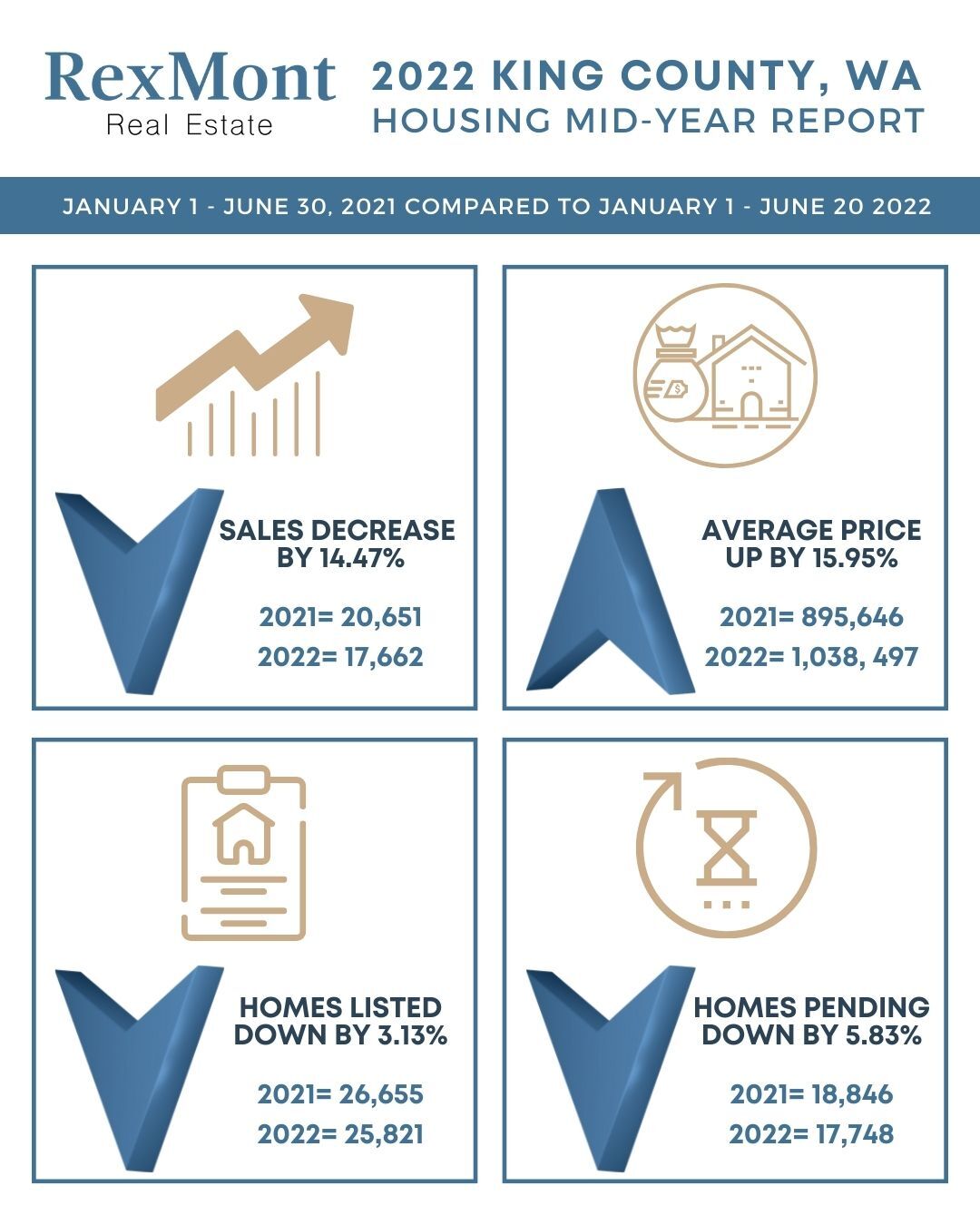 This RexMont Mid-Year Housing Report presents overall home sale statistics as of the first six months of 2022 compared to the same period last year, January 1st to June 30th, 2021. Highlighted in this report are the average sale prices, homes listed for sale, placed under contract and total of homes sold.
Sales Decrease by 14.47%
Our home sales for single families, condos and multi-families went down by 2, 989 transactions. From 20, 651 in the first half of 2021, it's now 17,662 in the first half of 2022.
The increases we observed last year were the result of the industry catching up in the post-pandemic market. Major changes in mortgages, including the latest rate hike, as well as the requirements for second homes, have impacted demand.
With the exception of January, single-family sales in 2022 were down every month in the first half of this year compared to last. This is most probable because single-family home sales skyrocketed last year as purchasers scrambled to get their own space during the outbreak.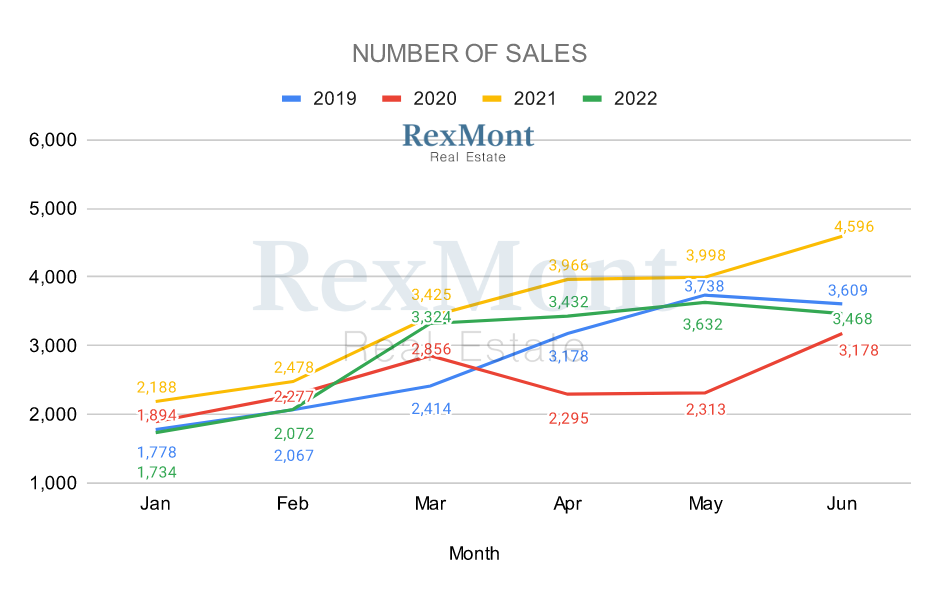 Prices Increase 11.4%
Prices increased in all the categories in the first half of 2022 over the same time period in 2021. The average price for all three categories is up by $142,851 so far this year. Last year, the average sales price is at $895,646, while we're at $1,038, 497 right now.
As soon as the market recovered from the COVID shutdowns in March 2020, shrinking inventories and artificially low rates drove prices back to historic highs. Mortgage rates have risen in recent months, causing the market to chill, but they have yet to decrease.The rate of rise is moderating, but we are still seeing big improvements in the first half of the year due to accepted bids before to the massive surge in mortgage rates.
Prices have consistently increased over the last four years, as seen in the figure below, with this year displaying some of the greatest gains. Prices are not projected to decline as the year proceeds, although the rate of increase may continue to slow.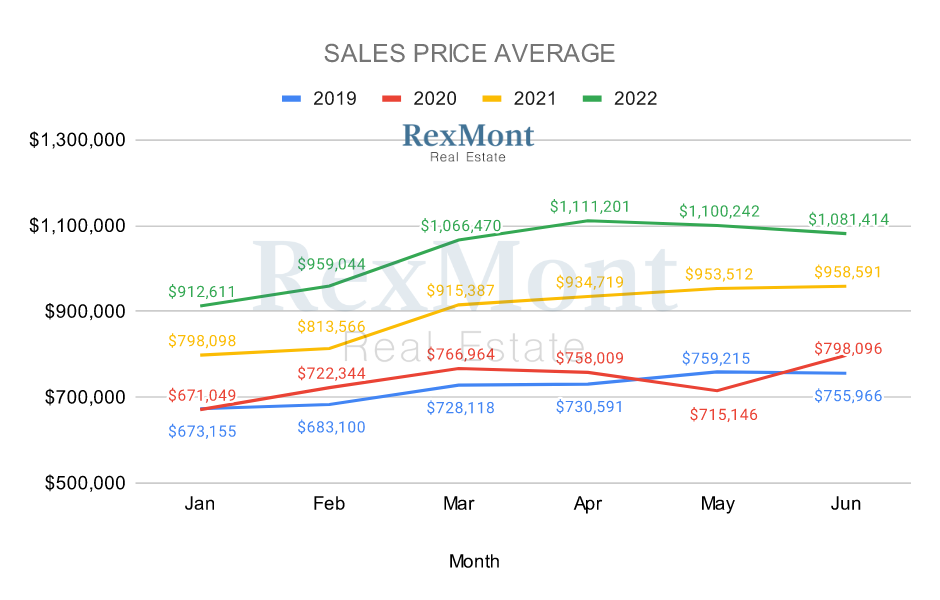 King County Homes Listed for Sale
There were 25,821 new active listings in the first half of 2022 compared to 26,655 last year, which means the numbers decreased by 3.13%
A decline in new listings indicates that sellers are beginning to worry about losing their current, cheaper mortgage when they sell their house and acquire a new one, maybe at twice the rate.
When the market experiences a shift, such as a rate increase, it is common to see a temporary pullback, but real estate is a need-based market. If one has to move, one must move, and therefore the rate rise will begin to appear regular, and the market will continue to function. If they need to relocate, people will list.
Because new listings are a predictor of future pending sales, we may expect decreased pending sales throughout the fall.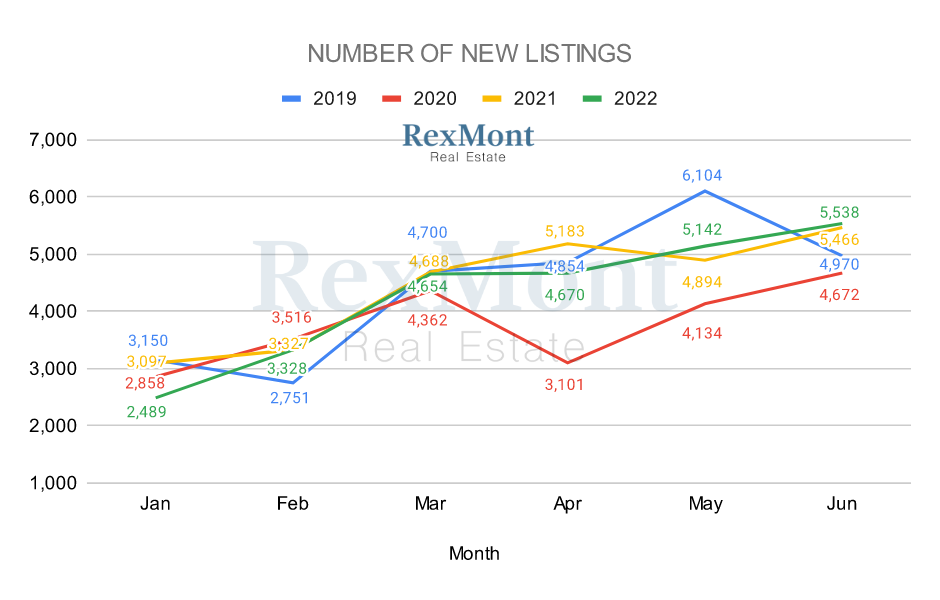 King County Pending Homes
The number of homes placed under contract declined this year by 5.83%. This year we have 17,748 pending sales over 18,846 last year.
Consumers had become pampered by record low rates in recent years, and seeing them rise produced sticker shock, which grounded pendings. Some purchasers submitted bids while interest rates were lower, and by the time the offer was approved, affordability had decreased due to the rise in interest rates. These rates, which are now in the high fives/low sixes, are historically not that high and will appear comparatively modest if they continue to rise over the following year.
Pending sales have been astronomical in recent years due to the frenetic market, historically low interest rates, and more buyers than ever bidding for houses. This atmosphere basically devoured every listing as soon as it hit the market, and pending sales were high. Pending sales are a leading predictor of future closed sales, and with pendings down, we are expected to see a drop in sales throughout the fall, which will be excellent for purchasers as choices increases and competition decreases.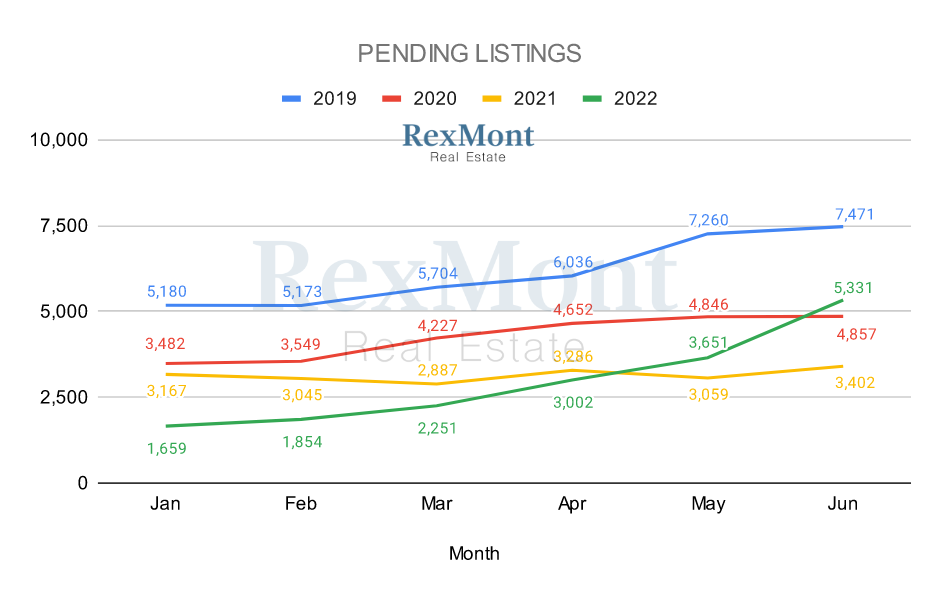 King County Predictions for the Rest of the Year

The market is beginning to level out in front of our eyes. Change is painful, but it is necessary. If the market remained on its current course, sales would be so strong that inventories would be cannibalized, prices would continue to grow at their current rate, and we'd have a whole new problem on our hands. However, rates will climb for the remainder of the year, and sales will struggle to stay up. Prices will not plummet, but they will level out this autumn and will not rise. This is what it takes for the sellers' market to give way to purchasers regaining some power. This will make the lives of individuals who are selling and purchasing at the same time considerably easier.
How King County Home Buyers Can Get Ahead
Buyers have had to battle hard in recent years to acquire what they want, and now that inventory is growing slightly, they must cope with borrowing rates. As we've noted in previous years, there is a cost to waiting, and the more you wait, the more expensive it will be to buy a home. Rates will either continue to rise, prices will rise, or competition will spark bidding wars. Buyers have been experiencing sticker shock recently, but the same property will potentially cost more two months from now than it would today, and with interest rates expected to rise, it may be out of reach in the future. Buyers should also keep in mind that there are more financing choices available than a 30-year fixed loan. ARMs are becoming increasingly popular and may be worth considering as a financing option, particularly for people who expect to stay in their house for fewer than 5 to 7 years.
Buyers should also keep in mind that there are more financing choices available than a 30-year fixed loan. ARMs are becoming increasingly popular and may be worth considering as a financing option, particularly for people who expect to stay in their house for fewer than 5 to 7 years. Higher mortgage rates mean that purchasers can't afford as much as they could even three months ago, and there are likely to be more properties on the market locally, which means buyers have more options and don't have to outbid one another.
How King County Home Sellers Can Get Ahead
List your property at a fair price, and depending on how many other similar properties are on the market at the same time, you may still spark a bidding war. If you advertise a house for a 'reach' price and there hasn't been much interest from buyers, it's time to lower the price. Market value does not make your property any less wonderful, but it does mean the difference between the home selling sooner and for more money, or waiting and finally being snatched up by someone for less than you hoped for.
Rest assured, the market will not fall, and mortgage rates will not rise unless there is an unexpected worldwide calamity. This evolving market is moving toward a better balance of buyers and sellers. Sellers will finally have to come down from the pedestal and price to attract the proper buyer, and buyers will finally have a bit more choice, even if rates remain a hurdle to go through.
Let RexMont Real Estate Help You Navigate a Shifting Real Estate Market
The King County real estate market is active, with homes moving on a monthly basis. If you are looking to buy a home in this area, RexMont Real Estate can help. We have experienced agents who will work hard to find the perfect property for you. Contact us today to get started!