Living in Lake Hills: 8 Things to Know Before Moving to Lake Hills Bellevue
Posted by Adriano Tori on Thursday, February 16, 2023 at 9:03:18 AM
By Adriano Tori / February 16, 2023
Comment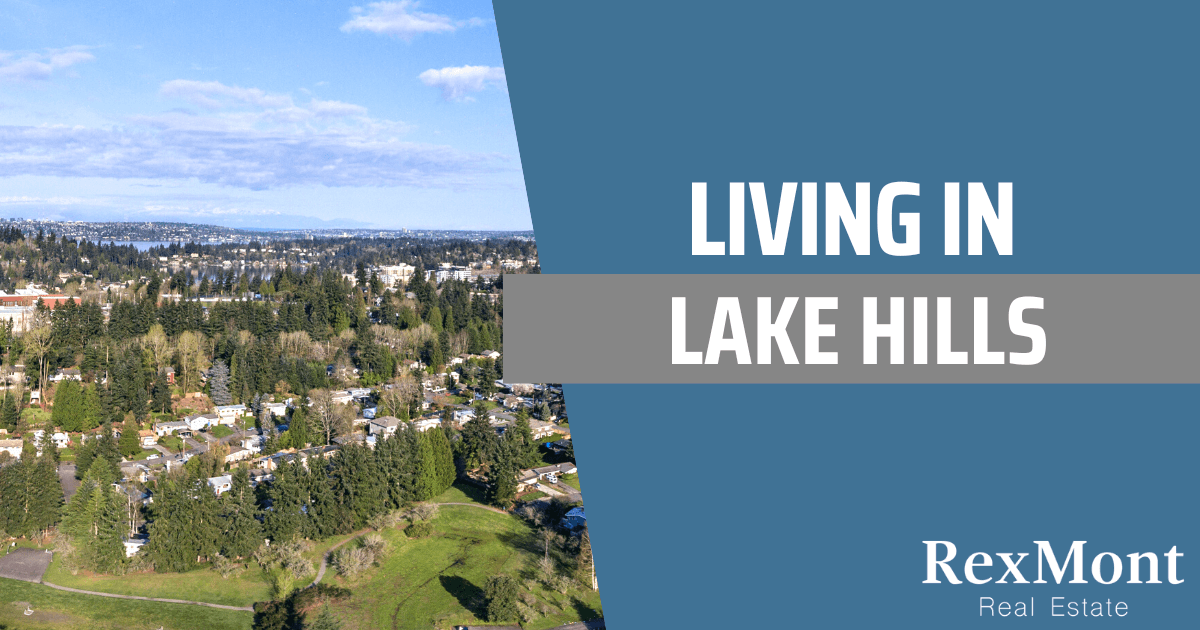 The Lake Hills neighborhood in Bellevue, WA, is one of Bellevue's best neighborhoods and has a distinct residential architectural style. Most of the homes here were developed in the post-World War II period. It's a comfortable and established neighborhood with plenty of dining, shopping, and outdoor activities available. Bodies of water and parks are abundant for residents to enjoy here. Larsen Lake and Robinswood pond are within the boundaries of Lake Hills, while larger bodies of water like Phantom Lake, Lake Sammamish, and Lake Washington are just minutes away.
Lake Hills has good schools within the neighborhood, from elementary grades up through Bellevue College. Situated between the Eastgate neighborhood to the south and Crossroads to the north, Lake Hills offers easy access to the entire eastern side of the city of Seattle and all the jobs, services, and amenities nearby. Here's a closer look at what it's like to live in Lake Hills.
The Lake Hills Lifestyle
Residents in Lake Hills are actively engaged in the community and the surrounding environment. Wetlands improvements, additions to local parks, and neighborhood ecological developments and improvements are often voted on and approved by the locals. There are plenty of walkable neighborhoods in Bellevue, and Lake Hills has walkable convenience with easily accessible grocery stores. It's also a very dog-friendly neighborhood in the dog-friendly city of Bellevue. Parking is easy and accessible, and most residents own a car.
The earliest residents of Lake Hills were the Yakima Indians, who had a winter encampment in the area. Following World War II, development swept through the area, and it became a residential neighborhood. In fitting with the time period, many of the homes reflect a mid-century architectural style. Although some newer Bellevue condos are in the neighborhood, most of the housing is single-family detached homes. Architectural styles include split-level homes and one- and two-story houses with attached garages.
Even though it's an older and well-established neighborhood, the homes are well cared for, and many have had substantial improvements and upgrades made to them over the years. The yards are also well-kept, and the tree-lined streets make it a beautiful place to walk in the evenings.
Employers Near Lake Hills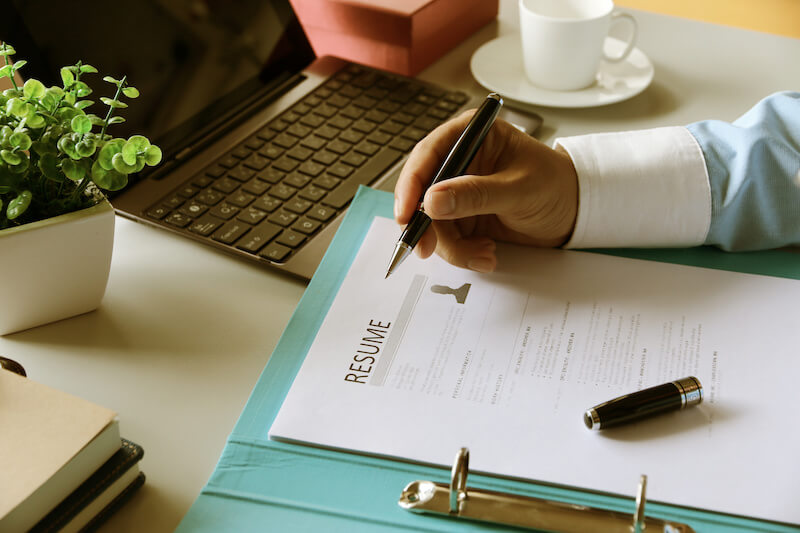 Bellevue commuters are plentiful due in large part to the city's fantastic location and the area employers. T-Mobile is one of the largest employers in Bellevue, and its corporate offices are just minutes away from the Lake Hills neighborhood off Interstate 90. The company boasts 75,000 employees in the US currently, and Bellevue is its main headquarters in the US.
Light, medium- and heavy-duty truck manufacturer PACCAR has its corporate headquarters in Bellevue. Its main offices are in Downtown Bellevue, but even during rush-hour traffic, this is only about a 20-minute commute from the Lake Hills neighborhood. PACCAR employs 27,000 workers in the US and manufactures Peterbilt, DAF, and Kenworth trucks.
TVI, Inc. apparel and accessories thrift stores employ 20,000 people in the Pacific Northwest. Its corporate headquarters is on Southeast 6th Street in Bellevue, just a 15-minute drive from the Lake Hills neighborhood.
The aerospace industry is also well-represented among employers in the Seattle area. Esterline Technologies Corporation employs about 12,000 people and is headquartered in Downtown Bellevue. It's about a 20-minute commute to Esterline from Lake Hills.
Clothing and accessory maker Eddie Bauer is another easily recognizable brand headquartered in Downtown Bellevue. It employs about 10,000 people and is a 20-minute commute from Lake Hills.
Lake Hills Amenities
Living close to neighborhood amenities like services and shopping makes a Metro area neighborhood like Lake Hills more livable. People often commute to work in an urban area like the Seattle Metro, so they don't want to take a long drive for groceries or access to a fitness club. Bellevue's community centers and services are more than equipped to fulfill and exceed expectations. Here is a closer look at some of the amenities available to residents in Lake Hills.
Neighborhood Services
Public transportation is very accessible from the Lake Hills neighborhood. Two bus services are available in Bellevue and the surrounding area: King County Metro and Sound Transit. The Link Light Rail and Sounder Commuter Rail provide even faster transit to serviced locations in the Seattle area. The East Link Light Rail from South Bellevue will connect to Mercer Island and Seattle when it opens in 2023.
The Samena Swim & Recreation Club is a non-profit family gym, pool, and fitness center in the north part of Lake Hills. Members can access summer camps for kids, fitness fairs, large indoor and outdoor pools, tennis courts, and other fitness classes.
The Overlake Medical Center is the largest hospital in Bellevue, located downtown, and it also operates several clinics in the area. The Lake Hills Urgent Care Clinic is located in the northeast part of the neighborhood, near the Samena Swim & Recreation Club.
Neighborhood Shopping
Crossroads Bellevue, located in the nearby Crossroads neighborhood, is the largest open-air mall in Washington state. In addition to live music on the weekends, the mall has dozens of stores and specialty shops. It's just a few minutes north of the Lake Hills neighborhood on 156th Avenue NE.
Within the Lake Hills neighborhood is a shopping center near 145th and Main Street with a Walmart Neighborhood Market and numerous small specialty shops. People can also pick up groceries at the QFC market at 145th and SE 16th Street. The Sunset Village shopping mall at 3080 148th Avenue SE is another option where locals can take care of many of their shopping needs.
Things to Do in Lake Hills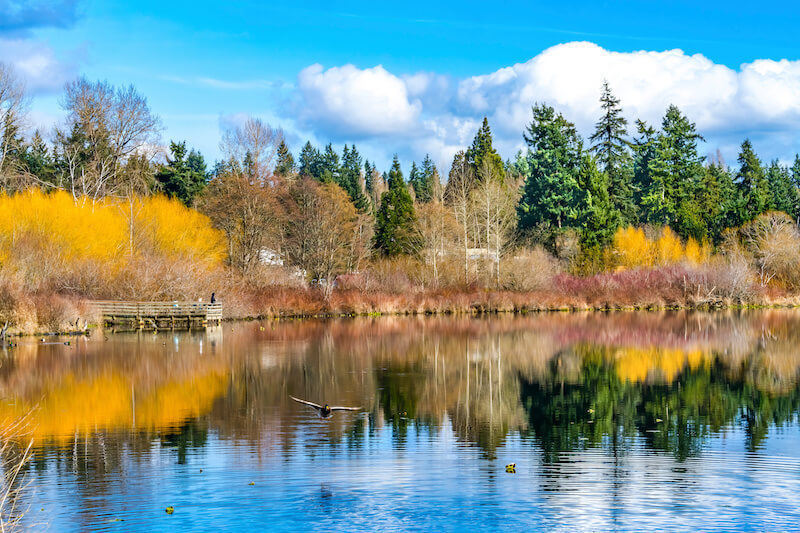 One can't help but notice all the greenery and wetlands when driving around the Lake Hills neighborhood. Parks and other options for outdoor activities are plentiful here, and there are plenty more things to do in Bellevue outside of Lake Hills. Plenty of restaurants, craft breweries, and bars are available for those who like their activities to be more indoors. Several nearby attractions in the Seattle Metro area are well worth visiting. Here's a look at some of the many things to do in Lake Hills.
Outdoor Activities
The Lake Hills Greenbelt is the largest outdoor green space in Lake Hills. At 150 acres in size, it provides a natural haven for hiking and observing wetlands, forested areas, and streams. The Greenbelt has three miles of hiking trails and surrounds Larsen Lake, one of Bellevue's best lakes. There are seasonal produce farms and blueberry farms to be found here, as well as community gardens. Leashed dogs are welcome to accompany their owners, and fishing is available from a pier on Larsen Lake.
Robinswood Community Park, one of Bellevue's best parks, is a significant neighborhood reprieve in Lake Hills. It has two fenced-in off-leash dog areas, one for large pets and another for small ones. The park features softball, soccer, and lacrosse fields. A renovated 1895 homestead cabin on the park grounds—the Robinswood House—is available for weddings and special events. Robinswood also has ten acres of wooded trails for hiking.
The Kelsey Creek Farm Park is located directly northwest of Lake Hills, just minutes away. It has two historic barns that are State Heritage structures. The park has several hiking and jogging trails, a playground for kids, and other amenities. Farm animals raised at the park include ponies, pigs, sheep, goats, cows, rabbits, ducks, and chickens. Although leashed dogs are permitted at the park, they are strictly prohibited from the corral for the safety of the other animals.
Restaurants, Breweries, and Bars
For those who want fresh seafood in Lake Hills, Crab Season near the Sunset Village shopping mall is the best option. The southern part of Lake Hills has numerous chain restaurants near Sunset Village for a quick bite, takeout, or a sit-down meal. Crossroads Bellevue has dozens of dining options, including many international options. Try a Japanese sandwich from the TRES Sandwich Shop on 145th Place SE for something different.
There are a couple of bars in the south part of Lake Hills: Lil' John Restaurant & Lounge and the Cascades Grill, which is in the Embassy Suites by Hilton. The Pumphouse Bar & Grill is great for sports and beer. There are several options in the Bellevue area for those who want to sample some of the Seattle area's craft breweries. The Bellevue Brewing Company near downtown Bellevue is a popular spot.
Nearby Attractions
The Bellevue Botanical Garden is a 150-acre garden park that was first established in 1981. It's just minutes west of Lake Hills, and the gardens are free and open daily to the public.
For those who want a sandy beach to visit in the Seattle area, take I-90 eastbound and get off at Newport (Exit 15) to access Lake Sammamish State Park. The park has two sandy beaches for swimming, and people enjoy kayaking and stand-up paddleboarding here. Hiking through the park's 531 acres is a great way to exercise and view wildlife.
Mercer Island is just a short distance to the west of Lake Hills. Luther Burbank Park on the island has Shakespeare in the Park every summer, off-leash dog areas for large and small dogs, a children's playground, and a fishing pier to enjoy.
Schools Near Lake Hills
The Bellevue School District administers most of the schools in Bellevue, including the Lake Hills neighborhood. There are three public schools here for kids to attend from kindergarten through high school:
Lake Hills Elementary School
Highland Middle School
Sammamish High School
Near Lake Hills, private schools include the Jewish Day School, BASIS Independent Bellevue, and Eastside Christian School.
Bellevue College is located in the Lake Hills neighborhood. This public community and technical college enrolls nearly 30,000 students each year and offers a variety of associate degrees and certificates in professional programs. The various schools at BC are accredited in Business, Communication, Health Sciences, Social Science, STEM, Technology & Data, and Visual and Performing Arts.
Neighborhood Life in Bellevue's Lake Hills
Lake Hills is a beautiful neighborhood on the east side of the Seattle Metro area that anyone moving to Bellevue must experience. Tree-lined, walkable streets, numerous outdoor green spaces, and parks ensure that there's always something to do on the weekends. Bellevue has a stable economy thanks to the number of large employers in the area, and there are plenty of services in Lake Hills for locals to take advantage of. All these factors make Lake Hills one of the most coveted neighborhoods in Bellevue for potential homebuyers.