7 Most Expensive Neighborhoods in Bellevue, WA: Luxurious Living in Bellevue
Posted by Adriano Tori on Wednesday, June 21, 2023 at 11:56:22 AM
By Adriano Tori / June 21, 2023
Comment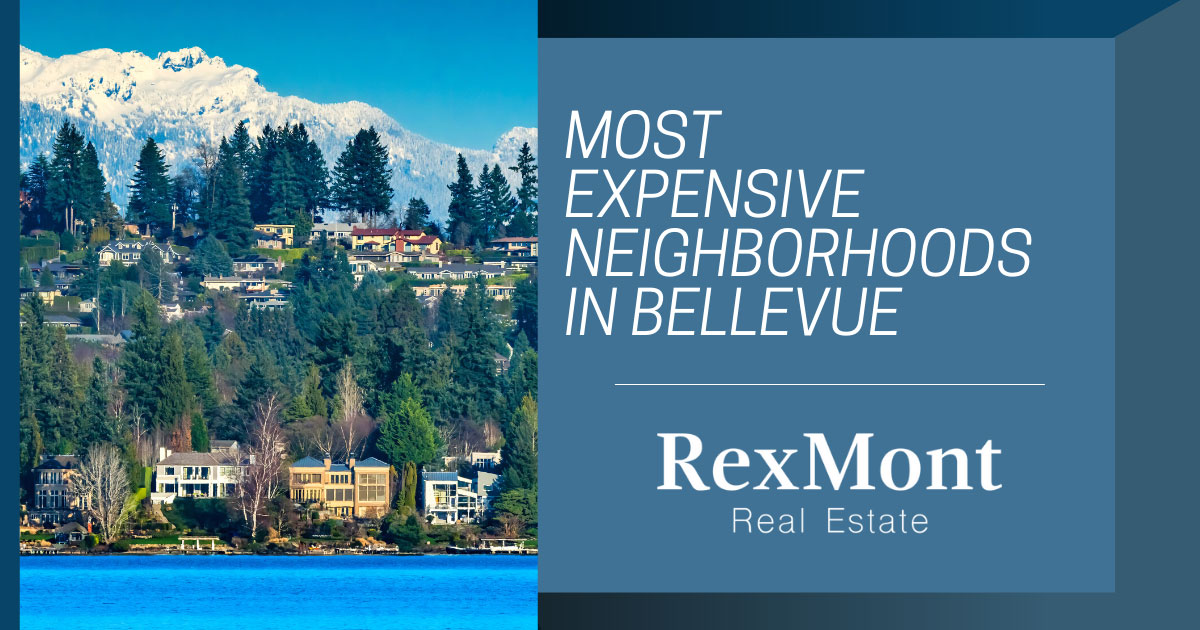 The city of Bellevue, Washington, often called a city in a park, offers an impressive range of luxurious neighborhoods, painting an inviting picture of suburban serenity combined with big-city comforts. This thriving tech hub on the east side of Lake Washington has rapidly become a hotspot for real estate, boasting some of the most pricey residential areas in the entire Pacific Northwest region. From community parks and impressive amenities to beautiful views and various architectural styles, here's what to know about the most expensive neighborhoods in Bellevue.
Northwest Bellevue
Northwest Bellevue is conveniently located near the junction of I-405 and SR-520. This walkable neighborhood offers access to some of Bellevue's best amenities in the city's vibrant downtown, where residents can walk to upscale shops, restaurants, and entertainment venues. Northwest Bellevue also has various parks, fitness studios, and wellness centers.
Well-connected by arterial roads, commuters living in Northwest Bellevue are minutes from SR-520's Floating Bridge, which leads into downtown Seattle. Public schools in the neighborhood include Clyde Hill Elementary and Chinook Middle School. Private options like Eastside Academy and Bellevue Christian High School are also available.
Neighborhood parks like Meydenbauer and Clyde Beach are on the shores of Lake Washington, while Zumdieck Park features a playground and tennis courts. Residents are also near Bellevue's best fine dining scene, with places like Daniel's Broiler, El Gaucho, and Bis on Main.
Real estate in Northwest Bellevue is some of the most expensive in the state, with many homes offering views of Lake Washington. Architectural styles vary widely, from Colonial-style mansions to contemporary estates. Property values start at around $1 million and can run up to $10 million for some of the top luxury homes in Bellevue.
Northwest Bellevue Amenities
Burgermaster
Brief Encounter Cafe
Bellevue Square
KidsQuest Museum
Eastside Prep School
Bellevue Farmers Market
Hidden Valley Sports Field
barre3 Fitness Studio
Eastgate
Eastgate is one of the most expensive Bellevue neighborhoods, just south of I-90 near the 405 junction. The community is known for its million-dollar homes for sale, with many properties featuring contemporary designs and over 4,000 square feet of living space. Residents are near water activities on Lake Sammamish and schools in the 405 Bellevue and 411 Issaquah districts. These include Eastgate Elementary, Tillicum Middle School, and Newport High School.
Eastgate Plaza is the neighborhood's main retail hub, with stores like Safeway, Rite Aid Pharmacy, and Starbucks. Eastgate Park is also within the community, offering wooded trails and pickleball courts. The South Bellevue Community Center, which includes a gym, game room, and rock-climbing wall, is in the park.
Edgebrook Club is a private facility with tennis courts and an outdoor pool at Eastgate's western end. Other nearby attractions include Vasa Park Resort, where residents can boat and swim on Lake Sammamish, and the Mountains to Sound Greenway, ideal for bicycling and hiking.
Homes in Eastgate are an eclectic mix of mountain-style cabins, traditional Colonials, and sleek contemporary builds. Prices generally range from $1 million to $4 million.
Eastgate Amenities
Blackswan Golf
Bellevue Zip Tour
Hong Noodle
Cypress Coffee Company
Horizon Heights Greenbelt
Little Champs Daycare
Emerald Heights Academy
Lakemont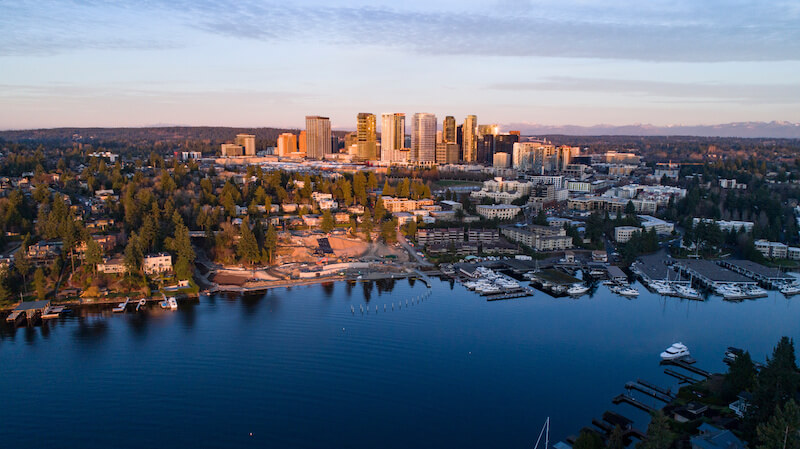 Lakemont is one of the best neighborhoods in Bellevue, offering high-end homes situated on the northern foothills of Cougar Mountain. The community's streets are winding and tree-lined, with quiet cul-de-sacs and densely wooded areas.
Homes on Lakemont's upper hills offer sweeping views of Lake Sammamish and the Cascades. For easy errand-running, the neighborhood's retail hub on Lakemont Boulevard is home to a Town & Country Market, a Starbucks, a dry cleaner, and other services.
Public schools in Lakemont fall within the Issaquah district, with Cougar Ridge and Sunset elementary schools being closest to the neighborhood. Lakemont Community Park is the main recreational amenity, featuring sports fields, a playground, and a skate bowl. Sushi Avenue and Teriyaki House are local favorites, offering takeout and dine-in options. Additional amenities include Lakemont Academy, providing preschool education for toddlers, and Chandler Neighborhood Park. Residents are close to the Cougar Mountain Zoo and Lake Sammamish State Park.
Homes for sale in Lakemont include large upscale homes in diverse architectural designs. Prices start at around $1.2 million and can go up to $4 million. Those at the higher end of the price range are typically located in the hills and usually offer over 6,000 square feet of living space and sit on roughly half-acre lots.
Lakemont Amenities
Union Bank
Lakemont Family Dentistry
Lakemont Village Veterinary Hospital
FTG Physical Therapy
Lewis Creek Picnic Area
Open Window Private School
Somerset
Known for its high-end homes and skyline views, the Somerset community is near the junction of I-405 and I-90, making it an ideal choice for commuters to the city of Seattle and other nearby areas. Public schools include Somerset Elementary, Tyee Middle School, and Newport High School. Residents are also near the Marketplace at Factoria, a large shopping mall with big-box retailers, restaurants, and a movie theater.
Forest Hill Park is the neighborhood's largest green space, with a playground and a large lawn. Residents enjoy the nearby Coal Creek Natural Area, featuring waterfalls, wooded trails, and wildlife. The South Bellevue Community Center and Edgebrook Club offer recreation and fitness amenities like a gym, pool, and athletic courts. Popular dining spots include Novilhos Brazilian Steakhouse, Square Lotus, and Ricardo's Mexican Restaurant.
Homes for sale in Somerset include New Colonials, Cape Cods, and Modern Mountain styles. Many come with spacious decks and over 3,000 square feet of living space. Prices typically start at around $1 million and can run up to $4 million for large hillside homes.
Somerset Amenities
Amazon Fresh Grocery Store
Somerset Park Greenbelt
Forest Drive Hike
Bellevue City Tennis Court
Newport Children's School
School of the Sacred Heart
Tam O'shanter
Tam O'shanter is a private golf course community on the western banks of Lake Sammamish. Its golf course homes sit along the fairways and were built in the '60s and '70s, though new construction homes have also been added. This Bellevue golf course offers a challenging 18-hole layout and is staffed by PGA professionals. The homeowner's association puts together themed events throughout the year, and homeowners typically pay around $350 in monthly dues.
Tam O'shanter residents can access the golf course and a clubhouse with a restaurant and bar. Additional on-site amenities include a four-lane pool, tennis courts, and a playground. Homes are zoned for the Bellevue School District, with students typically attending Bennett Elementary, Highland Middle, and Interlake High schools. Tam O'shanter also offers easy access to the 15-acre Tam O'shanter Park, featuring a wooded trail and picnic areas, plus many outdoor attractions around Lake Sammamish.
Homes in Tam O'shanter typically offer between 2,500 and 5,000 square feet of living space. The community comprises various architectural styles, including mid-century ranchers, traditional Craftsmans, and contemporary estates. Prices usually start in the mid-$1 million range and can go up to $4 million.
Tam O'shanter Amenities
Mulligan's at Tam O'shanter
Garden Ridge Preschool
Bel Red Montessori
Redmond Viewpoint Open Space
Crossroads Bellevue Mall
Regal Cinemas at Crossroads
Woodridge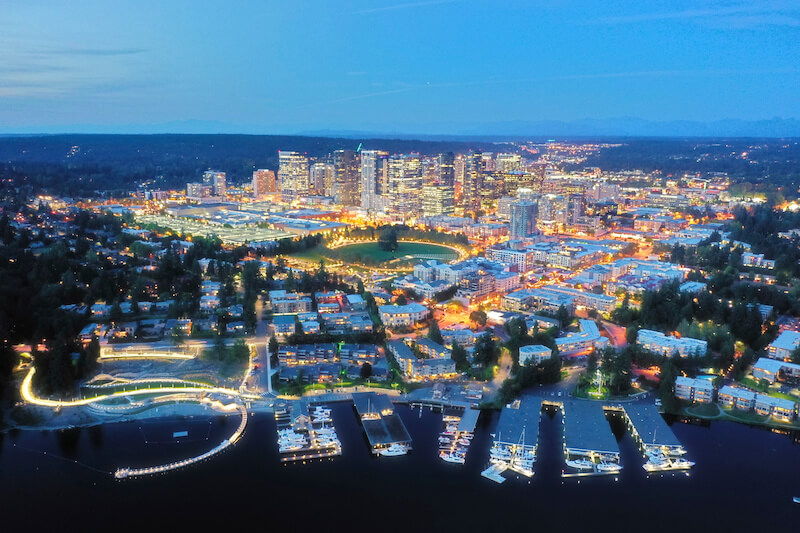 Woodridge is one of the best Bellevue neighborhoods for getting around town, with its easy access to I-90 and I-405. Located south of Bellevue Botanical Garden, Woodridge contains townhouses near the freeway junction and detached single-family homes. Properties at a higher elevation offer views of Lake Washington and downtown Bellevue.
Woodridge Elementary is part of the community, serving kindergarten through fifth-grade students. Private schools in the area include Stellar Montessori Academy and Chestnut Hill Academy.
Woodbridge residents can also use two Bellevue swimming pools: Norwood Swim Club and Woodridge Swim Club. For shopping, dining, and entertainment, the nearby Factoria Village and Marketplace Mall provide plenty of retailers and restaurants, from Amazon Fresh and Jing Jing Asian Market to Katsu Burger and Musashi's.
Woodbridge real estate features mid-century modern homes, ramblers, and Craftsman-style houses. The detached single-family market typically offers homes with 1,500 to 4,500 square feet of living space, plus lots ranging from one-quarter to half an acre. Prices generally fall between $1 million and $4 million.
Woodridge Amenities
Ebsworth Trailhead
Water Tower Park
Norwood Village Park
Mercer Slough Nature Park
Woodridge Child Care Center
McTavish-Woodridge Open Space Trail
Beaux Arts Village
Established in 1908, Beaux Arts Village is a picturesque waterfront neighborhood on the eastern banks of Lake Washington and across from Mercer Island. The community offers homeowners a private beach with boat access, and its proximity to downtown makes it an attractive choice for those who want to be close to local attractions and the waterfront.
In addition to a private beach, Beaux Arts Village offers a multi-purpose court, a playground, and a waterside picnic area. Further out in the neighborhood, residents can explore the wooded trails of Killarney Glen Park or choose from several beaches lining the lake on the Eastside. Enatai Elementary is in the center of Beaux Arts, with many homes within walking distance, while Bellevue High School is a short drive away. Residents can easily access I-90 at the neighborhood's southern border and I-405 via 8th Street. Local staples include Dilletante Mocha Cafe and Chance's Pancake Corral, a diner serving breakfast classics.
Homes in Beaux Arts Village include waterfront properties and luxurious hillside estates offering Lake Washington views. The detached single-family market has many mid-century homes with natural wood interiors, plus contemporary styles built in recent years. Prices typically start around $2 million and can go up to $4 million.
Beaux Arts Village Amenities
Enatai Park
Bellefields Trail
Chism Beach Park
Burrow's Landing Dock
Chesterfield Beach Park
Bellevue Nursery
Bellevue Performing Arts Center
Live Luxuriously in Bellevue
Bellevue hosts some of the country's most luxurious and expensive neighborhoods, containing stunning waterfront properties, proximity to tech hubs, and excellent amenities. However, it's not just the high cost of real estate that defines these neighborhoods — their uniqueness is also derived from the sense of community, beautiful surroundings, and high standard of living they offer.