8 Most Expensive Neighborhoods in Kirkland: Uncover Kirkland's Most Luxurious Homes
Posted by Adriano Tori on Wednesday, February 8, 2023 at 9:23:49 AM
By Adriano Tori / February 8, 2023
Comment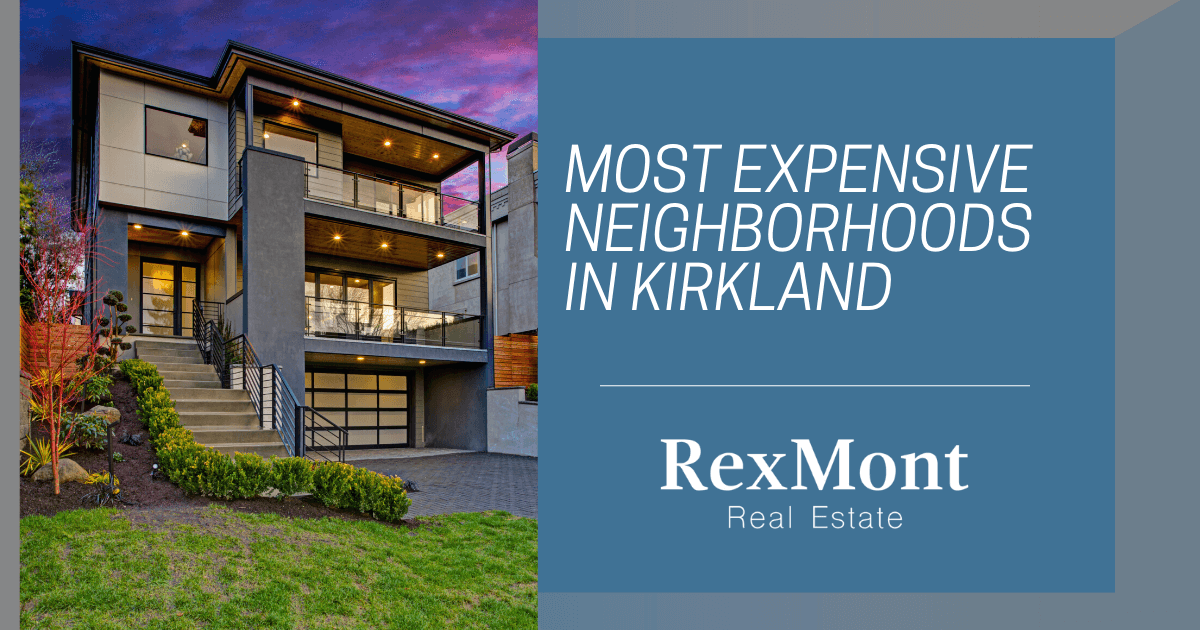 Located on the Eastside, Kirkland, Washington, is one of Seattle's best suburbs with a quaint personality. The downtown waterfront serves as the city's hub, featuring stunning works of art in galleries and all along the streets. High-end neighborhoods sprawl out from there and often have beautiful parks and beaches just minutes away.
The price tag is high for people who want to buy a property in this city, especially when looking at Kirkland's most expensive neighborhoods. Homes list around $1 million on average, but prices can reach well over $15 million. With that buy-in, residents live in a truly unique city while residing just 15 minutes from Redmond's Microsoft campus and 25 minutes from Downtown Seattle.
Are you looking for the most expensive homes in Kirkland? It's easy to find them in all the following neighborhoods.
Houghton
With its location on the eastern side of the lake, panoramic views of Lake Washington are on tap all across Kirkland's Houghton neighborhood. Single-family Houghton homes sell for $1.5 million on average as a result. Spacious homes backed by beautiful greenbelts and fitted with upscale amenities, like box-beam ceilings and jetted tubs, net even higher prices.
Although most of the neighborhood features upscale single-family homes, Northwest University is at the center of it all. This private Christian university welcomes nearly 800 students through its doors each year. Students can earn undergraduate and graduate degrees, ranging from accounting to nursing. In their off-hours, students often use the tennis courts and sports fields.
Residents can head to the southern side of the neighborhood for even more outdoor fun by visiting Watershed Park, one of the best parks in Kirkland. This 73-acre forest provides ample room to hike and bike through the trails all day. The park's focal point is its scenic overlook, where visitors can admire the pine trees set against the dynamic blue-grey skies.
Houghton is just a straight shot from Downtown Kirkland, too, where residents can find shopping and dining opportunities galore with just a four-minute drive. Downtown Seattle is only 25 minutes away as well.
Houghton Amenities
The Caf
Starbucks
Fan Tang Asian Café
Carillon Woods Park
Community Park
Metropolitan Market
Henry Bischofberger Violins
Puget Sound Adventist Academy
Totem Lake
Totem Lake essentially acts as a retail hub and job center set right off the main exits of Interstate 405. Shopping centers, restaurants, medical facilities, car dealerships, and more fill most of the space.
Residential real estate is sparse but highly coveted by people who want to live, work, and play in this area. On average, homes in Totem Lake list from the $800s, but some houses and luxury condos list for more than $1 million.
Evergreen Health Medical Center spans much of the neighborhood's northern side. This healthcare center is both a great workplace and a convenient spot to get medical care services.
The main hospital offers emergency care plus additional medical services from specialists like cardiologists, orthopedists, and oncologists. Outside the hospital, the main campus has weight clinics, acupuncture centers, dental care offices, and more.
Across the rest of the neighborhood, residents can find many mixed-use spaces with both multi-family residences and retail locations. At over 400,000 square feet, The Village at Totem Lake perfects this formula with 46 high-end boutiques and eateries plus the HD Cinemark movie theater. Totem Lake Park sits at the southern side of the mall, giving people a place to walk the trails, visit the playground, and soak in the beauty of the great outdoors.
Downtown Kirkland is just seven minutes away if residents cannot find what they need in Totem Lake, and Kirkland's dog-friendly amenities are all nearby. Seattle's Downtown area is 30 minutes away, too, but residents and visitors quickly find out that driving in Kirkland depends on the time of day.
Totem Lake Amenities
Five Guys
Hero's BBQ
Rumi Restaurant
Kitanda Espresso & Acai
The Box & Burgers Eatery
Whole Foods Market
Jasper's Dog Park
LA Fitness
Juanita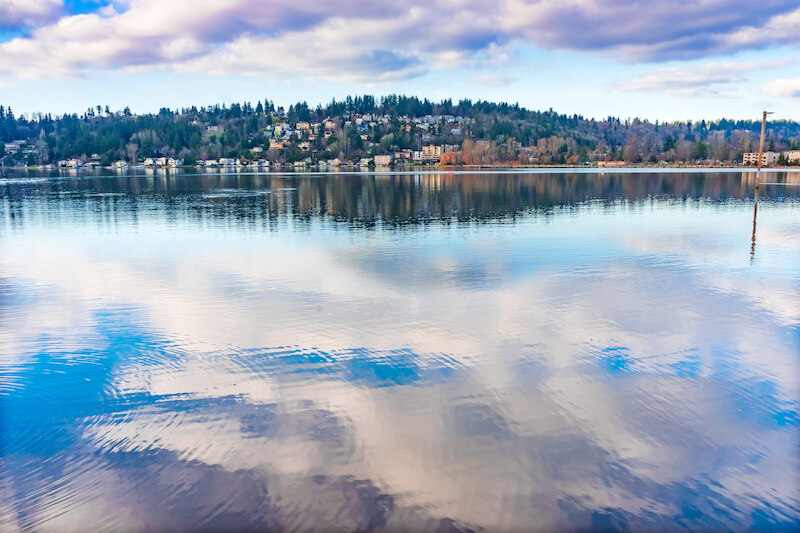 The Juanita neighborhood sits along the northern edge of Lake Washington's Juanita Bay, offering residents endless scenic views of the waterfront. Single-family homes for sale in Juanita with the best bayside views regularly top $3 million.
Residents don't just have to view the waterfront from afar, either. In this neighborhood, there are many excellent bayside parks to visit, including Juanita Beach Park. Once home to the Duwamish Tribe, Juanita Beach Park held many tribal artifacts in the early 1900s, including arrowheads and spearpoints. Renovations through the years have evolved the landscape to turn it into a popular neighborhood hub with sports courts, picnic shelters, walking paths, and a swimming area.
Juanita Village is another hub of activity enjoyed by residents. All the best shops and eateries abound across that 11.4-acre complex, like the beloved Café Juanita. This sophisticated restaurant goes big on offering a curated dining experience, complete with prix-fixe tasting menus. Patrons simply have to choose whether to eat omnivore, pescatarian, vegan, or vegetarian fare, and their talented chef will do the rest.
For even more shopping and dining adventures, Juanita residents can travel about seven minutes south to reach Downtown Kirkland. A trip to Downtown Seattle is just 30 minutes away when traffic cooperates.
Juanita Amenities
Oto Sushi
Spud Fish and Chips
Midnight Cookie Co.
Rubicon Float Studio
Juanita Bay Park
McAuliffe Park
Edith Moulton Park
O.O. Denny Park
Norkirk
Just east of the historic West of Market neighborhood lies Norkirk, a highly sought-after area with unmatched views of Lake Washington. Stunning, high-end single-family homes fill most of the space and create a tight-knit community feel. These residences—comprising Kirkland's luxury homes—cost $1 million on average but regularly list for $3 million or more.
When residents want to get together, they often head to Van Aalst Park to enjoy the basketball and pickleball courts, playgrounds, and open green spaces. Picnics in the park are common, as are birthday parties and other community gatherings. An active neighborhood association gives residents more opportunities to interact and spend quality time together.
Community members often head over to the DERU Market. A locally owned and operated joint, this eatery is the place to go for brunch. Their menu changes seasonally to ensure that only the freshest ingredients go into every dish. Beyond that, the sophisticated atmosphere and friendly service make every patron feel like the guest of honor on each visit.
Downtown Kirkland is just four minutes away, when DERU won't do. On the other hand, a trip to Downtown Seattle is less than 30 minutes away on a good day.
Norkirk Amenities
Happy Lemon
Coastline Burgers
Kirkland Arts Center
GFWC Kirkland Woman's Club
Kirkland City Hall
Reservoir Park
Tot Lot Park
Kirkland Dance Center
South Rose Hill
With its proximity to I-405 and NE 85th Street, South Rose Hill puts all its residents near all the action yet provides a quiet, peaceful living experience. The waterfront, Bridle Trails State Park, and many other local treasures are less than five minutes away. Local homes have spacious floorplans with top amenities, including gourmet kitchens, gas fireplace inserts, and rain showers.
Centered around Lake Washington High School, one of the schools in Kirkland, homes in South Rose Hill have a median listing price of $1.4 million. Residential real estate reaches over $3 million for homes with more than a half-acre of land.
Residents can shop or order food and drinks at the neighborhood's northern edge at popular restaurants and retailers. Several eateries sit on the opposite side, giving residents options on where to spend their time.
Downtown Kirkland is just five minutes away after making it to 85th Street. With the freeway onramps, traveling to Downtown Seattle only takes about 20 minutes in light traffic.
South Rose Hill Amenities
Pub 85
Thirsty Hop
Nasai Teriyaki
Tres Hermanos
Café 79 Vietnamese Kitchen
Rose Hill Meadows Park
South Rose Hill Park
Salon Featherly Suites
Highlands
Highlands boasts acres of parklands and walking trails perfect for working out, walking dogs, and playing pickup games with the community. With NE 85th Street and I-405 onramps along its southern edge, this neighborhood allows its residents to travel to all the top spots in the city in just a few minutes.
Home prices reflect its ample parklands, walking trails, and proximity to all the most popular locales around town. Homebuyers can expect to find single-family homes for sale in Highlands listing from $1 million. Residences with the most spacious floor plans and upscale amenities often hit at least $3 million.
The high-quality property designs make it easy to stay home, but many residents still spend their free time walking the Cross-Kirkland Corridor (CKC) and Cotton Hill Trail. The CKC takes fitness enthusiasts on a nearly six-mile jaunt through the city's heart, while the Cotton Hill Trail offers a short yet peaceful walk or jog through the woods to Crestwoods Park.
Although it's just outside the neighborhood, Costco Wholesale draws in residents. Other shopping opportunities are easily found in Downtown Kirkland, about four minutes to the south. When it's time to travel to downtown Seattle, residents can make it there in about 25 minutes.
Highlands Amenities
Just Jill's Salon
Seattle Land of Glass
Spinney Homestead Park
Forbes Creek Park
Cedar View Park
Cotton Hill Park
Highlands Park
Bridle Trails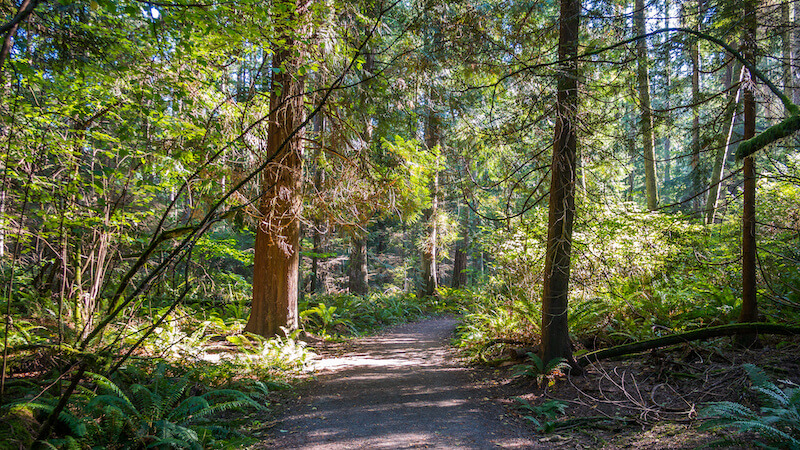 Just inland from Yarrow Bay lies the beautiful Bridle Trails neighborhood, full of opportunities for outdoor adventures and excellent career moves. The 482-acre Bridle Trails State Park fills out much of the northern section of the area. On top of that, the Microsoft campus sits right along the eastern border of the neighborhood space.
With all this right around the corner, residents pay quite a premium to live here—single-family homes in Bridle Trails prices can reach $6 million. The median sale price is $1.7 million, and homes generally stay on the market for just 18 days in total.
Residents often fund all that by building a rewarding career at Microsoft. More than 53,000 people work at the campus in the city of Redmond, although this tech giant employs more than 220,000 worldwide. Top-paying jobs at this campus include senior software engineers, computer systems analysts, and solution specialists.
During their time off, residents often head to the Bridle Trails State Park to ride their horses, walk the trails, and enjoy the scenic views. In fitting with its name, the park is home to some of Kirkland's best trails. It's not uncommon to see people riding their horses along the many tree-lined roadways. Horse owners can learn how to participate in show jumping competitions and other equestrian activities with a trip over to Aleron Training Stables.
This area's shopping and dining are sparse, but Downtown Kirkland is just 10 minutes away. For a trip to Downtown Seattle, residents have to travel about 20 minutes.
Bridle Trails Amenities
El Rinconsito
Amore Coffee
Taj Palace of India
Goldsmith Park
Lake Victoria Park
Bellevue Golf Course
Central Park Tennis Club
TechCity Bowl
Everest
Everest is a small Kirkland neighborhood with a big spirit. With Everest Park at its core, baseball is what it's all about on the off-days, while the work week centers around making magic happen at Google. With so many opportunities for fun and big career moves, this neighborhood attracts homeowners from near and far.
Homes in Everest commonly list from around $2.4 million. Many residences have 3,000-square-foot floorplans elevated by all the most popular amenities, including gourmet kitchens. Trex decks, gazebos, and greenhouses pepper the landscape, adding to the allure of these well-equipped homes.
The Google campus allows residents to find a high-paying job and ditch the long commute. Technical program managers, software engineers, and many other high-level employees work together.
On their days off, residents stay focused on riveting gameplay by heading over to Everest Park for a bit of baseball and a lot more. Their baseball facilities are so good that the Junior League Softball World Series lands there yearly, but that's not all there is to do. Pickleball courts, covered picnic areas, and wide-open fields keep residents busy whenever they stop by.
Shopping and dining opportunities sit on the southern side of the neighborhood. Downtown Kirkland is just four minutes away and offers even more places to shop and enjoy tasty food and drinks. For a trip to Downtown Seattle, residents can expect to spend about 30 minutes on the road.
Everest Amenities
The Koza Café
Early Bird Café
Toshi's Teriyaki
Sarducci's Specialty Subs
BiBi Mediterranean Restaurant
Ohde Avenue Pea Patch
Thrive Wellness
LazerX Arena
Neighborhoods Full of Character Abound Across Kirkland, Washington
Each of Kirkland's best neighborhoods has its own charm, making them all well worth consideration. Gorgeous green spaces, waterfront locales, and walking trails all vie for attention. Plus, there are many great places to enjoy memorable meals and shop the day away. Overall, the sky is the limit in how you can spend your time in Kirkland, so start at the waterfront and then see where the road takes you.