6 Most Walkable Bellevue Neighborhoods: Steps to Everything You Need
Posted by Adriano Tori on Friday, December 9, 2022 at 12:02 PM
By Adriano Tori / December 9, 2022
Comment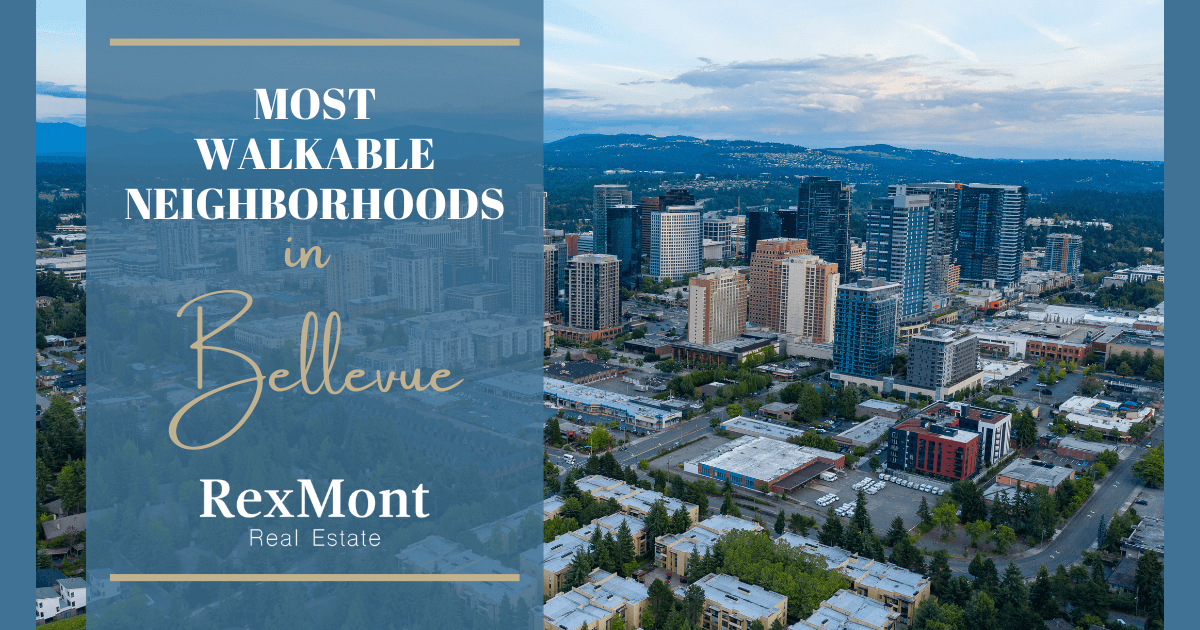 Bellevue is, without a doubt, one of Seattle, Washington's top suburbs. Located across Lake Washington from the city proper, Bellevue isn't just a bedroom community: it's home to numerous thriving industries and some of the region's most walkable communities. These neighborhoods are easy to navigate on foot, putting residents' needs at their fingertips. Read on as we explore some of Bellevue's best walkable neighborhoods and what makes moving to Bellevue so great.
West Bellevue
West Bellevue may be just minutes from downtown and the city of Seattle, but this secluded, leafy neighborhood also offers the privacy and serenity many buyers crave. It's tucked up against Lake Washington and bounded by I-405 and I-90 to the east and south. The primarily residential community is an excellent place to get outdoors, whether residents prefer the waterfront fun of Chism Beach State Park or the woodsy solitude ofMercer Slough Nature Park. In addition, the neighborhood's quiet, leafy streets are perfect for those who prefer to leave the car at home and get around by walking.
West Bellevue housing is a mix of single-family detached homes and multifamily condo buildings, which tend to occupy the northernmost part of the neighborhood closest to downtown. Condos provide the most affordable West Bellevue living, ranging from the $400s to around $1 million for one- or two-bedroom properties of up to 1,400 square feet. Stylish and spacious single-family homes for sale in West Bellevue start at just under $1 million but can reach as high as $5 million in some cases.
West Bellevue Amenities
Chism Beach State Park
Mercer Slough Nature Park
Convenient to I-405 and I-90
Bellevue High School
Downtown Bellevue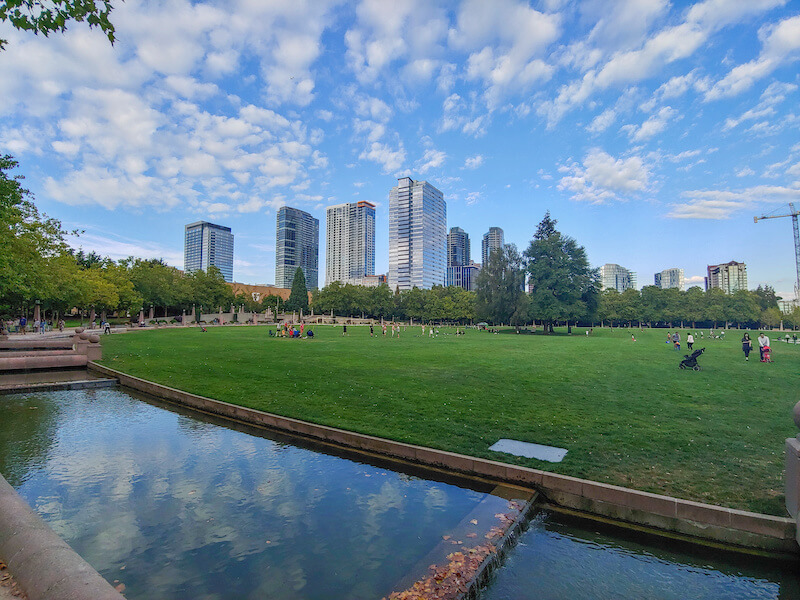 Those looking to live right in the center of it may find the dwelling of their dreams among the homes for sale in Downtown Bellevue. This highly developed neighborhood lies west of I-405 and east of Meydenbauer Bay. It's home to most of Bellevue's taller buildings and denser areas, along with many major employers. Shoppers will love the many options throughout the community, most notably the Bellevue Square complex, home to numerous big-name and local stores, restaurants, and other dining choices. Right next door, residents will find the popular Bellevue Downtown Park, which offers a peaceful 21-acre enclave in the heart of the city, complete with a reflecting pool and a playground.
Everyday errands are easy to take care of on foot, with grocery stores and other necessities interspersed with hot restaurants and local shops. Meanwhile, the easy interstate access allows for easy driving and commuting in Bellevue and throughout the greater Seattle area.
The dense nature of downtown Bellevue means most housing exists as condos and other multifamily units. Studios and smaller one-bedrooms can be found for under half a million dollars, with the majority of options listing from $500,000 to more than $1 million. However, a significant portion of the neighborhood is also dedicated to luxury properties, which often include two bedrooms, 1,500-plus square feet of living space, and listing prices of $1.5 million and up.
Downtown Bellevue Amenities
Extremely walkable community
Extensive shopping and dining options
Close to major employers/business district
Bellevue Downtown Park
Beaux Arts District
This unique community on Lake Washington's shores may be tiny, but it offers some of the best walkable areas in the Bellevue region. Technically its own legally separate community, known as Beaux Arts Village, it's home to fewer than 300 people and has an area of just 0.1 square miles. The neighborhood began as an artist's colony in the early 20th century before developing into one of the region's most desired residential areas in recent decades. These days, property owners in the district are eligible to join the Western Academy of Beaux Arts, which offers them access to a private beach, dock, and community events.
While Beaux Arts may be small, this allows residents to access every part of the community within just a few minutes' walk from their homes. I-405 and I-905 are also a short drive away when car trips are required. Due to the community's small size, homes for sale in Beaux Arts Village come on the market less frequently. When they do, buyers should expect to pay $1.5 million to close to $4 million. These unique single-family homes come in various styles and range from modestly sized three-bedroom, 1,500-square-foot properties to spacious, modern homes of more than 3,500 square feet and four or more bedrooms.
Beaux Arts District Amenities
Historic community
Private beach and dock
Close to I-405 and I-90
Wilburton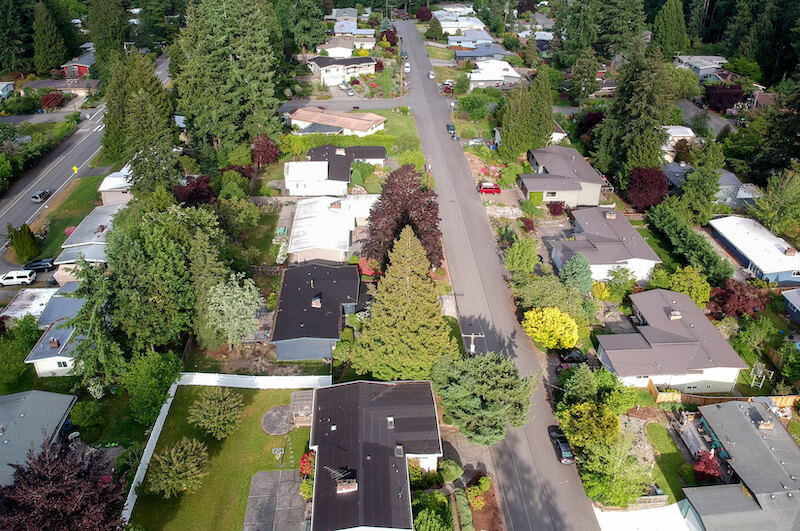 East of downtown, on the opposite side of I-405, is the community of Wilburton. The logging operation that first settled the area closed more than a century ago, leaving behind the small settlement that officially became part of Bellevue in 1967. Wilburton is well known for its excellent outdoor recreation opportunities. These include the Bellevue Botanical Garden, which offers 53 acres of gardens and a variety of events. In addition, Kelsey Creek Park, Wilburton Hill Park, and several additional walking or biking trails snake their way through the community. Residents can also stroll from their homes to many beloved local restaurants or even enjoy a local beer at Bellevue Brewing Company's Spring District Brewpub.
Wilburton homes are a mix of detached single-family homes, townhouses, and condos. Condos span the widest price range, with one-bedrooms selling in the mid-$300s while spacious, high-end units reach close to a million. Townhouses and detached homes start in the high $800s but can list for as much as $3 million for the newest, most luxurious properties.
Wilburton Amenities
Adjacent to I-405
Numerous green spaces, including Wilburton Hill Park and Kelsey Creek Park
Overlake Medical Center
International School
Northwest Bellevue
Northwest Bellevue's central location just north of downtown is one of the many things that make it one of the city's most walkable communities. Bounded by State Route 520 and I-405 and stretching to Meydenbauer Bay, Northwest Bellevue offers a diverse selection of residential, commercial, and public spaces. There are plenty of things to do with kids in Bellevue, and they will surely delight in the KidsQuest Children's Museum, which provides a mix of fun and educational exhibits. The whole family will enjoy Meydenbauer Bay Park and its 2.5-acre beach and fishing area. Plus, all the dining, shopping, jobs, and other offerings of downtown are just a quick stroll away.
Housing in Northwest Bellevue primarily consists of condos in the southern and eastern portions and single-family detached homes in the northern and western parts. Condos start in the mid-$400s for two-bedroom, 1,000-square-foot units, but they can list for $1 million and up for more luxurious and larger units. Detached homes list from just under $2 million but can sell for as high as $8 million for spacious, luxurious properties with 5,000-plus square feet and five-plus bedrooms.
Northwest Bellevue Amenities
Close to downtown employment centers/amenities
Meydenbauer Bay Park
Bellevue Library
Northwest Arts Center
Bridle Trails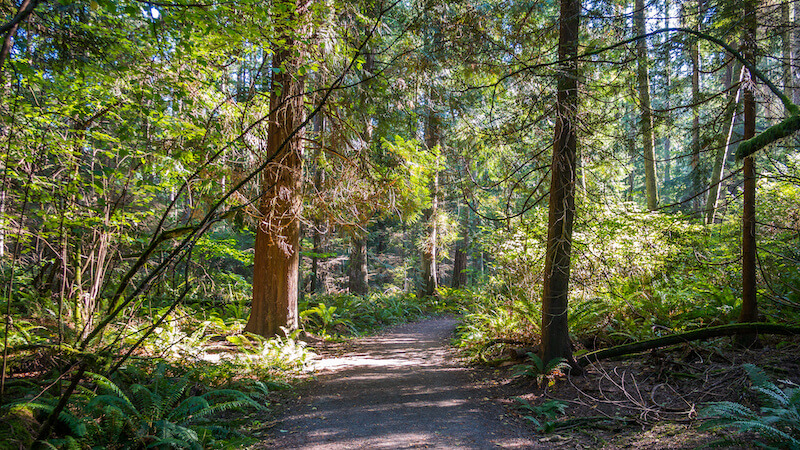 Bridle Trails isn't just a walkable community—it's a rideable one, too! This sought-after neighborhood, described as "the wilderness in the city" due to its secluded, forested character, offers some of the best horse trails, sporting arenas, and horse shows in the entire region. In addition, Bridle Trails is one of the top neighborhoods for those working for Microsoft or near its sprawling campus just a mile or two down the road.
Bridle Trails homes for sale are a mix of condos and single-family detached homes, including a good amount of new construction or relatively recently built properties. Condos can be found from the low $300s but sometimes reach double that for top-end properties. Most single-family homes can be found for less than $2 million, though a small but significant number of luxury houses can reach the mid-single digit millions. Many homes also border the park on one or more sides, providing privacy and seclusion despite the central location.
Bridle Trails Amenities
Bridle Trails State Park
Convenient to I-405, State Route 520
Bellevue Golf Course
Central Park Tennis Club
Walkable Washington: Bellevue's Best Neighborhoods Are Waiting!
Walkable neighborhoods provide residents with so many advantages, which is why these are also some of Bellevue's best neighborhoods. They allow people to be more active, social, and spend less on gas and getting around. Homebuyers in the area are lucky to have such a diverse group of walkable communities in Bellevue, from the dense downtown core to the idyllic, tree-lined lanes of Bridle Trails. They will allow soon-to-be residents to leave their cars at home and enjoy the many benefits of their new neighborhood.