4 Best Seattle Waterfront Neighborhoods: Stunning Puget Sound Views
Posted by Adriano Tori on Monday, February 7, 2022 at 11:27 AM
By Adriano Tori / February 7, 2022
Comment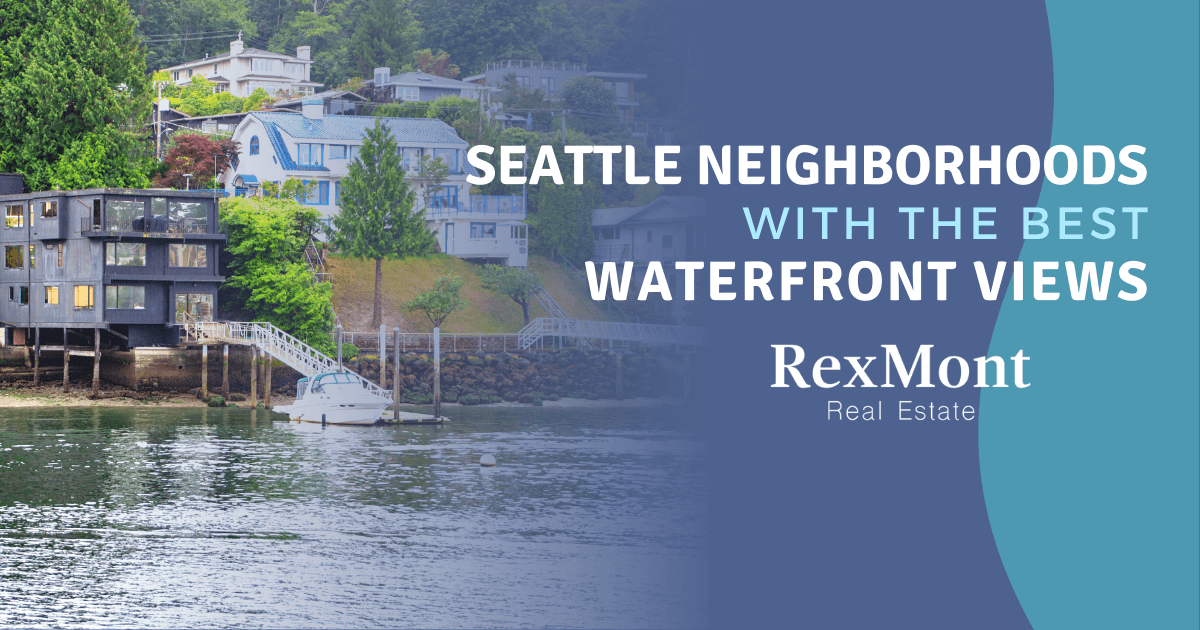 Moving to Seattle allows residents the benefit of living right on the waterfront, with incredible views of the Puget Sound and Lake Washington. It's essential for those thinking about purchasing waterfront homes to choose wisely. The city has much to offer, from skyscrapers with views that seem endless to smaller islands offering the ability to walk out right to the water. In a vibrant city like Seattle, where the evergreen forests, blue waters, and modern amenities are abundant, there are some outstanding neighborhoods to consider calling home. Read on to discover some of the best places to buy homes with waterfront views in Seattle.
Madrona
There's a lot to love about Madrona. It offers residents impressive views of Lake Washington and isn't in the heart of the big city. Further, it's a smaller town with a charming atmosphere. This is a walkable community with tree-lined streets. At the same time, it's only a few minutes to get to most of the amenities in Seattle right along the Microsoft Connector.
While Madrona feels like a small town, it offers almost everything residents need, including small shops and a few locally owned restaurants. It's easy to pick up coffee on the way to work or stop at one of the wine shops or ice cream parlors after a long day. It's only about 15 minutes from Downtown Seattle, which is ideal for those who work in the city but want to relax on the weekends with impressive water views.
The community boasts primarily single-family homes with larger yards and older trees. Madrona Park and Madrona Beach provide direct access to the lake. While most homes are not directly on the waterfront here, waterfront views are common from many houses located around the area. Some townhomes and condos are available in this area, too.
Mount Baker
Located in Southeast Seattle, Mount Baker is a fabulous city for those who want to be close to the water. Mount Baker is on the shore of Lake Washington, just south of I-90, and offers both mountain views and waterfront views. It's a traditional suburban area with ample diversity and lots of open green space.
The water views are fantastic, and there are numerous areas to access the lake in the city. Some waterfront homes may be available as well. Some of the homes directly on the lake have docks, too, which makes this community a good choice for those who want to get out onto the water. Mount Baker sits on a slope, which provides outstanding views of the open water to many Mount Baker homes. Fishing, boating, and other water activities are easy to enjoy here.
There are dense forests in this area, along with a few commercial areas with restaurants and shops. It's easy to access virtually all amenities Seattle has to offer along I-90. It's also home to the Mount Baker Community Club, one of the oldest such clubs in the state.
The homes in Mount Baker range widely from large estates to mountainside single-family homes. Some are smaller, with under 700 square feet of space.
Leschi
Leschi is one of the central neighborhoods in Seattle. It's quiet and less urban than other areas but still provides excellent access to the city's many amenities. Leschi is also on the shores of Lake Washington. That affords residents outstanding views of the water from many homes.
Many homes in Leschi sit within walking distance to the shore, including large estates right on the waterfront or close to it. There are some smaller single-family homes in the area, too, but the draw in Leschi is to these larger, beautiful homes with outstanding views.
For those who want to be able to take the boat out for a long day fishing or just want to walk along the waterfront of Lake Washington, Leschi is a solid option. There is a small business district here, and it is only about a 15-minute drive to most of Seattle's amenities. Some forested areas exist, creating ample privacy in many of these residences.
Downtown Seattle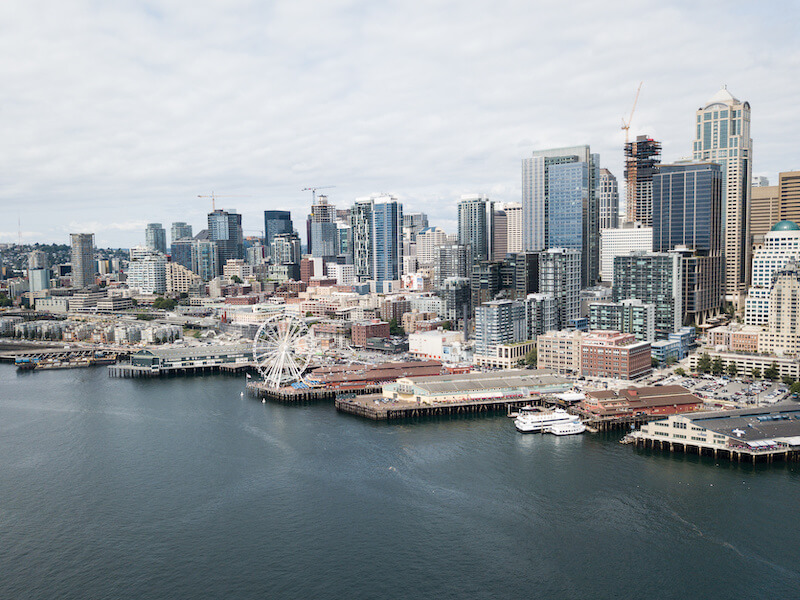 There's no city quite like Seattle. It's a modern, urban community, but it's also very green—in more ways than one!—and right on the water. For those who want to live in Downtown Seattle, it's possible to find several types of homes here, from large single-family homes to condos and townhomes.
Condo living in the skyscrapers in Downtown Seattle is a solid opportunity to capture miles of water out multiple windows. Yet, it's also within walking distance of various amenities, including local restaurants, shops, and artisan spaces. Downtown Seattle is known for Pike Place Market, as well as dozens of companies and employers.
Most property owners in the Downtown area do not have direct waterfront access. However, there are marinas and docks, numerous rental companies offering boats and canoes, and various activities take place on the shores here, providing many ways to take advantage of all the area offers. The Downtown Seattle neighborhood has opportunities for views of both Lake Washington and the Puget Sound.
Exploring the Range of Opportunities in Seattle
Selecting the right neighborhood to live in within a community like Seattle can be challenging because there are so many charming, beautiful places to call home. The city also has a wide range of historic spaces, green spaces, and exceptional entertainment. It's also the home of companies such as Microsoft and Amazon. The Seattle Symphony, Seattle Art Museum, and the numerous sports programs here help most people find something to do here. In addition, since lakes and bays surround it, Seattle is truly a waterfront lover's paradise. The key is finding a way to enjoy those water views.