10 Smart Technology Improvements That Increase Your Home's Value
Posted by Adriano Tori on Wednesday, October 6, 2021 at 7:01 AM
By Adriano Tori / October 6, 2021
1 Comment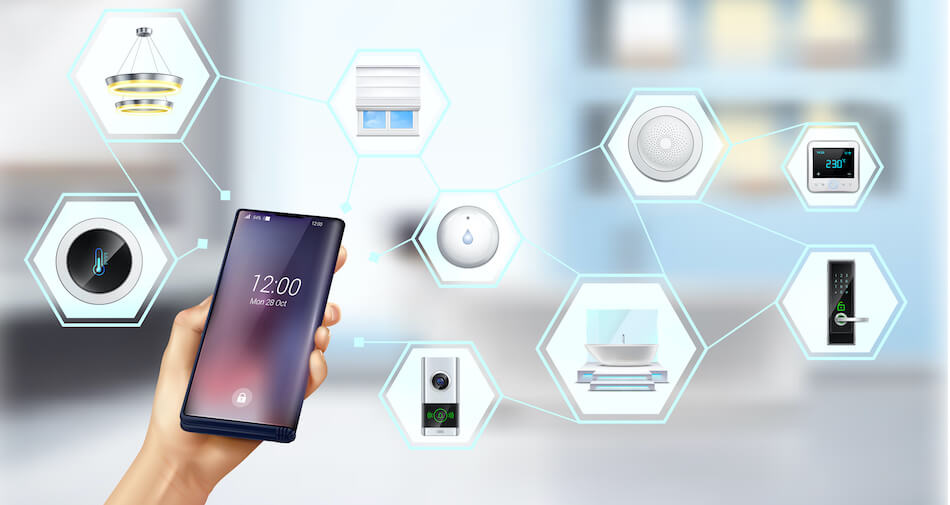 American homes are getting smarter every year. Over 30 percent of the country's homes are smart homes, and more than half of Americans have a least one smart device. The numbers will continue to soar. In fact, 80 percent of millennials say they'd pay more for a smart home.
Some smart technology home improvements cost less than $100, and others cost thousands. The best ones pay for themselves in two ways: they save energy or other costs when they're in use, and they increase the home's value when it's sold.
Read on to learn about 10 smart home upgrades that increase home value.
Cost-Saving Smart Technology Home Improvements
Many smart devices pay for themselves by reducing utility costs. Because energy-efficient home improvements are in high demand, their addition makes the home more attractive to buyers.
Smart Thermostats
There's no sense in fully heating or cooling the home when you're gone. Most people don't think to adjust the thermostat when they leave. A smart thermostat adjusts automatically on a schedule. Some smart thermostats can learn your lifestyle and adjust accordingly to help keep your home cool during the summer and warm during the winter.
Smart Vents
Smart thermostats determine how much air will flow, and smart vents decide where it goes. They recognize activity and direct more or less heat/cooling to a room. Some are programmable for different temperatures in different spaces.
Smart Shades and Blinds
Smart shades and blinds reduce energy use by governing how much sunlight comes through. They're programmable on a schedule, and some fine-tune by reacting to sun position or temperature.
Smart Lighting
Smart LED bulbs turn on and off or dim themselves on voice command. It's a detail that impresses potential buyers during an open house. Customizable light settings are another fun perk that can improve lighting in a house.
Smart Kitchen Appliances
Smart kitchen appliances are changing the way people cook. They can be connected to respond to a voice assistant or phone app for ultimate convenience. For example, homeowners can start the oven remotely, so it's ready for the pizza when they arrive. The category includes large appliances such as fridges, washers, and dryers, as well as microwaves, coffeemakers, and blenders. One of the perks of new construction homes is that smart appliances often come standard.
Smart Sprinkler Systems
Homebuyers rejoice when they learn they won't have to turn the sprinkler on and off. A smart system can be programmed from anywhere and reduces water use by up to one-half. Some can cancel sprinklings when they detect that it's raining.
Security Smart Home Technology Improvements
Consumers list security as a top motivator for adopting smart home technology. Security features increase the value of the home and often provide current savings in reduced insurance rates.
Smart Locks
Smart locks are inexpensive, easy to install, and convenient. They lock and unlock a door from a keypad, voice command, or app. Some send an alert if they're tampered with.
Smart Doorbells
Smart video doorbells usually include cameras, so you can see who's ringing the bell. Residents can talk to them without going to the door and even communicate from a phone app if they're away. The cameras also detect motion so that homeowners can keep an eye on deliveries.
Smart Security Cameras
Security cameras go anywhere, but exterior doors, bedrooms, and living rooms are the most popular spots. They can save video and even store it in the cloud so that local hard drive is unnecessary. They mount in many ways, but they don't increase the home's value if you take them when you move.
Smart Security Systems
Security cameras are often part of a smart security system, motion detectors, and door/window sensors. They can be controlled remotely or from a control panel. They alert the homeowner's phone app or a professional call center if they're triggered.
They can be wireless or hard-wired into the building. As with cameras, they don't increase the home's worth if they go away when the homeowner moves.
Tying Together Smart Technology
Many smart innovations will operate (and save money) independently, but they're better when something brings them together. A voice assistant such as Alexa or Hey Google is the baton for conducting the smart device orchestra.
Anyone who wants to "go smart" can cherry-pick the inexpensive options or pursue an overall strategy to improve the electronic IQ of the entire house. In either case, there are expense savings today and increased future value as more and more home buyers insist on smart homes.