How to Spend a Day in Downtown Bellevue: 5 Things to Do Downtown
Posted by Adriano Tori on Monday, January 9, 2023 at 1:39:14 PM
By Adriano Tori / January 9, 2023
Comment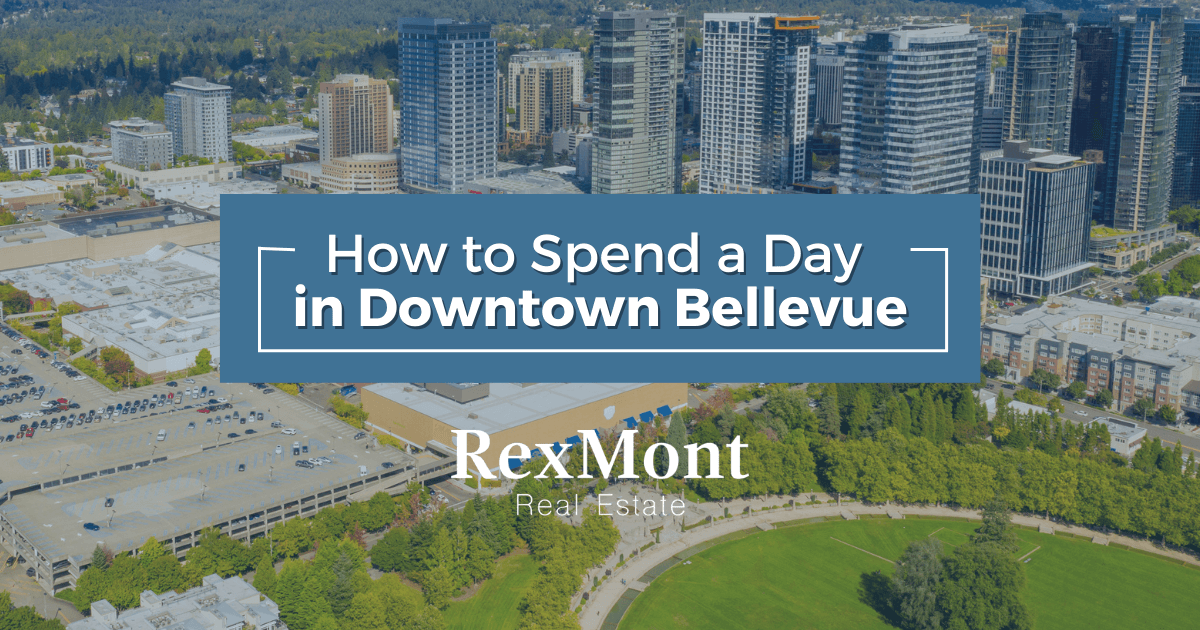 When considering moving to Bellevue, the nearby attractions can help determine if the area is a good fit. Downtown Bellevue is a famed cultural destination with nearly endless things to do, from dining and shopping to outdoor recreation and special events. With so many great options, figuring out where to start can be a real challenge. For inspiration, here are our favorite ways to spend a day in downtown Bellevue.
Start Your Day With Breakfast & Coffee
Downtown Bellevue—one of Bellevue's most walkable neighborhoods—has dozens of cafes, bakeries, and restaurants serving excellent breakfasts and coffee to start the day.
Bellden Cafe offers specialty coffee, locally made pastries, and fresh breakfast options. Sip on Portland-based Coava coffee while enjoying a wholesome acai bowl or toast loaded with fresh fruit or avocado.
Located in the Hyatt Regency, Eques is a favorite breakfast spot among tourists and locals. Its upscale Pacific Northwest-themed menu features traditional options like pancakes, omelets, and hashes alongside locally-inspired riffs on Eggs Benedict.
Part bakery, part cafe, The French Bakery serves the famous Attibassi brand Italian coffee alongside traditional French baked goods and cafe delights. Enjoy crepes, paninis, and egg croissants at the bakery, or take home some freshly baked bread, croissants, or pastries for later.
Gilbert's On Main offers an extensive breakfast menu, with many dishes accompanied by their special hand-made Italian chicken sausage. Patrons can choose from various renditions of pancakes, omelets, scrambles, bagels, or French toast.
For a classic breakfast combo, try Top Pot Doughnuts & Coffee. This chic coffee shop offers hand-roasted small-batch coffee and more than 40 doughnut flavors daily, from classics like cake doughnuts and bars to fancy flavors like apple fritter and cookies and cream. Check back year-round for seasonal favorites like carrot cake, red velvet, and cherry fritter.
Explore Bellevue Downtown Park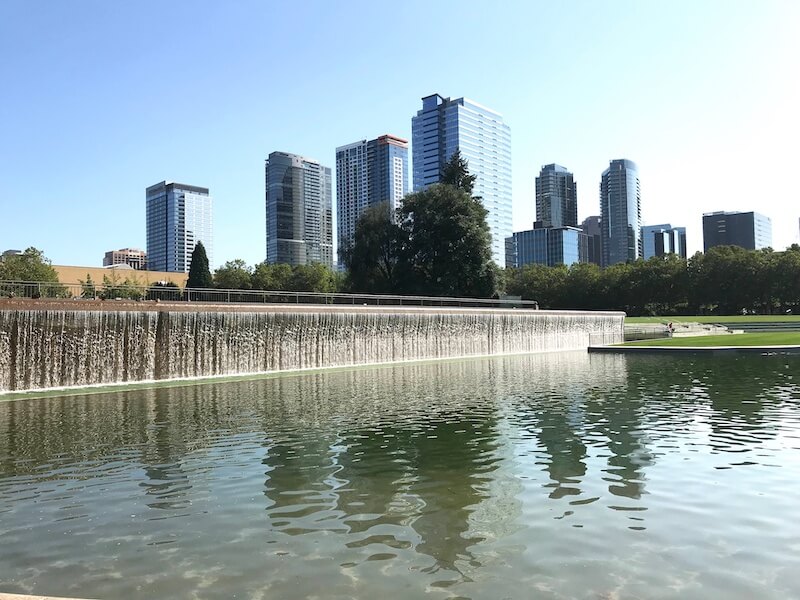 Nestled in the heart of the city, Bellevue Downtown Park offers visitors a beautiful green space to relax, exercise, and play. The 21-acre park features a shaded promenade, a reflecting pond, and an interactive playground.
Take a stroll or jog around the park's half-mile paved trail—and don't forget to visit Bellevue's best nature trails! This circular route offers excellent views of the whole park, Bellevue's skyline, and Mount Rainier. With over 140 benches, the park offers plenty of opportunities to take a break and bask in the area's natural beauty.
Inside the circle, Bellevue Downtown Park—one of Bellevue's best parks—boasts an expansive 10-acre lawn perfect for picnicking or open play. A stepped canal and a 240-foot-wide waterfall flow into the park's idyllic reflecting pond. Several benches along the water offer an excellent spot to watch ducks swimming.
The park's southwest corner hosts the Inspiration Playground, a 1.5-acre play space engaging visitors of all ages and abilities. Explore climbing walls with twisting roots and vines, easy-to-reach hillside slides, enormous musical instruments, and a summer splash zone. The playground offers various swing types, with even the sideline benches suspended for swinging.
Every winter, part of the park becomes a 9,000-square-foot open-air ice rink with a viewing area and concession stand. The rink is open daily, including holidays, and offers free skating lessons on select dates.
Hit the Shops at Bellevue Square
With over 200 retailers, an indoor play area, and premier options for dining and entertainment, Bellevue Square can offer hours of enjoyment. From department stores to specialty shops, this mall's impressive retailers offer apparel, jewelry, home furnishings, electronics, toys, and more.
Nordstrom and Macy's are the largest retailers in Bellevue Square, with multi-level stores located on the north and east ends of the mall. The mall features numerous other apparel stores, including Madewell, J. Crew, Burberry, UNIQLO, and Banana Republic. Meanwhile, stores like Kate Spade New York, Sephora, and LUSH offer shoppers various accessories, jewelry, and cosmetics options.
Apple, Trueform, and other electronics stores offer shoppers a chance to experience the latest consumer tech products. For even more entertainment options, check out the Lego Store or Go! Calendars, Toys & Games.
Bellevue Square offers a sky bridge to Lincoln Square, home to even more upscale retailers, fine dining restaurants, and a high-end bowling alley. Its 16-screen luxury cinema frequently appears among the country's top ten theaters for film openings.
Bellevue Place is a short walk across another sky bridge from Lincoln Square. This mixed-use space houses the Hyatt Regency, numerous offices, and a few boutiques, including Trillium Custom Tailoring, City Flowers, and Yardbird.
Enjoy Lunch or Dinner at One of Bellevue's Best Restaurants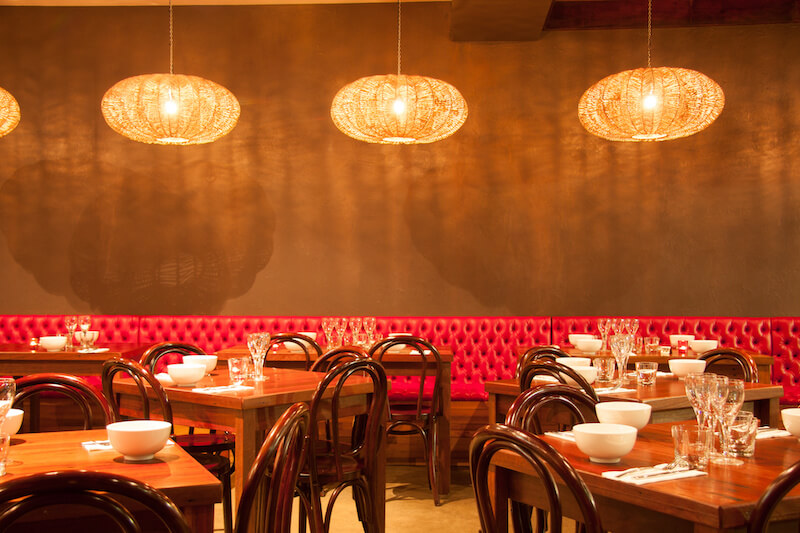 Bellevue's restaurant scene offers diverse menus influenced by local and global flavors and ingredients.
Seastar Restaurant & Raw Bar features a seasonal seafood menu inspired by culinary traditions from around the globe. With more than 750 wines in its collection, Seastar has held the coveted Wine Spectator Best of Award of Excellence for the past 15 years.
Perched atop Bellevue Place, Daniel's Broiler serves traditional steakhouse dishes while offering magnificent views of downtown Bellevue and the Olympic Mountains. The upscale venue is the highest-grossing restaurant east of Seattle. It's also home to the Prime 21 Lounge, a modern speakeasy serving high-end local spirits.
Din Tai Fung offers its signature Xiao Long Bao alongside Taiwanese dumplings, buns, wontons, and noodles. Named one of the top ten gourmet restaurants in the world by The New York Times, it's also one of the best restaurants in Bellevue.
At Maggiano's, diners can enjoy Italian classics like lasagna, baked ziti, and spaghetti and meatballs or try the Famous Rigatoni "D." Substitute any pasta for gluten-free or whole wheat penne.
Traditional Spanish cuisine is the focus at Castilla Restaurant and Tapas Bar. The extensive menu offers main dishes like paella alongside more than 40 tapas, including patatas bravas and bacon-wrapped dates.
Explore Seasonal Festivities & Special Events
Special events and seasonal festivities mean there are always fun things to do in downtown Bellevue.
Check out the Bellevue Farmers Market for local produce, seafood, and artisan goods. The market meets on Thursdays throughout the summer and every third Saturday in the fall.
Forum Social House hosts free music and light shows Friday and Saturday nights and team trivia competitions every Wednesday.
Guests can learn about animals and farm life at Kelsey Creek Farm's weekly Fun on the Farm events. The farm becomes a winter wonderland in December with faux snow, hot cocoa, and themed crafts.
Bellevue Square opens Snowflake Lane for the holiday season. Get pictures with Santa or enjoy the free nightly parade at 7 pm.
The wintertime Garden d'Lights features over half a million colorful lights in the beautiful Bellevue Botanical Garden. Walk among sparkling shapes of plants, animals, waterfalls, and more.
December is also the perfect time to catch one of the Meydenbauer Center Theatre's holiday performances, like The Nutcracker or The Snow Queen.
Count down to the New Year at KidsQuest Children's Museum. The museum offers fun activities throughout New Year's Eve, including face painting, storytime, and their beloved bubble wrap stomp.
Life in Downtown Bellevue
With so many things to do in Bellevue, it's impossible to experience it all in a single day. Living in a home or condo in Bellevue offers more opportunities to enjoy the city's best restaurants, parks, shops, and special events year-round.